At around 8:16 p.m. ET on Tuesday night, Cleveland Indians slugger Carlos Santana hit a ground ball in the first inning that looked like it would be a base hit into a vacant spot in short right field. But out of nowhere, Minnesota Twins second baseman Brian Dozier made a sliding, skidding stop from well onto the outfield grass.
About 3½ hours later, in the ninth inning of a game between the Colorado Rockies and Kansas City Royals, Justin Morneau hit a slow ground ball to the right side of the infield, headed right where a second baseman would normally play. Only this ball would be fielded not by the second baseman, but by shortstop Alcides Escobar, who would make a short toss to first base for the out.
Such is baseball life in 2014, that a batter could be thrown out from a spot where Santana was, and that the shortstop would field a ball where Morneau hit it (as noted above).
The shift is now such an everyday occurrence in major league baseball that it's considered commonplace.
So that got us to wondering: What does a day in the life of the shift look like? We kept a close eye on Tuesday's action and here's what we came up with.
The volume
In 2010, Baseball Info Solutions documented 2,464 shifts on balls in play (so we're not even counting strikeouts) for the entire season. By 2012, that had nearly doubled to 4,577. It increased to 8,145 in 2013, and now with almost everyone fully embracing the maneuver, the count is at 10,699 this season and on pace for nearly 14,000.
Most Shifts on Balls in Play
Entering Thursday
BIS accounts for both full shifts and partial shifts, with the full ones being the most extreme (three players on one side of the diamond).
There were 83 total shifts on balls in play on Tuesday, a modest amount, but well short of the season high of 142 (on May 6).
Every game on Tuesday featured at least one documented shift on a ball in play. That's not unusual these days -- 91.6 percent of games have featured at least one documented shift (a documented shift is one noticeable on a TV game broadcast).
Twenty-one of the 30 teams shifted on at least one ball, including 13 of the 15 AL teams.
Welcome to the majors
The Indians-Twins game had a few shift-related storylines on this day.
The Indians partially shifted against switch-hitting Twins rookie Kennys Vargas, who came to the majors with a pull-hitting reputation. In the third inning, Indians manager Terry Francona moved his shortstop over to play behind second base, but kept his other infielders in "traditional" spots for a left-handed batter. The shift didn't necessarily impact the at-bat. Vargas lined to center.
Vargas was shifted 21 times on his first 47 balls in play as a left-handed hitter, though that may change soon. He had five opposite-field hits (three of which were infield hits, on his first 15 ground balls from the left side).
The Twins returned the favor by deploying the first shift to be used against Indians rookie Zach Walters.
The Astros stand alone
The Astros have been in a class by themselves with regard to the shift all season.
General manager Jeff Luhnow spoke to a group of baseball fans in Boston last weekend and told of how the team has taken to deploying shifts across its entire organization, and has worked as hard at marketing the shift to its players as it has at studying shift effectiveness.
Most Defensive Runs Saved
Due to Shifting
The Astros were on pace to use shifts against nearly 1,500 balls in play, and entered Tuesday with nearly 500 more than the team with the next most (the Yankees). The results have been good. Baseball Info Solutions credits the Astros with 21 Defensive Runs Saved due to shifts, the most in the majors.
On Tuesday, the Astros and Yankees went head-to-head. The Astros, true to form, didn't just shift against pull-hitting Brian McCann, Mark Teixeira and Carlos Beltran. They became the first team to put three infielders on the first-base side of second base against Jacoby Ellsbury.
Sometimes that sort of thing doesn't work. Ellsbury got hits in both at-bats in which he was fully shifted and was 1-for-2 in his other turns.
The aberration
This night was an aberration in one regard. The Toronto Blue Jays did not employ a single shift against a ball that was put into play. They entered the day with 564 shifts, an average of nearly five per game.
The Blue Jays' opponent, the Milwaukee Brewers, don't have many hitters who warrant a shift. Their leader this season entering the day was right-handed hitting Khris Davis, but he'd seen only 30 all season entering the night.
Coincidentally, the Brewers tied the Rays for the most shifts that day, with eight.
Brewers manager Ron Roenicke took what would have been considered an aggressive approach a few years ago by shifting against not just the left-handed Colby Rasmus, but also righties Jose Bautista and Edwin Encarnacion. His decision to do so was warranted and likely guided by images such as the one below.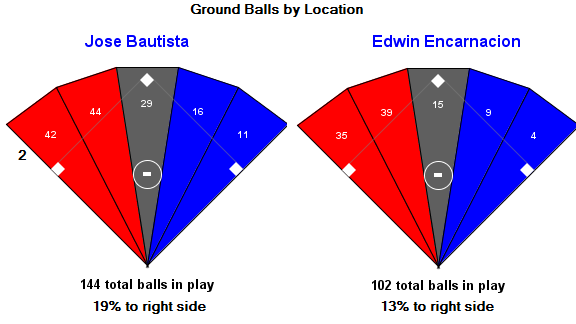 ESPN Stats & Information
Encarnacion and Bautista each went 0-for-3. Bautista hit two grounders just to the left of second base. One was a routine play for shortstop Jean Segura. The other was fielded by Rickie Weeks, who was well positioned to make the play.
Shift-thwarting
Brandon Moss entered the day ranked fourth in the majors in times shifted against. He's also one known to try to drop a bunt down against the shift, as he did twice in his first at-bat against the New York Mets that day. Both were unsuccessful.
Worst BA
Grounders/Short Liners versus Shifts
Moss then lined out to second baseman Wilmer Flores, who was stationed in shallow right.
Moss' next time up, the Mets dared him to bunt, playing their second baseman in shallow right and their shortstop on the outfield grass, well to the right of second base. Moss didn't take them up on it. He flied out to right, then went hitless in his last two at-bats as well.
The results
Those who were shifted on Tuesday batted .166 when they hit a ground ball or "short" line drive against it, and .259 on those balls when they were not shifted. The differential between the two is a little bigger than on a typical day.
Best BA
Grounders/Short Liners versus Shifts
Overall, major league hitters have hit .228 this season when hitting a grounder or short liner against a shifted defense, and .267 against non-shifted defenses.
Shifted batters pulled 29 grounders and liners and hit seven to the opposite field. They had as many hits on those grounders and liners when the ball was pulled (three) as they did on those seven balls hit to the opposite field.
If anything, that last stat indicates another shift may need to be in order for hitters to deal with a new means of being frustrated -- a shift in offensive approach.