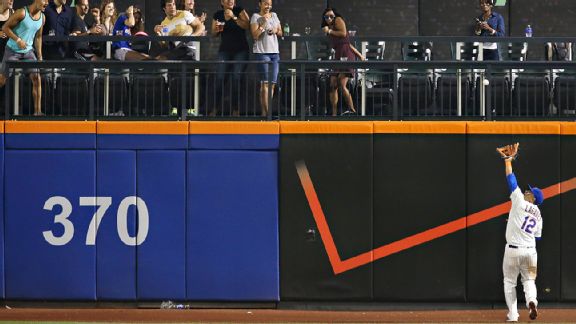 AP Photo/John Minchillo
The eyes of Mets fans have been on the great glove of Juan Lagares.
To assess the defensive abilities of New York Mets center fielder Juan Lagares, we called upon a former major leaguer whose defensive skills were also top-notch.
Most Defensive Runs Saved in 2014
Entering September
"Juan Lagares' ability to be in the right place makes me think we need a stat to measure teleportation accuracy," said "Baseball Tonight" analyst and former outfielder Doug Glanville.
Unfortunately, we can't quite provide what Doug is looking for. But we can try to do Lagares' month justice in words, numbers and pictures. Lagares won the voting for our Defensive Player of the Month for August on the strength of his major league-leading 13 Defensive Runs Saved. It's the second consecutive August in which Lagares copped the award, this time beating out Braves shortstop Andrelton Simmons, Marlins shortstop Adeiny Hechavarria and Astros outfielder Jake Marisnick.
Lagares entered September with 30 Defensive Runs Saved for the season. He's the first outfielder to post back-to-back seasons of 25 Defensive Runs Saved since 2003, when Baseball Info Solutions (a data-tracking service for teams and media) began tallying the stat.
Click on these three plays for a few demonstrations of Lagares' skills.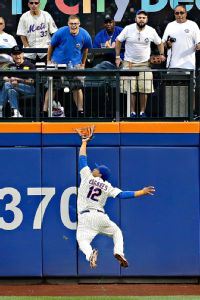 AP Photo/Frank Franklin II
One of many nice plays this month.
Aug. 2: Lagares makes a sprinting, leaping catch in left center field to rob Brandon Belt of an extra-base hit. Baseball Info Solutions (BIS) calculates that balls hit to that spot with that hang time are hits 76 percent of the time over the past calendar year.
Aug. 5: Lagares charges in to make a diving catch and take a hit away from Denard Span.
BIS has this charted as falling in for a hit 80 percent of the time.
Aug. 26: Lagares comes in and makes another diving catch of a hard-hit line drive by Braves pitcher Alex Wood. BIS has this as being a hit 98 percent of the time, though Lagares did have the advantage of playing shallow with the pitcher up. Regardless, it was a pretty tough play.
We didn't even reference Lagares' arm, which last season garnered 15 assists. This season, he only has four, but that's largely because there is a reluctance to test his throwing arm. Last season, opponents took an extra base (went first to third or second to home on a single, or went first to home on a double) on 42 percent of hits that Lagares fielded. This season, that number dropped to 35 percent. In August, he held runners to a 24 percent extra-base advancement rate.
Case in point came in the Mets' most recent series against the Philadelphia Phillies when Ben Revere (who entered September with 40 steals) held at third on a Lagares-fielded hit. We'd venture to say Revere would have tested any other center fielder in the game.
Defensive Players of the Month
2014 Season
Mets manager Terry Collins has frequently compared Lagares to former Gold Glove winner Devon White. Mets first base coach Tom Goodwin had another name in mind while talking with ESPN New York's Adam Rubin, one who actually tormented the Mets with great plays with his glove and arm regularly while playing for the Braves -- Andruw Jones.
"He gives himself an opportunity to make the plays that he needs to make," Goodwin said of Lagares. "And then when you throw his arm in there as well -- and he plays shallow, he knows when to come in -- he's going to have a pretty good chance of throwing somebody out at home. It makes him that kind of dual- or triple-threat outfielder.
"He gets good jumps. And a lot of guys have to slow down when they're coming up to the ball in order to catch it. He's one of those guys who can maintain his speed and still be under control enough to make an accurate throw. Those things are hard to do. I had enough trouble myself, when I was playing, just trying to catch it. So I always had to slow down. And then I'd have to try to pick up my momentum. But he seems to be able to maintain that speed while he's coming up to catch the ball and he maintains it all the way through."
It's not just those on Lagares' team who feel this way. "I saw him last year, and he was impressive," Braves manager Fredi Gonzalez said at Citi Field last week. "I said to my coaches, he might be the best center fielder in the National League. Now, a year later, there's no doubt about it."