Note: Twenty-five years later, the 1986 season remains one of the most interesting in baseball history. But it's not just the postseason that made the year so amazing, but all the rich and unusual moments and performances leading up to it. All season long, Mark Simon will chronicle one of the craziest, wildest and wackiest seasons in major league history.
Those of us who like goofy and unusual box score lines owe a debt of gratitude to former Texas Rangers pitcher Bobby Witt.
Sunday marks the 25th anniversary of a remarkable and bizarre pitching performance by Witt, who was making his second career major league start, against the Milwaukee Brewers, whose lineup included future Hall of Famers Robin Yount and Paul Molitor.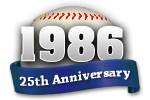 Witt threw five innings of no-hit ball, but this was not your typical no-hit bid.
In those five innings, Witt's pitches were literally all over the place. He struck out 10, walked eight, and threw four wild pitches. He allowed two runs.
Baseball-Reference.com has box scores of games dating back to 1920 and lists 73 games in which a pitcher struck out at least 10 and walked at least eight. Nolan Ryan, ridiculously wild in his prime, owns 14 of them.
Witt is tied with Hall of Famer Bob Feller and Herb Score for second-most, with four. He was pulled from this one mainly because his manager was fearful that this could end up being a 200-pitch start. The Rangers bullpen would end up yielding five hits for the game in a bizarre 7-5 Rangers win, before 5,800 in Milwaukee.
"I wasn't going to finesse you," Witt said with a laugh during a break from his current job, as an agent for Octagon Sports, where he represents pitchers Scott Baker and Yovani Gallardo. "My thought process was to go out there and let it go. At 100 pitches, I was just getting loose."
Then-Rangers manager Bobby Valentine recalled the game last week. "I remember (pitching coach) Tom House and I didn't have any regrets about taking him out," he said, "because we thought he'd have plenty of other chances to throw a no-hitter."
Witt was among baseball's most entertaining, albeit sometimes exasperating pitchers that season. He threw every fastball with everything he had, an appealing quality to the Rangers, who selected him third overall out of the University of Oklahoma in 1985. Eight minor league starts and an impressive spring training later, he was called up to the big leagues.
Possessing a fastball with high-90s velocity, Witt was among baseball's premier strikeout pitchers for a time. In his first two seasons, he struck out 334 in 300 2/3 innings. Problem is, he walked 283. In 1986, he walked 8.1 hitters per nine innings. In 1987, he bumped that to 8.8, the second-highest rate of anyone who threw at least 100 innings in a season. He hung around because teams thought that eventually he would evolve into a really good pitcher.
As it turned out, Witt did get another crack at a no-hitter. By 1994, he'd cut down on the walks enough to chase history as a member of the Oakland Athletics. On June 23 against the Royals, he had his own version of an Armando Galarraga moment.
"A one-hitter with 14 strikeouts and no walks," Witt said with perfect recall. "Greg Gagne bunted in the sixth inning. I clearly beat him to the base, but (umpire) Gary Cederstrom called him safe. He was out."
Witt did have a respectable career, posting a 142-157 mark over 16 seasons, earning a World Series ring in his final year with the 2001 Diamondbacks. He now lives with his family in Colleyville, Texas, coaches his 10-year old son, a promising pitcher and shortstop. But there's no concern of similar such pitching performances being transferred from father to son.
"My dad likes to joke that he's so much better than I was at that age," Witt said. "He's far ahead of me."
Mark Simon is the Baseball Research Specialist for ESPN Stats and Information. He thinks 1986 is the best baseball season ever.