Twenty-five years later, the 1986 season remains one of the most interesting in baseball history. But it's not just the postseason that made the year so amazing, but all the rich and unusual moments and performances leading up to it. All season long, Mark Simon will chronicle one of the craziest, wildest and wackiest seasons in major league history.
According to the "SABR Baseball List & Record Book," there have been 32 walk-off home runs hit by pitchers (including one apiece in the American Association and Federal League). Today, we commemorate the 25th anniversary of the most recent occurrence.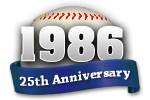 On April 25, 1986, the Padres and Giants met at Jack Murphy Stadium n San Diego. When Padres relief pitcher Craig Lefferts arrived at the ballpark, he did so with a 102-degree fever. He wasn't supposed to pitch that night. The plan was to spend the game in the trainer's room.
But by the seventh inning, Padres manager Steve Boros sent word to Lefferts to get his spikes on, just in case. It turned out Lefferts would be needed that night, after Hall of Fame closer Rich Gossage blew a two-run lead in the ninth.
Gossage was pinch-hit for by none other than rookie John Kruk in the home half of the 10th, and when the Padres failed to score, an ailing Lefferts took the mound. He'd pitch a scoreless 11th, but then gave up a run in the 12th on an RBI hit by Giants second baseman Robby Thompson.
Lefferts was due up third in the bottom of the 12th and got ready to bat, knowing he could be the Padres' last hope. It wasn't your ideal situation.
The Giants brought in Greg Minton, one of their best relievers, to close the game out. Minton had one of the nastiest sinkers in baseball history and had a four-year streak from 1979 to 1982 in which he pitched a record 269 innings without allowing a home run. By 1986, he was giving them up slightly more frequently, but he was masterful at keeping the ball in the ballpark regardless. Just not on this night.
Padres third baseman Graig Nettles tied the game with a pinch-hit home run, taking all of the pressure off Lefferts right away. After shortstop Garry Templeton made an out, Lefferts, who had a respectable eight hits in 39 at-bats for his career, came to the plate.
"(Minton) threw me a sinker, I swung and missed," said Lefferts, now the pitching coach for the Stockton Ports, Oakland's Class A affiliate in the California League. "He threw me another sinker and I foul-tipped it. I got out of the batter's box and told myself that I wasn't going to take strike three."
For some unknown reason (unknown, as we'll explain in a second), Minton went with a curveball on his next pitch. Perhaps he had Lefferts well-scouted.
"Usually with a curveball, I'd swing and miss by two feet," Lefferts said with a laugh.
Except this time, the pitch hung up a little bit. Lefferts took a stride forward that nearly took him off balance, and made contact with an awkward-looking uppercut. The ball sailed high and deep and over the right-field fence for a game-winning home run.
"I one-armed it," Lefferts said. "I swung off my front foot, but I made a perfect connection. "Sometimes, when you're not feeling well, you have to concentrate more to overcompensate. That's what I did."
Bob Slocum of the San Diego Evening Tribune described the shot as "majestic," but also noted: "Tape of the homer should not be used in any batting clinics."
Lefferts, then 28, was best known at the time for sprinting in from the bullpen to take the mound. He was a respectable reliever, who filled a variety of roles for six teams in a 12-season career that featured 101 saves and three trips to the postseason. But in terms of individual moments, there's little that could top his sprint around the bases.
"I didn't know the ball went out of the ballpark until I got to second base," Lefferts said. "I know the team gathered around the plate and they all hit me on the helmet. My wife threw a big party for me the next day. It was a good thing to have a party for."
It was the first reason to have such a party in 17 years. The previous walk-off homer by a pitcher had been hit by Jim Hardin of the 1969 Orioles.
Since Lefferts' home run, there have been more than 1,500 walk-off home runs hit in the major leagues. A typical season nets 60 to 70. But since Lefferts, no pitcher has hit a game-ender out of the ballpark. Lefferts didn't hit any more home runs. In fact, he closed his career by going 7 for his last 92.
"I loved to hit," Lefferts said, laughing at the memory. "[Teammate] Tim Lollar and I used to have competitions in batting practice and I'd win them. I'd try for a home run every time up. I was a guy who went to get the ball. I had to be somewhat lucky to hit a home run. If I could have, I'd have hit every day, but I'd have been the worst hitter in the league."
The one question left for both of us to ponder as we finished our interview was why Minton threw a curveball on 0-2, when Lefferts looked overmatched on the previous two pitches. Lefferts didn't know. And when we talked to Minton, we discovered that he'd completely blocked the moment out of his mind. That's odd considering he told us he remembered most of the home runs he allowed. There weren't many. His rate of 0.34 home runs per 9 innings is the best among pitchers who made at least 350 relief appearances.
"I have to tell you that I have no recollection of it at all," said Minton, now a general manager for Extra Innings, a baseball instructional facility in Tempe, Ariz. "I'm from San Diego. I should remember it. Usually I'll have a snappy one-liner for something like this. This one, I don't. I'll say this though: He must have been the best hitting pitcher I ever faced."
Mark Simon is the Baseball Research Specialist for ESPN Stats and Information. He thinks 1986 is the best baseball season ever. Follow Mark on Twitter @msimonespn and the Mets blog at ESPNNewYork.