Brett Gardner became a Yankee worth watching in just his sixth game in pinstripes when he hit a game-winning single to beat the Boston Red Sox 5-4 on July 6, 2008. Gardner was the third New York Yankee rookie in the last 30 years with a walk-off hit vs Boston, joining Yankees legends Derek Jeter and Don Mattingly.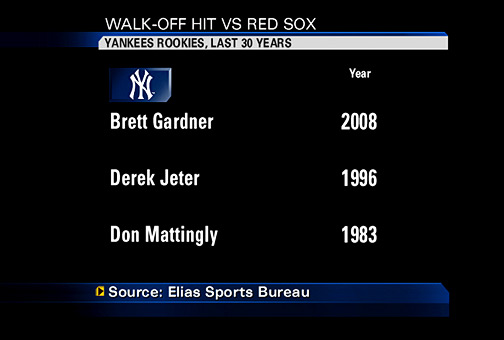 While Gardner won the hearts of Yankee fans with his bat, he's made the biggest impact on the team with his legs.
Just how fast is Brett Gardner? Bill James developed a metric called Speed Score, which factors in frequencies and percentages of stolen bases and attempts, triples, and runs scored. In 2009, Gardner had the highest Speed Score among players with at least 250 PA.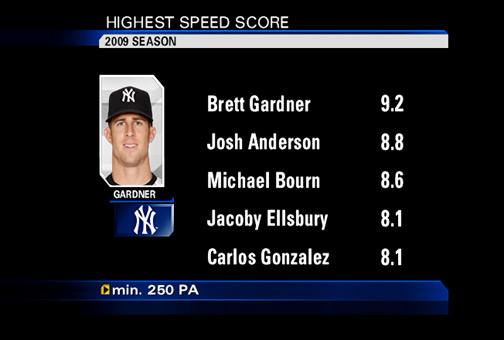 Not surprisingly, Gardner has been able to use that speed to his advantage when he's at the plate. According to Fangraphs.com, 16 percent of Gardner's groundballs last season were infield hits, which tied him with Ichiro Suzuki for the highest infield hit percentage in the majors (min. 250 PA).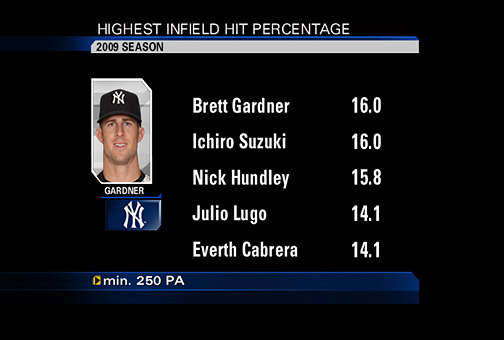 However, while Gardner has clearly mastered the art of the infield hit, the same cannot be said about his ability to bunt, as he laid down just one successful bunt in 11 bunt attempts. To fix this, Gardner spent a lot of time in the offseason working on his bunting skills: "That's the good thing about hitting off a (pitching) machine," Gardner told the New York Daily News. "You can bunt 50 or 100 balls in 15 or 20 minutes. No time. I've been bunting a lot, working on that more and trying to bring that back into my game."
For a guy as fast as Gardner is, he also doesn't appear to have taken full advantage of his speed on the basepaths. According to baseball-reference.com, he took an extra base only 42% of the time – barely above the league average of 39% - and scored from second base on a single just four of 15 times (26.7%), which ranked ninth-worst among the 177 AL players with at least 15 such chances last year.
You'd expect better from a guy who reportedly circled the bases in 14 seconds when he hit an inside-the-park-home run on May 15, and was named by Baseball America as the fastest baserunner in the Yankees organization in 2006, 2007 and 2008. That kind of excitement, (seen in the nifty catch he made in Wednesday's exhibition opener), makes him One2Watch4 in 2010.