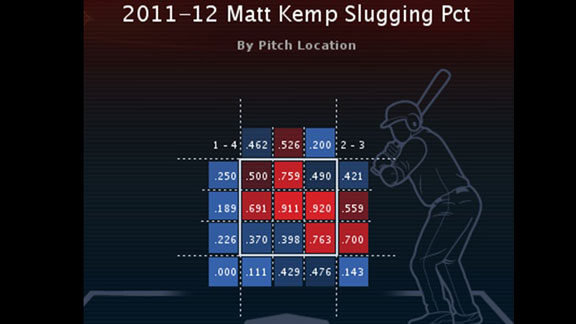 Most of Kemp's damage has been done on pitches over the middle and inside.
No team has been able to solve Matt Kemp lately quite like the San Francisco Giants.
Kemp is hitless in his last five games dating back to last season, the second-longest streak of his career. All five of those games have come against the Giants.
In fact, the Giants have actually held Kemp to 0-21 at the plate in his last six games against them. In 2011, Kemp raked Giants pitching to the tune of a .359/.446/.672 slashline (BA/OBP/SLG). But since the start of last year, San Franciso has held him in check, only allowing him to slash just .203/.238/.322.
The key has been a change in pitch locations to him from 2011 to 2012.
Kemp does the most damage to pitches middle-middle, middle-in and middle-up. His weakest zones are on the outer half.
In 2011, 41 percent of Giants pitches to Kemp were located on the outer third. In 2012 and into this season, that percentage has bumped to 46 percent. Pitches located on the inside part of the plate fell from 37 percent in 2011 to 30 percent since.
Facing Lincecum
Tim Lincecum has held Kemp to a .214 average overall, but Kemp has warmed up against Lincecum lately.
Kemp is 7-22 (.318 BA) against Lincecum over the last two seasons compared to 2-20 (.100 BA) prior.
An issue for Lincecum is his drop in velocity. Lincecum's average fastball dropped two MPH from 92.2 in 2011 to a career low 90.3 in 2012. At the same time, his changeup velocity only fell by 0.5 MPH, meaning the difference between his fastball and changeup went from 8.5 MPH in 2011 to 7.1 MPH in 2012.
One of Lincecum's struggles last year was throwing his fastball high and in to righties. As his velocity is no longer elite, that didn't really fly, and it stands to reason that it won't if he tries to do it against Kemp.
Tidbits to know
• Since the start of 2009, these teams have played to an even 37-37 split.
• The Dodgers and Giants have split shutouts to begin the year. They haven't played each other in three straight shutouts since 2000 when Darren Dreifort shut the Giants out twice in a row (7/23, 9/26) followed by a Kirk Reuter shutout of the Dodgers (9/27).