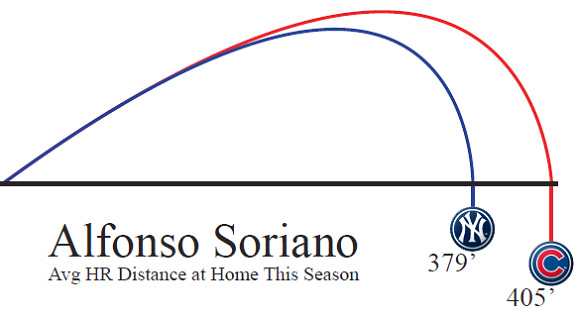 Illustration by Trevor Ebaugh
With August in the books, here's a look at the month's most notable performers when it came to homer hitting, with a quick peek ahead to the top September homer-hitting storyline.
Soriano was most prolific
Alfonso Soriano tied Miguel Cabrera with an MLB-high 11 home runs in August. He has 12 home runs since being traded to the Yankees on July 26, including 8 at Yankee Stadium.
Soriano has taken advantage of the dimensions at Yankee Stadium, hitting three home runs to the opposite field, after hitting no opposite field home runs at Wrigley Field in his previous five seasons.
As you can see in the image above, Soriano's average homer distance is considerably shorter at Yankee Stadium than it was in the more spacious and more windy Wrigley Field.
Pence goes longer than anyone
Hunter Pence's 476-foot home run at Coors Field on Aug. 27 was the longest home run in the majors this season. It was a career-long for Pence and the longest by a Giant in the eight-year history of ESPN Home Run Tracker.
It surpassed a pair of 475-foot homers, by Anthony Rizzo and Mark Trumbo.
This season, no one hits homers harder or longer then Pence. He has the highest average home run distance (422.6 feet) in the majors, the fastest average speed off the bat (108 mph).
Pence hit two of the four longest home runs in August, including a 459-foot blast at Marlins Park on Aug. 18. He is tied for the major-league lead this season with three home runs of at least 450 feet.
Previewing the AL home-run chase
Entering September, Miguel Cabrera trails Chris Davis by four home runs for the AL home run lead. Cabrera stands a strong chance to capture consecutive AL Triple Crowns if he can catch Davis.
ESPN HR Tracker Tale of the Tape
This Season
Entering last September, Cabrera trailed Adam Dunn by five home runs and proceeded to hit 11 the rest of the season, finishing with a major-league-high 44. In the previous three September/October's, Cabrera averaged six homers. But Davis kept pace with Cabrera at the end of last season, hitting 10 in the final month.
Davis has an average home run distance of 405.4 feet in 2013, more than a foot longer than Cabrera's average distance of 403.7 feet. Davis' average distance in August was 416.7 feet, his longest in any month this season.
Davis' average was aided by a career-long 466-foot blast on Aug. 10, the longest homer between the two players this season. Cabrera's season-long is 453 feet, done twice, including one in his 3-home run game May 19 against the Texas Rangers.
For more home-run info, including data on every homer hit in 2013, visit hittrackeronline.com