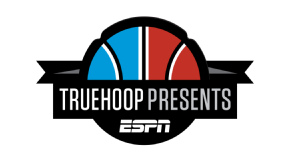 IT'S OCT. 7, 2015, and the Cavs are hosting the Hawks in Cincinnati. It's the NBA preseason, a nothing game, really -- save for one detail: LeBron James is debuting his new, flashy signature sneaker, the LeBron 13. On this nothing night, the bright yellow shoe is a beacon beaming out to younger hoops fans around the world. It is also something of a dog whistle, visual noise that grandpa Cavs fan won't notice as his grandson locks in on the sneaker's flashy side panel, a quirk that looks vaguely like a funhouse mirror view of a propeller blade.
Hawks wing Kent Bazemore starts off playing up on James far from the hoop, in a very un-preseason manner. In the first quarter, the two get tangled on a lob intended for LeBron, and James tumbles into the baseline. The matchup remains physical into the third quarter. "LeBron pushed off, he decked Bazemore," Hawks announcer Bob Rathbun intones as Bazemore draws a foul on a James drive with 9:41 left in the period. Near the 5:45 mark, LeBron rushes out to guard Bazemore, lightly shoving him as the shot clock expires. On the next Hawks possession, it escalates. Bazemore and James fight for position in the paint, and their arms get tangled. Simultaneously, they push off and whip their arms away. Now Bazemore is standing a few feet from James, a gap LeBron suddenly closes with aggression. In front of the baseline referee, LeBron launches a right forearm shiver into Bazemore's chest. As Bazemore stumbles back, a foul is called. Cavs announcer Austin Carr chuckles at the replay of the hit, saying, "That's to send a message."
But what kind of message? And why?
---
IT'S NOV. 17, 2015, and it's throwback-jersey night in Oakland. Steph Curry flaunts a retro look as he readies himself to play the Raptors. The reigning MVP strolls into the locker room, sporting bright yellow shorts at what can only be described as 1970s length. After he ties his Under Armour Curry 2 sneakers, he dresses for the most public of preparations. By this point, it has become clear that fans are showing up earlier, in increasing numbers, just to see Curry warm up. His is now a cult of personality so powerful, thousands flock to see a man play basketball against the air.
Before Curry trots out to the screaming throngs, the man who can move a nation's worth of money explains his short shorts. He smiles and proclaims, "I'm going Bazemore style." Bazemore style, as in Bazemore's bold penchant for wearing shorts that are briefer than briefs. Bazemore was a Warrior once, an undrafted rookie in 2012 who seized scraps of attention with yoga-pose celebrations from the bench. Back then, while collecting DNPs, he got on the ground floor of something that rose because he asked Curry to lift it.
Since he entered the league, "Bazemore style," has also meant being swaddled in Under Armour apparel. "He's like the biggest spokesperson for the brand," says Curry, the actual biggest UA spokesperson. "Always wears new stuff, wears my stuff." You can often see Bazemore wearing Curry's signature shoes. Increasingly, America's youth are joining in that predilection.
On March 3, 2016, Business Insider relayed a note from Morgan Stanley analyst Jay Sole on Under Armour's business prospects. In it, Curry's potential worth to the company is placed at more than a staggering $14 billion. Sole's call on UA's stock is bearish relative to other prognosticators, but for one man's power to change everything.
His note reads, "UA's U.S. basketball shoe sales have increased over 350 percent YTD. Its Stephen Curry signature shoe business is already bigger than those of LeBron, Kobe and every other player except Michael Jordan. If Curry is the next Jordan, our call will likely be wrong."
What few fans know is the backstory of all this -- how the most electric player in a generation slipped through the grasp of the most powerful sports apparel company in the world, and how Under Armour pulled off the marketing heist of the century.