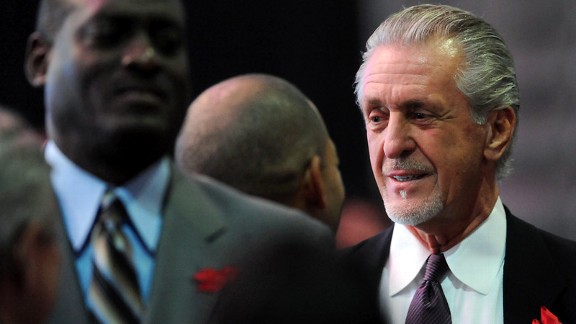 Jayne Kamin-Oncea-US Presswire
Pat Riley is itching to get the season started, but wouldn't elaborate on his coach's expiring contract.
DORAL, FL – Understandably, Miami Heat president Pat Riley is a restless man these days.
You can see it in his face. Literally. With the contentious NBA labor dispute reaching the 11th hour, Riley now sports a five o'clock shadow of a solid gray goatee he's grown in recent weeks. His eyes are jumpy. It's hard to stand still. And he looked thrilled to see and speak to the media.
As the NBA lockout drags on, Riley's days are filled with things he wishes he could say but can't because the league prohibits team officials from addressing players and negotiation specifics. There are also things Riley would rather be doing but can't, such as preparing to evaluate his Heat in what would have been a home game Friday night against the New Jersey Nets.
And, of course, there are matters Riley is free to address but chooses not to, such as the future of Heat coach Erik Spoelstra beyond what stands to be the final season of his contract once the lockout ends.
But one things clear: the waiting game is wearing thin.
"There's a biological clock that we all have in this industry," Riley said Friday while attending a Heat-sponsored Veterans Day youth basketball camp at the U.S. Southern Command center in suburban Miami. "We all understand we have to wait. And we will. But all summer long (we've) been in the office ready to hit the ground running when we can. We're ready to roll when everybody else is."
Considering where negotiations between the NBA and the players' union stand, the wait time could be a matter of days, months or even well into next year. With Dwyane Wade, LeBron James and Chris Bosh at the core of a team that advanced to the NBA Finals last summer in their first season together, perhaps no team stands more to lose from a lost season than the Heat.
Riley was careful not to mention any players by name, but he did plead for fans to remain patient as they await the return of one of the league's most popular – and polarizing – basketball products.
"Right now, we have one of the greatest bases of fans in the league," Riley said. "They're patiently waiting and supporting us. We're supporting them. We just hope that we're going to be able to deliver to them the same thing we delivered last year, which is exciting basketball. We've got some great, great talent. Some great players. We can't wait to get going again."
For now, the only option for Riley is to find creative ways to bide his time as the players decides over the weekend whether to accept the league's revised CBA proposal or reject it and likely take steps to decertify the union. The league's latest proposal calls for a 72-game season that would start Dec. 15.
In the meantime, Riley joked he might have to continue to contain his competitive nature to the card and board games he's been playing with his front-office staff while preparing for the season.
"I'm the No. 1 gin player over at the Heat offices," Riley said. "So when it gets a little bit boring, the gin games, a little gin rummy, a little backgammon, we start playing some other games. I've had enough. I've waited long enough. I think we all have."
Even the goatee is growing tiresome.
"This is my lockout look," Riley said of sporting a style similar to Heat owner Micky Arison's bearded look. "Everyone at the Heat office has done something. So the day that we start (playing) is the day that this (beard) is history. And no, I didn't do it because of my boss. But mine is as good-looking as his."
But the potential of a lost season remains a bad look for all.
The extended idle time has given Riley and Spoelstra even more opportunities to meet and discuss adjustments that could put the Heat over the top after falling in six games to Dallas in the Finals. Spoelstra was under tremendous scrutiny last season from the time Miami got off to a bumpy 9-8 start through a finish in which the Heat squandered a 2-1 series lead against the Mavericks.
Although Spoelstra's job status will certainly be a top priority when – or if – the season starts, Riley wouldn't address specifics about the future of the coach he's groomed for 15 seasons.
"We've met all summer," Riley said of Spoelstra, who had a previously-scheduled commitment and was the lone member of the coaching staff not in attendance at Friday's camp session. "We've had some great, long conversations about philosophy. He's watched every game (from last season) over and over. I've watched every single playoff game two or three times. His staff is ready to roll."
I then pressed Riley on whether there were any discussions as to whether Spoelstra would be rolling with the Heat beyond this season.
"He's been here, what, 15 years already," Riley said. "But we don't talk about contracts."
Friday's camp gave the staff a chance to get back on the court as coaches ran the children of military personnel through drills and games. Riley also gave out gold-plated coins to soldiers, a gift the Heat also gave last year when the held training camp on a military base in northwest Florida.
Riley also said the team is considering holding future training camps on military bases to show support for troops as part of a "Home Strong Initiative" the Heat started five years ago to honor military personnel returning from Iraq and Afghanistan.
Riley on Friday recited the pledge of allegiance during a short speech to the camp crowd and also said he is praying that soldiers returning from combat will be able to find job stability domestically.
"This is something that I think is extra special because since 2006, every since we initiated the Home Strong movement, it's been special for me," Riley said. "This is a good day."
Before Riley walked away Friday, he stopped, turned toward a group of NBA writers and said, "See you soon."
At this stage for him, "soon" can't come soon enough.