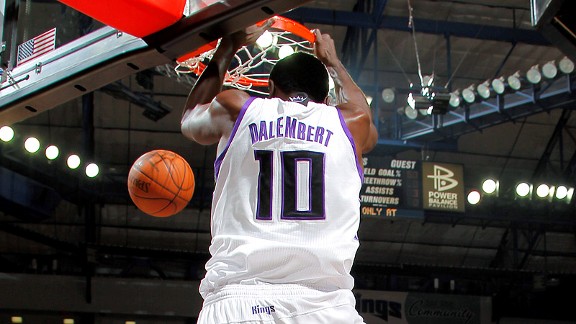 Rocky Widner/Getty Images
Would Samuel Dalembert join the Heat? From the looks of it, it could be a slam dunk for both sides.
The lockout isn't officially over and we don't yet know the final details of the new CBA. Still, free agency chatter is already at deafening levels.
Who will the Miami Heat target?
By now, you probably have heard the speculation that Pat Riley and the Miami front office is high on Samuel Dalembert, a center formerly of the Sacramento Kings. ESPN's Chad Ford reports within his free agent ranking that the veteran center remains Riley's top priority:
Don't count out the Miami Heat. Dalembert lives in South Florida, wants a chance to win a title and is Pat Riley's No. 1 target. If no team offers him significantly more than the mid-level, Dalembert could be Miami-bound.
From an on-court standpoint, Dalembert catches the Heat's eye because he plays center and can actually finish around the rim. The 30-year-old is no spring chicken, but he's the most realistic option among the top center free agents. Sure, the Heat would love to lure Nene and Tyson Chandler to Biscayne Boulevard, but Riley will be competing with far better offers elsewhere.
Dalembert is a fantastic shot-blocker underneath the rim (he finished inside the top ten in blocks per minute among regular centers) and can actually step back for a mid-range jumper. Although he looked a tad out of shape last season, the near 7-footer grabbed 19.3 percent of all rebounds on the court, far above the positional average. Joel Anthony he is not.
Not only does Dalembert make sense from a basketball perspective, but the Haitian native has personal ties to the area. Over 50 of Dalembert's relatives live in Miami, and Dalembert himself has a home in nearby Boca Raton.
We learn this and more from a report by Chris Tomasson of FoxSports.com, where Dalembert says playing for the Heat "would be fantastic" even if he would have to take a significant paycut to play on Biscayne Boulevard. More from Tomasson:
Dalembert wouldn't say he would agree to [the mid-level exception]. But he did say "what is best for you might not be for the most money." And he definitely likes the Heat.

"I'm keeping all my options open, but Miami could be a good fit for me," Dalembert said.

Why is that?

"If you look at the playoffs with Dallas, you saw what Tyson Chandler did," Dalembert said, referring to the 7-foot-1 center who helped the Mavs beat the Heat in six games for the title last June. "He was basically a key ingredient for them to win a championship. And Miami didn't have somebody like that. Somebody able to stop (foes from) getting second shots and somebody able to rebound and finish. I could fill that role and be an asset for that team."
There's no doubt that a mutual interest exists between the two parties. As I noted recently, Dalembert wouldn't be the first player to take a massive paycut to play for the Heat (LeBron James, Dwyane Wade, Bosh, Udonis Haslem, Mike Bibby, etc). Of course, that doesn't make it a guarantee either.
In order for the Heat to sign Dalembert, they would have to use all or part of their $5 million mid-level exception, a provision which is already throwing a wrench in the Heat's plans to keep their core in tact. As a member of the Heat, Dalembert would almost be guaranteed the starting role, with Anthony, sophomore Dexter Pittman and possibly Eddy Curry backing him up.
For a guy who earned $13.4 million in 2009-10, a starting role won't be enough for a guy who would be taking a nearly eight-figure paycut. The Heat will certainly make their case to Dalembert, and it may be convincing one. Dalembert will have a strong chance to win his first championship and share the experience with his family. Would it be worth it?