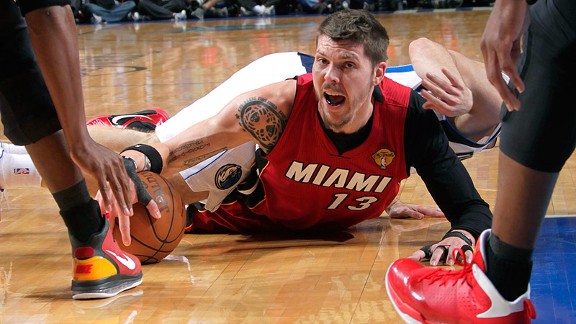 Glenn James/NBAE/Getty Images
Cutting Mike Miller won't be an easy pill to swallow, but here's why the Heat may have little choice.
For the last three days NBA executives have been digesting the new collective bargaining agreement line-by-line and crunching numbers. During that process it's likely that the Heat have come to the conclusion that they're still probably going to have to use the amnesty clause on Mike Miller and release him.
For months the Heat had believed this was inevitable knowing they badly needed to use their mid-level exception to help out some holes on the roster. This information made it to Miller's ears, he put his house on the market. This was with the understanding that teams paying the luxury tax, which the Heat will, wouldn't be permitted to use an entire mid-level exception of $5 million.
Then in the 11th hour of talks the owners agreed to give teams a $4 million "apron" to go into the tax and still use the full mid-level. This gave the Heat a chance to keep Miller, which by all accounts is what they would prefer. But once the literature got to the teams it became known that this "apron" clause has some pretty significant strings attached. Those strings probably will force the Heat's hand.
The most important item is that any team that uses its $5 million mid-level exception and goes over the luxury tax line cannot exceed the $4 million apron for the entire season. In layman's terms, it means that if the Heat use the mid-level exception they cannot spend over $74.3 million this season. In effect, this is a hard salary cap even though neither the union or the league sold it that way. Simply, the Heat need to add some free agents and they can't keep themselves under that threshold with Miller's $5.4 million on their books.
Once the Heat sign rookie point guard Norris Cole, their payroll will be about $67 million. This includes $2.7 million the Heat have to pay to satisfy old deals for players no longer on the roster. They owe James Jones $1.65 million as part of a buyout from last year plus money they guaranteed Patrick Beverley and Da'sean Butler, rookies they signed and then cut in training camp last year.
That gives them a roughly $7 million window to spend on the rest of the team if they use their mid-level exception. They probably just can't get there.
They will go after top free agent centers like Nene as is Pat Riley's custom, and perhaps offer Miller and Udonis Haslem in a sign-and-trade with the Nuggets, who have Nene's rights. They offered this deal, in fact, to the Nuggets last year. But unless Nene is willing to take a massive pay cut to play for the Heat, this is a pipe dream. More likely, the Heat will attempt to use that $5 million to land center Sam Dalembert, who is interested in coming to Miami.
That would leave just $2 million to fill out the other five roster spots including Mario Chalmers, who is a restricted free agent the Heat are likely going to re-sign. Just looking at the math, Miller doesn't fit in.
The Heat would be permitted to exceed $74.3 million if they used the new, smaller "taxpayer's mid-level" of $3 million. And trust that Riley will attempt to sell that to Dalembert. Quite obviously, he's made similar sales to free agents before. But even at $5 million, Dalembert would be playing for below his market value. Riley will probably exhaust all his options, but if the Heat want a starter-quality center it is probably going to cost that entire $5 million or very close to it.
If the Heat waive Miller, it would open up the extra $5.4 million to use to sign some more veterans to minimum deals. In addition, it would allow the team to use the so-called bi-annual exception of $1.9 million.
There are numerous veteran free agents who would come into play for the Heat at this price and at the veteran minimum of $1.4 million. Players like Grant Hill, Michael Redd, Tracy McGrady, James Jones and perhaps Vince Carter to name a few. All of them play Miller's position, which makes the decision even easier. If the Heat waive Miller, they can afford to sign a badly-needed center with the mid-level and have the space left over to sign two replacements plus take a flier on center Eddy Curry to see if he can still contribute.
Injuries derailed Miller last season, leading to his worst shooting and scoring year of his career. But there was a reason the Heat gave him a five-year, $34 million deal last year and it is not appealing to pay him the last four years and $29 million of it to not play for them --- and potentially play against them in the playoffs. If Miller is indeed waived, in fact, look for the Chicago Bulls to be one of the most aggressive teams in trying to sign him.
If the surgeries Miller had in the offseason to his thumb and shoulder help him retain his 2009-10 form, when he shot a sizzling 48 percent from 3-point range, then the Heat would be crazy to let him go. But under the rules, the Heat have to make the decision on whether to amnesty Miller by Dec. 25, the start of the season. It may not be enough time.
It's not a great basketball or financial decision to release Miller. But with no true center on the roster at the money and cap space needed to address the point guard situation as well, the new rules and old deals appear to have backed the Heat into a corner on this. The Heat are out to win the championship now and getting into that mode often forces tough decisions like this one Riley may have to make.