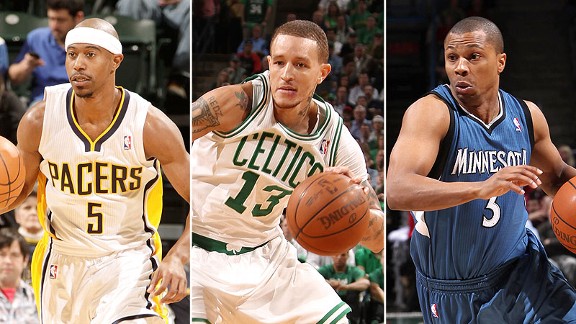 Getty Images
Will T.J. Ford, Delonte West or Sebastian Telfair join the Heat this season? They'll need the help.
Do the Heat need a point guard?
Put it this way: they don't even have a real point guard on the roster.
Sure, Eddie House qualifies as a point guard in the vertical sense, but the job description of a point guard generally requires successfully dribbling the ball up the court. Dwyane Wade and LeBron James can make cameos running the offense, but they're only point guards on a part-time basis. Heat draftee Norris Cole isn't signed yet. Inking him will happen momentarily, but he will potentially be stale -- not fresh -- from the Horizon League.
You get the point.
Mario Chalmers, as we previewed in Wednesday's edition, will most likely be reeled back to the Heat next season on a multi-year deal. Heat owner Micky Arison included Chalmers on his "Welcome back" roll call on Twitter, but there are no guarantees in free agency. The Heat may have to bolster their roster with at least one free agent point guard.
Who will it be?
The following are the realistic outside candidates to join the Heat:
Miami Heat's point guard targets
---
T.J. Ford | #NBArank: 285th
AGE: 28 | STATUS: Unrestricted | 2010-11 SALARY: Indiana Pacers - $8.5M
STATS: 18.9 mins, 5.4 pts, 3.4 ast, 0.9 stl | 38.6 FG%, 18.8 3FG%, 72.9 FT%
ADVANCED: 9.9 PER, 18.3 USG%, 43.4 TS%, 91 ORtg, -0.4 Est. Wins Added
Hollinger's 2011-12 projection

: 6.7 pts, 3.4 ast, 39.0 FG%, 10.8 PER (per 20 minutes)

TH: If the Heat want a reclamation project, T.J. Ford seems like a perfect choice. But at this stage, something tells me the Heat aren't looking for that. Once a highly touted prospect from Texas, Ford's career has fallen off the last couple years. He averaged 14.9 points per game as recently as 2008-09, but could barely get off the bench for the Pacers in the playoffs. Can the Heat afford a point guard who can't shoot a lick?

BW: The Heat don't have many requirements at point guard but the ability to shoot is at the top
of the list. Being able to defend at least a little is a major plus. Ford can't really do either. He's
interested in the Heat but the feeling is probably not very mutual.

MW: The answer to Tom's last question is No. In fact, heck no. Considering the amount of time LeBron and Dwyane will spend handling the ball, barring a drastic change in philosophy and scheme, the Heat don't need a rock-pounding, set-up type point guard. They need a B.J. Armstrong or Derek Fisher (shooter/defender), which they hope they have in Chalmers after three years of seasoning. Ford's lack of size and length also don't jive with what Riley prefers at the position. Now if T.J. is willing to come for the minimum deal, of course he'd be welcomed aboard. If not, it's probably best to move on.
---
Delonte West | #NBArank: 212nd
AGE: 28 | STATUS: Unrestricted | 2010-11 SALARY: Boston Celtics - $1.1M
STATS: 18.9 mins, 5.6 pts, 2.7 ast, 0.8 stl | 45.8 FG%, 36.4 3FG%, 86.7 FT%
ADVANCED: 12.3 PER, 16.6 USG%, 53.3 TS%, 100 ORtg, 0.4 Est. Wins Added
Hollinger's 2011-12 projection

: N/A (insufficient minutes)

Tom Haberstroh: Of all the point guard targets for the Heat, no one can top Delonte West from a high-risk, high-reward standpoint. At the positive end of the spectrum, West brings everything the Heat could want. He can handle the rock, he's a career 37.3 percent shooter from downtown and defensively, he can hound just about any opposing guard. Basketball-wise, he's a natural fit. But would the Heat take a flier considering the constant potential for off-court distractions? Or better yet, should they?

Michael Wallace: I've said it before, and I'll say it again. Delonte West certainly has the makeup of a Pat Riley-type guard. He's long, athletic, can shoot, likes to defend and has a toughness about him that often gets under the skin of opposing players. There, obviously, are other reasons why this might never be a possibility in Miami, considering previous issues in Cleveland with LeBron. Money could also be a huge hurdle, with West not likely to take the minimum again. But there aren't many better fits for Miami's style at that combo guard position than West.

Brian Windhorst: Don't believe everything you hear. LeBron respects West's game a great deal and how he performs in the clutch. West is what the Heat need most, a combo guard who can shoot and defend who is proven in the postseason. West's issues, however, can be a major drain on a team. He has an illness that he had bravely fought publicly but privately it has made a negative impact on teammates at times. Some people think there's a chance he'll never play in the league again. Some think he could help a team get a ring. The Heat probably don't need a gamble like this right now.
---
Earl Watson | #NBArank: 295th
AGE: 32 | STATUS: Unrestricted | 2010-11 SALARY: Utah Jazz - $1.2M
STATS: 19.6 mins, 4.3 pts, 3.5 ast, 0.8 stl | 41.0 FG%, 33.6 3FG%, 67.1 FT%
ADVANCED: 10.2 PER, 13.4 USG%, 50.0 TS%, 100 ORtg, -0.6 Est. Wins Added
Hollinger's 2011-12 projection

: 4.3 pts, 3.4 ast, 39.8 FG%, 8.9 PER (per 20 minutes)

TH: If we've learned anything about the Heat's moves since July 2010, it's that they have a soft spot for seasoned vets. Enter Earl Watson. If the Heat are going to sign an older free agent on the cheap, I'd give two thumbs up for this guy. A solid shooter from downtown, plays good defense and can pass the rock. He's a little turnover-prone for my taste, but for the money, I think he's a solid purchase. What am I missing?

BW: Watson isn't an ideal choice but, as we've said, the Heat are going to be forced to bargain shop at this spot. If Watson is willing to accept the minimum and to come in without the promise of starting or having guaranteed playing time – and those are two rather important "ifs" – then he might fit in.

MW: Watson has been on the Heat's radar before. But either money or bad timing has always prevented the union from taking place. Watson's defense and experience at point guard could make up for his less-than-stellar shooting. But again, I think timing and fit might get in the way. If the plan is to bring back Chalmers, where does Watson necessarily fit in a small guard rotation that would also presumably include Eddie House and Norris Cole?
---
Sebastian Telfair | #NBArank: 322nd
AGE: 26 |STATUS: Unrestricted |2010-11 SALARY: Minnesota T'wolves, $2.7M
STATS: 19.2 mins, 7.2 pts, 3.0 ast, 0.7 stl | 40.2 FG%, 35.9 3FG%, 73.3 FT%
ADVANCED: 10.5 PER, 19.9 USG%, 49.7 TS%, 98 ORtg, -0.2 Est. Wins Added
Hollinger's 2011-12 projection

: 7.3 pts, 3.2 ast, 40.6 FG%, 11.0 PER (per 20 minutes)

TH: Generally known as a preps-to-pros bust, Sebastian Telfair will be an unrestricted free agent after his up-and-down (but mostly down) season in Minnesota. He never developed into a passably efficient point guard and it's hard to take his good 3-point campaign from last season seriously. But he's fast and brings flair to a team looking for a playmaker off the bench. What's the word on him?

BW: Telfair's best asset is his speed, he's one of the quickest guards with the ball in the league. That has some value to the Heat because they do want to push the ball more than last season. But he just can't shoot and teams will not be forced to guard him in the halfcourt and that is
vitally important to what the Heat want to do.

MW: Too small. Potential defensive liability. Need I say more? It'll be tough to get past those shortcomings and survive with the Heat. He does have experience and would come on the cheap. So that says something for Sebastian. But he's a long way from those magazine cover, documentary days, isn't he?
---
Rodney Stuckey | #NBArank: 108th
AGE: 26 | STATUS: Restricted | 2010-11 SALARY: Detroit Pistons, $2.8 million
STATS: 31.2 mins, 15.5 pts, 5.2 ast, 1.1 stl | 43.9 FG%, 28.9 3FG%, 86.6 FT%
ADVANCED: 18.4 PER, 24.5 USG%, 54.4 TS%, 112 ORtg, 8.1 Est. Wins Added
Hollinger's 2011-12 projection

: 9.6 pts, 3.2 ast, 42.5 FG%, 17.5 PER (per 20 minutes)

TH: Among free agent point guards, no one posted a higher player efficiency rating than Rodney Stuckey (18.4). He could command a big contract if the Pistons let him walk -- they drafted Brandon Knight after all -- so why is he on this list of potential targets for the Heat, knowing they don't have much flexibility?

MW: I remember Pat Riley wondering aloud in an arena hallway not so long ago as to whether the Pistons would be able to keep both Stuckey and Will Bynum longterm. Riley is a fan of both. Some even say that Stuckey's game makes him a poor man's Dwyane Wade. I'm talking poverty-level poor. But he's big, strong, athletic and knows what it takes to play with vets. He's also out of the Heat's price range.

BW: I just don't think the Heat can justify spending what it would take to get Stuckey to Miami when they have such a need at center. Plus they already traded two draft picks and cash to get Norris Cole, a sign they see him as a long-term answer there. However, Stuckey would fit what they're looking for if they found another way at center. He's a stout combo guard that can defend most perimeter players plus he can run the offense effectively and create his own shot. He's not a great outside shooter but he's a true scorer and that would be valued. It is worth pointing out that Stuckey recently signed with Leon Rose of CAA, the agency that brought Bosh and James to Miami.
---
Other potential targets: Jose Juan Barea (unrestricted), Jannero Pargo (nonguaranteed Chicago), Anthony Carter (unrestricted).
---
Friday's edition of The Heat Market: Miami's free agent center options.
---