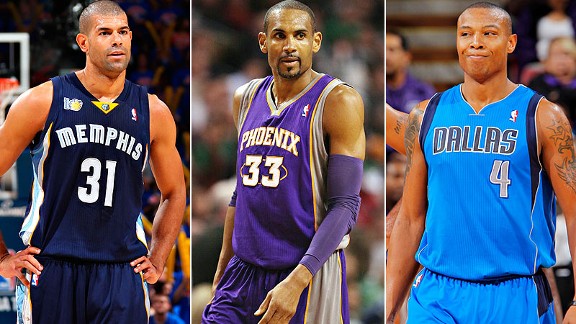 Getty Images
If Mike Miller is released via the amnesty provision, the Heat will have a strong crop of potential substitutes.
Everyone knows the Heat could use a fresh new face at point guard and center this offseason. But no one seems to be talking about the wing players. That should change.
Using the proposed amnesty clause, the Heat are likely to part ways with Mike Miller, who is out at least a month recovering from hernia surgery. With last season's sharpshooters Miller and James Jones both possibly missing on this upcoming roster, the Heat need to be on the prowl for at least one new wing player to spell LeBron James and Dwyane Wade when they come out of the game. Heat president Pat Riley and head coach Erik Spoelstra do not want to overuse LeBron and Wade this time around.
Remember the Jerry Stackhouse experiment of 2010-11? Well, the Heat will want to avoid breaking the emergency glass like they did last season. The good news is that there's a long line of veteran perimeter players who could be in the Heat's price range. It's unknown whether the Heat will use the mid-level exception to lure guys like Shane Battier and Grant Hill, but with Eddie House the only current wing player on the bench, the Heat might have to consider using at least part of it to find Miller's possible replacement.
Who will be Heat's first wing player off the bench? They will have a pair of Duke products, a set of cousins, and some injury-prone fliers on their radar. In the final installment of the Heat Market, we take a close look at the Heat's realistic options on the wing.
Miami Heat's wing targets
---
Shane Battier | #NBArank: 98th
AGE: 33 | STATUS: Unrestricted | 2010-11 SALARY: Memphis Grizzlies - $7.4M
STATS: 29.0 mins, 7.6 pts, 4.5 reb, 2.3 ast | 45.0 FG%, 38.2 3FG%, 68.8 FT%
ADVANCED: 12.3 PER, 11.7 USG%, 56.7 TS%, 115 ORtg, 2.2 Est. Wins Added
Hollinger's 2011-12 projection

: 4.6 pts, 3.1 reb, 41.3 FG%, 11.5 PER (per 20 minutes)

TH: The quintessential role player for the Heat. Doesn't need the rock, does the dirty work. Can spot up for threes, can guard the 4. Perennial overachiever, never on underachieving teams. If the Heat are serious about playing small-ball and running next season, Battier would be a perfect fit alongside LeBron James, easing him of the burden of always guarding power forwards. Battier went cold in Memphis, but I wouldn't read too much into that. If the Heat have a finishing five of Mario Chalmers and Battier next to the Big Three, they will be a deadly crunch-time force. Question is, can Nick Arison convince his fellow Blue Devil to take the necessary pay cut at this point in his career?

MW: We're talking wings, and obviously, Shane appears to be the flavor of the week for the Heat. It's amazing how free agency tends to inflate a player's value and make people forget what they saw with their own eyes just a few months ago. You're mistaking if you see Shane as your primary answer as an top-tier level perimeter defensive stopper. Those days are gone. He remains a capable shooter, and for that, he does carry some value. I'm just not convinced he's Mr. Fix It for this team in that role, especially if the price is beyond $2 or $3 million a season.

BW: There's a reason why the Heat are attracted to Battier. He has a reputation of being a good perimeter defender and has shown he can be an effective spot-up shooter. Considering the intangibles he's famous for, he pretty much is the portrait of a role player on a contender. However, it is clear Battier is looking for a multi-year contract for several million a year. At age 33, it is prudent to make a long-term investment on him especially when the Heat's free agent dollars are neeed elsewhere. Isn't there a chance this could be Mike Miller all over again?
---
Grant Hill | #NBArank: 67th
AGE: 39 | STATUS: Unrestricted | 2010-11 SALARY: Phoenix Suns - $3.2M
STATS: 30.1 mins, 13.2 pts, 4.2 reb, 2.5 ast | 48.4 FG%, 39.5 3PT%, 82.9 FT%
ADVANCED: 14.7 PER, 20.1 USG%, 56.3 TS%, 109 ORtg, 5.1 Est. Wins Added
Hollinger's 2011-12 projection

: 7.4 pts, 2.9 reb, 45.2 FG%, 12.4 PER (per 20 minutes)

Tom Haberstroh: If we get a repeat performance of last season, Hill could be the one of the best wings on the market. Thing is, we can't expect encore seasons from a 39-year-old like Hill. There's no question that he's a sensational fit on this squad, but I have two main concerns if I'm the Heat pursuing Hill: How much does he owe Steve Nash for his resurgence? Secondly, can the Heat buy off the Phoenix training staff?

Michael Wallace: Grant says there's a good chance he'll remain in Phoenix, where the training staff has worked wonders on his body the past two years. If I'm Miami and must have a former Dukey on the roster, this is the man I'm recruiting with whatever money I have left after securing a center. Yes, Grant is 39, but he's coming off a very productive season on both ends of the court. His versatility makes him an asset, one that can be plugged in at three positions on offense. And he would be a very solid system defender in Miami - as he proved to be when the Suns actually tried to play something resembling defense last season.

Brian Windhorst: You're already very wealthy, you're well respected, you're married to a pop singer and your choices are to spend the winter in Phoenix or Miami. Life can't be too bad for Hill. As a guy who can still defend, can create his own shot a little bit and would be a rock in the locker room, Hill would be a wonderful fit for the Heat. Also, he'd come reasonably cheap. There would be nothing but upside here. No wonder the Suns want him back. But he probably won't win his first title in Phoenix this year. Time for Riley's rings to make an appearance.
---
Caron Butler | #NBArank: 87th
AGE: 31 | STATUS: Unrestricted | 2010-11 SALARY: Dallas Mavs - $10.6M
STATS: 29.9 mins, 15.0 pts, 4.1 reb, 1.6 ast | 45.0 FG%, 43.1 3FG%, 77.3 FT%
ADVANCED: 14.2 PER, 25.1 USG%, 52.3 TS%, 100 ORtg, 1.6 Est. Wins Added
Hollinger's 2011-12 projection

: 9.2 pts, 2.8 reb, 44.0 FG%, 13.9 PER (per 20 minutes)

TH: Kiss your minutes, points, and touches good-bye, Caron. Only six small forwards posted a higher usage rate last season, something that won't mesh well with three other former No. 1 options. However, if Butler is willing to take the necessary sacrifices to chase a title, then he would be a welcomed addition off the bench. He could start for a playoff team next season if he wanted to, so don't expect him to rejoin the Heat organization. Not a good fit on the defensive end and I'm not sold on his downtown shooting anyway.

MW: Perhaps it's the nostalgia. But Caron did tell reporters during a charity game a few months back in Miami that a potential reunion with the Heat would be among his free agency options. He remains close friends with Dwyane Wade and would instantly be a sixth man of the year candidate playing behind LeBron James and Wade. But two things clearly stand in the way. First is money, meaning Caron would have have to accept a huge paycut to make it even possible. And two, the Heat have a much bigger need at center, where the bulk of their available money will be committed in free agency.

BW: You could list the reasons why Butler would be a good fit for the Heat, there's plenty of them. But despite injury issues that have ruined several seasons including last year in Dallas, he's not at the point in his career where he needs to take a below market value deal and not be a starter. That is what he'd have to do to be in Miami. Also, he's got a ring coming, no reason to make concessions to chase one.
---
Tracy McGrady | #NBArank: 178th
AGE: 32 |STATUS: Unrestricted |2010-11 SALARY: Detroit Pistons -$1.4M
STATS: 23.4 mins, 8.0 pts, 3.5 reb, 3.5 ast | 44.2 FG%, 34.1 3FG%, 69.8 FT%
ADVANCED: 14.9 PER, 18.6 USG%, 50.3 TS%, 104 ORtg, 3.7 Est. Wins Added
Hollinger's 2011-12 projection

: 6.4 pts, 2.9 reb, 40.8 FG%, 13.6 PER (per 20 minutes)

TH: Not enough was made about McGrady's bounceback season. The best days of T-Mac are way behind him, but the Heat will like his ball-handling and vision off the bench, something they were hoping to get with Mike Miller last season. Unlike Miller, McGrady isn't a spot-up shooter, but he can rain from downtown from time to time. If McGrady can be had at the veteran's minimum, he has value. But outside of that, it's hard to look past the injury concerns.

MW: T-Mac was one of the first players to come out and publicly voice his support for what Miami did in free agency last season. He sat in the Heat's visiting locker room last season and reminded reporters that he tried to do the same thing years ago when he got to Orlando along with Grant Hill and also nearly recruited Tim Duncan away from San Antonio. If McGrady is willing to take a minimum deal and produce the way he did in a versatile supporting role with Detroit last season, such a move would make sense in Miami. He showed he's still got something left. But it could be a case of one too many strong personalities in the Heat's locker room.

BW: McGrady playing 72 games last season was an overlooked accomplishment and a legit sign that he's still got something left. The reason he'd appeal to the Heat is because he's so versatile. He can play several positions, handle the ball, score and even rebound to a degree. He's not a good long-range shooter so it's not a perfect fit but he's the type of player who would fit in well in a rotation with Wade and James. McGrady's personality has been an issue in the past, there's no dodging that. Plenty of former All-Stars have turned themselves in well adjusted role players in their later years, but not all of them.
---
Tayshaun Prince | #NBArank: 105th
AGE: 31 | STATUS: Unrestricted | 2010-11 SALARY: Detroit Pistons, $11.1M
STATS: 32.8 mins, 14.1 pts, 4.2 reb, 2.8 ast | 47.3 FG%, 34.7 3FG%, 70.2 FT%
ADVANCED: 15.1 PER, 21.0 USG%, 51.1 TS%, 108 ORtg, 5.9 Est. Wins Added
Hollinger's 2011-12 projection

: 7.6 pts, 2.7 reb, 46.3 FG%, 14.3 PER

TH: Pat Riley will love Prince's pedigree. Has a title on his bracelet-sized belt; He's a former Wildcat; He plays hard-nosed defense and can hit threes. Prince is a great example of a wasted veteran on a rebuilding organization, who could be a boon for a contender looking for a two-way player. Prince will find a better deal elsewhere, but the Heat will certainly try to lure him with a championship shot and the Miami lifestyle. Good luck.

MW: Tayshaun has the kind of length and defensive disposition that make Pat Riley salivate. That's always been the case since he entered the league from Kentucky, Riley's alma mater. The major question is how much does Prince have left. Better yet, how hungry is he to do whatever is needed to fit in with a title contender and chance another ring? Would he accept a role off the bench after all of those years as a starter in Detroit? For Riley, it would be nice to dream about Prince in a Heat uniform, but the reality is there are greater needs elsewhere and not enough money to go around to add this sort of roster luxury.

BW: Prince is a championship player, his resume is loaded with success. But like with Butler, he is not at the point in his career where he needs to make compromises in salary or role. Like Butler, he's got a ring. With the Heat's limited money to spend and it's needs, this doesn't look like the best fit.
---
Vince Carter | #NBArank: 121
AGE: 34 | STATUS: Unrestricted | 2010-11 SALARY: Phoenix Suns - $17.5M
STATS: 28.1 mins, 14.0 pts, 3.8 reb, 2.0 ast | 43.7 FG%, 36.1 3FG%, 74.0 FT%
ADVANCED: 14.8 PER, 23.4 USG%, 52.8 TS%, 106 ORtg, 4.5 Est. Wins Added
Hollinger's 2011-12 projection

: 8.8 pts, 2.6 reb, 41.1 FG%, 12.8 PER

TH: Has anyone heard from this guy this offseason? Seriously, I'm asking. It's only fitting that the Heat, a team that employed brothers-in-law (Eddie House and Mike Bibby) on the squad last season, could be eyeing cousins in the same offseason. Carter is Tracy McGrady's cousin, and the two find themselves in the same bucket: the former superstars bargain bin. Once Carter is released by the Suns', he could be looking for one final shot at the title. It would shock me if he landed in Miami, but shocking the world is Pat Riley's specialty.

MW: Nah. Next in line, please?

BW: This is an awfully talented player to have as your first wing off the bench, it would be a remarkable upgrade..But is Carter ready accept getting, at best, the fourth-most shots on his team most nights and to get paid at that level? Those are prickly yet vital questions.
---
Josh Howard | #NBArank: 189th
AGE: 31 | STATUS: Unrestricted | 2010-11 SALARY: Washington Wizards - $3.0M
STATS: 22.7 mins, 8.4 pts, 4.1 reb, 1.3 ast | 35.8 FG%, 24.1 3FG%, 61.7 FT%
ADVANCED: 9.2 PER, 21.9 USG%, 41.6 TS%, 89 ORtg, -0.3 Est. Wins Added
Hollinger's 2011-12 projection

: N/A (insufficient minutes)

TH: The nicest thing I can say about Josh Howard right now is that he's an extreme buy-low candidate. It was painful to watch this guy last season and considering his serious knee surgery, I'm sure it was just as painful to play. Howard was a shell of his former self last season, and missed 104 of his 162 shots from the floor. He'll have suitors elsewhere, but the Heat might be wise to pass and dedicate a roster spot to someone who can hit a shot from outside.

MW: Defensive toughness. Shooting ability. Can score in bunches. Versatile. Those are all the positives Howard has going for him. But in addition to coming off a major knee surgery, there's also a knucklehead factor that makes this one-time superstar in the making a significant risk. It all comes back to the logic that Miami must spend the bulk of its money to address the center position and won't have enough to satisfy the salary demands a free agent of Howard's ability will make on suitors. If he did somehow land in Miami, it would give the Heat four 1st rounders from that talent-rich 2003 draft.

BW: It's possible these two could help each other. After an unimpressive 18 games last season coming off that nasty knee injury, Howard might want to prove he's recovered and can be a difference-maker on a contender. The Heat would be glad to give him a chance if he'd be willing to take a bargain salary. But that sort of stuff doesn't happen too often.
---
Michael Redd | #NBArank: 252
AGE: 28 | STATUS: Unrestricted | 2010-11 SALARY: Milwaukee Bucks - $18.3M
STATS: 13.4 mins, 4.4 pts, 0.8 reb, 1.2 ast | 40.0 FG%, 23.5 3FG%, 100 FT%
ADVANCED: 9.7 PER, 17.7 USG%, 47.0 TS%, 99 ORtg, 0.0 Est. Wins Added
Hollinger's 2011-12 projection

: N/A (insufficient minutes)

TH: Here's a fun stat: Michael Redd made $136,567.16 for every minute that he was on the floor last season. You'd be hard-pressed to find someone who has fallen as hard and as fast as Redd. If you plays every game in this shortened season, it would be more than he's played in the past three season combined. With that said, he's a perfect flier candidate for a team looking for shooters off the ball. It kills me to say this, but at this point in his career, Redd would be good Eddie House insurance.

MW: Last but not least from the surgically repaired unit of potential Heat free agent perimeter swing options, we get to Michael Redd. Before his knees repeatedly gave out on him the past two seasons, Redd was a max-level player in Milwaukee. At this stage, he'd be reduced to a shooting specialist who can do little else to help a team. But when you're in Miami's position of needing stretch-the-floor shooters on the cheap, it makes sense to take a flier on Redd. That's only if he proves he can meet Miami's rigid conditioning demands and to take the vet's minimum.

BW: For as long as James and Wade are in their prime they will be at their best when they are surrounded by spot-up shooters. Redd was once considered to be the perfect star teammate for James when the Cavs went after him aggressively in free agency in 2005. That was several major knee surgeries ago, though, and Redd is now far from max player status. Redd has only played in 28 games over the last two years and his 3-point shooting has been in steady decline. But the Heat are going to need at least one wing player and maybe two to accept a minimum salary deal. Redd is that type of player now.
---
Other potential targets: Jason Kapono (unrestricted), Andrei Kirilenko (unrestricted), Mike Dunleavy (unrestricted), Rasual Butler (unrestricted).
---