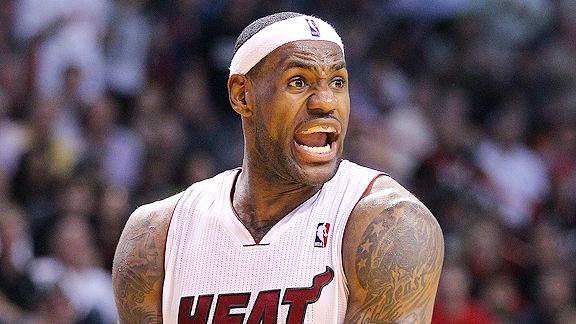 Mike Ehrmann/Getty Images Sport
The losses continue to mount for LeBron James and the Heat.
MIAMI -- Gentlemen, start your engines.
The latest setback for this sparkling, expensive, high-powered engine of a Heat team has put Miami on par with Daytona and Indianapolis in at least one area. All three towns are now identified by the "500" that follow their names.
Daytona and Indy are known for their big races. Miami, however, is sprinting toward mind-boggling mediocrity after losing three of their past four games, including Thursday's 112-107 defeat against the Boston Celtics -- who can clearly take the Heat. For Miami, which now sits at 5-4 entering Saturday's game against the Toronto Raptors, that's already two losses to the defending Eastern Conference champions.
Exactly four months ago, AmericanAirlines Arena was rocking with pyrotechnics and a concert-like atmosphere when the franchise celebrated the free-agency signings of LeBron James, Dwyane Wade and Chris Bosh. On Thursday, the scene in the building was distinctly different. All that was missing was B.B. King and his guitar to serenade fans as they exited the arena singing the blues.
After the loss, Wade tried to relieve some of the tension that is building around this team when he declared that Miami was "the best 5-4 team in the league."
The Heat now face the very real prospect of falling to .500 on Saturday, because there doesn't appear to be any reason why the Raptors won't be capable of exposing Miami's defense the way the Celtics did on Thursday and the Utah Jazz did two days earlier. The Heat have stumbled into an improbable scenario: A statement game less than a month into the season against one of the league's also-rans.
Maintaining perspective should be a priority when judging the Heat. But there's also a sobering reality. Owner Micky Arison didn't dole out nearly $400 million in contracts this summer for the Heat to flirt with a .500 record at any stage of the season.
"We're not hitting the panic button by any stretch of the imagination," Heat coach Erik Spoelstra said.
That's a fairly measured explanation for a coach who watched his team fall into a 20-point hole, his hustle players lose virtually every 50-50 ball, and his proud defense get bulldozed by Boston's 54.4 percent shooting from the field and 56.3 percent clip from 3-point range.
"November 11, right now, we're not there," Spoelstra said. "At times, it will be bumpy. It's a bumpy stretch right now. The most important thing right now is that we circle the wagon … get back to work and try and get better."
The Heat never demonstrated a sustained level of cohesion during the game, but the principals were all on the same page afterward. That's when Spoelstra, Wade, James and Bosh all said the right things about needing more time to jell into the championship contender they were built to be immediately. But there's a feeling of discomfort, an uneasiness, a cloud of confusion and, possibly, waning confidence hovering above this team right now.
"It's a weight (on our shoulders) because we want to play well for each other," James said. "It has nothing to do with what everyone else thinks of our team. It's going to be games when we look great. And it's going to be some games when we don't look like we did the game before. But we have to make sure we do what we need to do mentally to stay in tune with the process."
Perhaps the most important view of that process comes from the vantage point of Section 117, Row 4, Seat 6 -- which is located directly across the court from the Heat's bench. After Thursday's loss, I went over and sat in that red, padded seat to see how it felt. It was still warm. And a bit rigid. I imagine it had to be extremely uncomfortable at times Thursday night.
It's Pat Riley's seat for every home game. He was in it Thursday until the Celtics put the Heat away with 47 seconds left in the game. Riley, the Heat's president and resident architect of this dynamic but currently disjointed roster, hasn't talked to the media since training camp. But his body language, constant note-taking and glares into the Heat's huddle during timeouts got plenty of national television airtime during the game.
You had to wonder exactly what Riley was writing in red ink all over the back of that stat sheet he kept plucking from the jacket pocket of his Armani suit.
A list of favorite basketball minds from around the league? A sketch of plays and coverages he might suggest to Spoelstra in their routine meetings? Maybe a rundown of available centers or point guards who could help fill the biggest holes on the Heat's roster?
Whatever the case might be, one thing was clear Thursday: The search for answers is already running from the top of the franchise all the way down to the Heat's locker room.
"No one is happy about it right now," Spoelstra said. "In the last 48 hours, we're getting to know each other. This is what makes you stronger. No one said it was going to be easy."
No one expected the Heat to be the best near-.500 team in the league at this point either.
"It's a reality now," James said.
A very sobering one. These days, that view is clear from any seat in the arena.
New York Yankees slugger Alex Rodriguez - who sat court side Thursday in an area between the Heat's billionaire owner and high-profile team president - can appreciate a .500 stretch amid high expectations in his sport.
But Riley and Arison? Not so much in theirs.