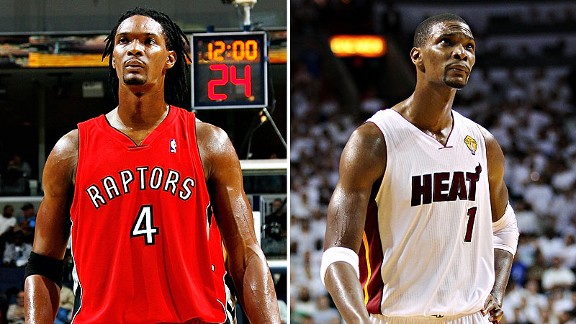 Getty Images
Chris Bosh tipped the scale at 250 pounds in Toronto, but his knees could barely support the bulk.
MIAMI -- When the practice facility doors were opened to the media, the television cameras were already fixated on Chris Bosh. For the first time in the months, the press could provide visual evidence that Bosh had indeed added some weight to his wiry frame in the offseason.
Bosh's weight gain was greeted with awe from the swarming reporters, heralded as a necessary development for the All-Star big man coming off a disappointing season. A very smart development.
And then Bosh battled knee issues all season-long, he couldn't run the floor and he eventually came to regret his decision to bulk up.
Yes, that was Bosh's 2009-10 season, his final campaign in Toronto.
Will history repeat itself?
Well, in some ways it already has.
If you go back and read local reports from the Raptors' training camp in Oct.2009 and compare them to articles coming out of recent workouts in Miami, you might feel a little bit of déjà vu. "Raptors get first look at bigger, meaner Bosh" was the headline from the Toronto Star after seeing him in training camp. Sound familiar? Other Toronto outlets echoed that reaction after seeing Bosh in person, and two years later, we're hearing virtually the same exact response in Miami after Bosh arrived to workouts last week. It's strikingly similar.
We can learn a few things from Bosh's Toronto transformation. With 20 additional pounds on his body and something to prove in his contract year in 2009-10, bigger was supposed to be better for Bosh.
And statistically, he was better. His rebounding improved slightly, posting the tenth-highest rebound rate in the NBA. His player efficiency rating (PER) swelled from a 22.1 figure in 2008-09 to 25.0 in his seventh season in the league, a statistical jump you rarely see at that point in a career unless player overhauls his game – and his frame.
Seems like bulking up was a great success, right? Not so. In an interview with Men's Fitness (of all publications) during last season, Bosh admitted that adding bulk might not have been the best idea.
"I'm always looking to improve my game, but I found out that weight doesn't equal strength," Bosh told the magazine. "I put on 20 pounds (in 2009-10). At one point I weighed 250 pounds, and something wasn't right. I couldn't run, my knees swelled up at the beginning of the season, and then I couldn't shoot like I wanted to. My finesse game just wasn't the same."
The numbers confirm that Bosh's finesse game fell off a bit that season in Toronto. His shooting percentage on long 2s (16-23 feet) slid from 47.3 percent in 2008-09 to 43.0 percent in 2009-10. His attempts per game from that area also dipped from 6.0 to 4.5 in his bigger frame. His isolation plays – his signature, slithery one-on-one moves off the dribble – dropped from 4.9 plays in 2008-09 to 4.1 plays in the 2009-10 season, according to Synergy Sports. Across the board, his finesse game wilted.
In exchange, his effectiveness in the post sky-rocketed, scoring 600 points on post-up plays in 2009-10 according to Synergy -- up from 371 points in the previous season. Consider this: among the 48 players who recorded at least 150 post-up plays in 2009-10, Bosh reigned supreme in efficiency, scoring 1.093 points every post-up play. No one really came close. He was a statistical monster.
And then those numbers and his weight came tumbling back to Earth in Bosh's first season in Miami. He slimmed down to become more nimble, and his finesse game returned, if relying on his jumper too often. Sporting a thinner frame, Bosh told reporters on multiple occasions that he was concerned about what the extra weight was doing to his knees in Toronto.
But now, he's put some of that weight back on. At workouts this past week, Bosh admitted that his knee was on his mind while muscling up this offseason.
"But I knew how to do everything properly this time," Bosh said at the Heat's practice facility. "Last time, I was forced into situations where my body didn't react right when we started playing. I'm just trying to be in the best condition possible. And God willing, I'll be healthy this year."
Bosh was not allowed to work out with team trainers during the lockout, but Heat president Pat Riley and executive Alonzo Mourning spoke to Bosh in June before the lockout began and outlined a workout regime to add strength.
The objective? Muscle up and become a bigger big man. Bosh made good on their demands and added what looks to be about 5-10 pounds to his frame. What's most interesting about this offseason development is that Riley and coach Erik Spoelstra have both hinted that they want the Heat to run more this upcoming season, which would seem to contradict their message to Bosh. With added weight on his knees, Bosh will not be more mobile and he admitted he couldn't run nearly as well with his balky knees in the past.
It's true, no matter how spry or heavy Bosh looks, he won't be confused with Amar'e Stoudemire in the open court. It's not in Bosh's DNA to fly alongside Dwyane Wade and LeBron James on fastbreaks, and only 17 of his 524 buckets last season came in transition according to Synergy. That's not his game, and probably never will be.
By adding some extra pounds, the Heat may be hoping that Bosh can help more on the boards. Bosh has established a goal of averaging 10 rebounds a game this upcoming season -- "at least" he clarified. He has averaged double-digit rebounds before, the last time coming in Toronto during that monster season in 2009-10. He averaged 10.8 rebounds that season, but that figure was incredibly deceiving. And ordering him to bulk up might be an overreaction to some inflated rebounding totals in Toronto.
Why? Consider the Andrea Bargnani effect. Many were startled to see Bosh's rebounding numbers tumble last season. Everyone had a theory. He's too skinny! He has no heart! While these theories might have some merit, the explanation may be as simple as this: he wasn't playing 30 minutes a night alongside the worst rebounding center in the NBA. When he played next to Bargnani in Toronto, Bosh pulled down 11.4 rebounds every 36 minutes. When Bargnani left the court, that number dropped to 9.6 rebounds every 36 minutes. That's an enormous difference.
We see now that rebounding isn't just about heart and bulk; it's also about the context. And the context in Miami is making it much more difficult for Bosh to pull down rebounds. Compounding the boards issue is that Bosh now shares the court with Wade and LeBron, two of the very best rebounders at their position. As ridiculous as it sounds, the 6-foot-4 Wade grabbed rebounds more often than the 7-foot Bargnani last season. That's right: Bosh's new shooting guard is a better rebounder than his old center.
And he's aware of this unique situation. Bosh agrees that his new teammates are making rebounds tougher to retrieve, but he won't use it as an excuse.
"It's different," Bosh said about playing next to Wade and LeBron. "But we still gave up a lot of offensive rebounds. That's a part where I can help make up."
He can help there, but his perimeter game may not allow it. Will the added weight lead to more rebounds and better post play? It's certainly possible, but it's also possible that yanking Bosh's weight up and down could put more stress on his knees. Bulking up won't put Bargnani back at center, but it will put his health at risk and potentially neutralize his valuable mobility.
That's a trade-off the Heat are apparently willing to make.