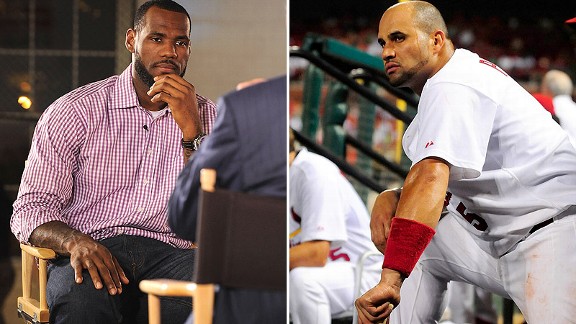 Getty Images
One is criticized for how he left. The other is criticized for why he left. Which decision hurts most?
MIAMI – So, devoted sports fans, how do you prefer your free agency decisions served?
Is it callously, after seeing your sports icon give the hometown team relatively cold shoulder before announcing to the world in a made-for-TV drama that he's taking his talents elsewhere because you essentially weren't good enough to get him what/where he wanted?
In other words, like LeBron?
Or, perhaps, the sports fan's version of a kick to the groin is less painful to absorb when you don't see it coming. Like when it's cold, quiet, calculated (literally when adding the salary numbers) and comes in the middle of the night, seemingly out of nowhere.
Sort of served on a Pujols platter.
No matter how you slice it, the Midwest region of the country has had some extreme disappointment to digest. But does this latest departure generate the level of disgust from fans as the previous one did?
In the same week LeBron James ventured in an ESPN interview as close as he's come to an all-out apology for the way he handled his 'Decision' and departure from Cleveland in the summer of 2010, news broke Thursday that slugger Albert Pujols will bolt St. Louis and take his bat to Anaheim.
Cleveland, St. Louis now feels your pain.
Or, so I assumed.
I wondered whether Pujols' decision to bail on the Cardinals after 10 seasons for a reported 10-year, $260 million deal from the Angels makes him the nation's preeminent sports villain? Does Pujols now don black hat and bad guy distinctions LeBron so desperately wants to shed?
Or, are their circumstances and actions so different that it's pointless to compare? Does the fact that Pujols led the Cardinals to two World Series championships, including one this past season, make it easier on fans to watch him walk away? Or, was the damage worse in Cleveland after LeBron, an Ohio native, left unfulfilled with just one trip to the NBA Finals and no title on his resume.
I needed answers. Logical, solid ones steeped in accuracy, integrity and common sense. So I went to the only reasonable place where I could find this kind of insight: Twitter.
I posed the question and you responded in droves.
From @DisabledWarVet: "Pujols only left for the money. LeBron left for a title. Pujols betrayed them way worse."
I don't disagree. The Cardinals were also offering well above $200 million, which wasn't exactly low-balling things. And frankly, it's inexcusable to believe that LeBron didn't have championship expectations and a good enough supporting cast around him to get it done.
From @superior89indo: "I think titles do make a difference. (Pujols) did his part."
I can dig this logic. There's really nothing more, or new, Pujols could do in St. Louis he hadn't already accomplished. Sometimes, you just want a new challenge. He delivered, and now he wants a change of scenery.
That sentiment was to be shared by @miked17: "#Nocomparison Clev has nothing w/o @KingJames to cheer for. STL has trophies to hold them over till the next #hero."
But just when the responses seemed to shift clearly in favor of LeBron remaining the bigger villain, there were rallies such as this one from @franchocaliche: "@KingJames took less money to play for a title. Pujols, with a talented team (in place), just went for the money!"
For @eddie878, this LeBron-Pujols debate is more about tact than titles: "I'll give Cavs fans benefit because of the TV special."
Of course, only on Twitter can someone such as @esposito make the argument this crystal clear – or not: "Easier w/Albert. (LeBron) is like a wife having 2 kids with you and divorcing you (compared) with a wife that's divorcing you with baby that's not yours."
In some regards, LeBron carried the element of surprise in his departure. But there's a segment of fans in St. Louis who saw this departure coming from Pujols since the day he essentially stopped negotiating with the Cardinals coming out of spring training.
To @adamj1919, Pujols, 31, would have been more of a burden on the Cardinals than a big bat blessing toward the tail end of a 10-year contract: "St. Louis fans are happy (because) that's way to much to pay him (until he'll be) 41 years old."
But that doesn't mean Pujols still didn't leave @Cardsfan33 with a bitter taste: "The fact that we won titles makes it harder. LBJ left because they never gave him a great supporting cast. We did."
I couldn't have summed it up any better than @teerock4real, who insists that common-sense fans have long accepted that true loyalty from franchises and players - or even franchise players - is a major myth.
"There's no loyalty on both sides," he tweeted. "Just wait til the Colts trade Peyton Manning."
Ahh.
Nothing settles debates quite as refreshingly as Twitter.