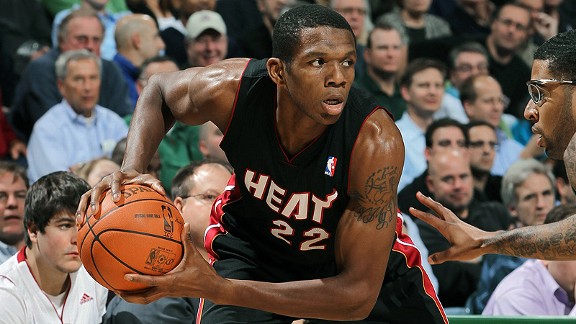 Gary Dineen/NBAE/Getty Images
James Jones, a Miami native, took less money to return to the Heat for another shot at the title.
MIAMI – The Heat continue to shore up their bench behind LeBron James and Dwyane Wade. They have agreed to re-sign veteran wing James Jones to a three-year contract.
Jones opted out of his contract with the Heat last summer to become a free agent and was being courted by several teams before he agreed to take less money to re-sign in his hometown. He will also earn $1.65 million from the Heat this year as part of a separate buyout agreement he had with the Heat in 2010. Jones, who overcame a serious wrist injury that threatened his career several years ago, averaged 5.9 points and shot 43 percent from 3-point range last season.
"I took considerably less (money) than what was offer out there," Jones said. "But you can't put a price on what's being built in Miami. It came down to stability of the organization and my family being comfortable here. I have a chance to have an impact on a team competing for a championship."
The Heat got a commitment from wing Shane Battier on Thursday and also reached a deal to re-sign guard Mario Chalmers on Friday. Because of new rules in the collective bargaining agreement, the Heat were limited in how much they could spend if using the full mid-level exception of $5 million unless they made a trade to unload salary or they waived Miller, who is due $5.4 million this season.
ESPN's Michael Wallace also contributed reporting to this story.