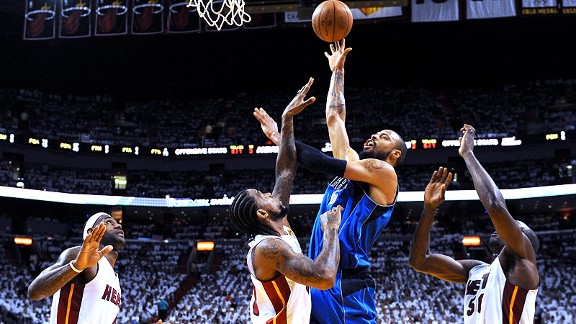 Don Emmert-Pool/Getty Imagess
Without a true center, the Heat struggled to stop Tyson Chandler in June. Expect more of the same.
MIAMI – Friday night was a cheerful time in the Miami Heat's offices. Downstairs in the arena the Trans-Siberian Orchestra was playing electric Christmas music to a late-arriving crowd. Upstairs several players happily signed multi-million dollar long-term contracts.
None of them was a center.
There were a handful of reasons the Heat got beat the Mavericks in The Finals six months ago. First, the Mavs were pretty darn good. But the Heat did have their issues. Some the front office can't really address. What happened to LeBron James is something he's probably got to deal with on his own. What happened to the Heat in the trenches, well, that they could've done something about.
Friday night the Heat committed themselves to more than $25 million in new deals, sailing into the luxury tax zone where new rules limit their ability to change the roster. That is not to say they can't or that they won't have that needed quality big man come the playoffs. But it looks like they came up short in what was their top offseason priority. Whether it comes back to haunt them will unfold over the next seven months.
It was always going to be tough. While the center market this year was much deeper than usual, the Heat had limited ways to attract one. Considering how much money they have tied up in All-Stars it's understandable. But understanding doesn't get rebounds or block shots.
The Knicks spent $72 million to get Tyson Chandler this week, $58 million they paid him and $14 million they had to pay Chauncey Billups to clear the salary cap for it. They may have signed Chandler anyway but don't think that his dominance against the Heat last June didn't kick that price tag up a few notches.
Two of the centers the Heat used last season, Erick Dampier and Zydrunas Ilgauskas, aren't currently in the league. Another one, Jamaal Magloire, wasn't retained. The two true centers they plan to have in training camp, Dexter Pittman and Eddy Curry, combined to play 11 minutes last season. Both are on nonguaranteed contracts. In other words, they Heat are hoping for magic but there's not a lot of faith.
Meanwhile, elsewhere in the Eastern Conference, the Knicks have loaded up by adding Chandler to Amar'e Stoudemire. The Nets are scheming of ways to get Dwight Howard and Nene together in their frontcourt. And the Bulls' duo of Carlos Boozer and Joakim Noah combined to average 20 rebounds a game in the conference finals last year, doubling up the output of Heat starting big men Chris Bosh and Joel Anthony.
"We feel very comfortable with about our roster even without many any moves," Heat coach Erik Spoelstra said after his team's first practice of the year. "Last year was a successful year for us on many fronts…to make it within two games of our goal, we feel like we have enough."
Spoelstra is giving the company line and it's not untrue. James, Bosh and Dwyane Wade ought to be enough for any team. Most of the time last season, it was. In the Finals, it wasn't.
When the Heat re-visit the Mavs on Christmas, their three top center options are likely to be Anthony, Bosh and Udonis Haslem. Same as at the end of last season. None of them are true centers. Neither is Juwan Howard, who re-signed with the Heat Friday.
The Heat are thrilled they signed Shane Battier, beating out a host of rivals to add one of the most desired role players on the market. They are pleased they're bringing back James Jones on a three-year deal that could take him to the end of his career in his hometown. They're apparently bullish on Mario Chalmers, the mercurial point guard who has the rare gene of playing better under pressure. So much so they gave him a three-year, $12 million contract.
Perhaps Friday will go down as the day the Heat put the final pieces in place to put them over the top. But with their free agent resources nearly exhausted now, it is basically the same team they had a year ago plus Battier. And Battier can do a lot of things, but playing in the middle isn't one of them.