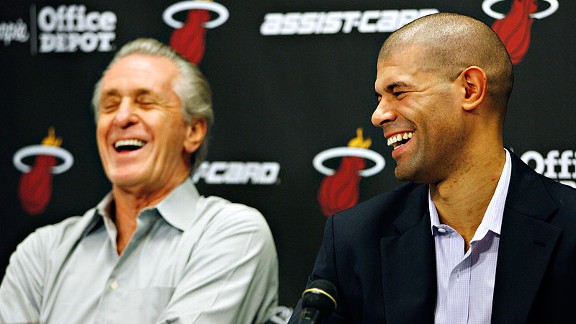 NBAE/Getty Images
Pat Riley sees Shane Battier as a versatile wing, but also as an opportunity to do something bigger.
MIAMI – He's had some good times in South Florida over the years, adding a ring to the portfolio and making loads of cash. But Pat Riley's glory days will always be those jet-black hair and thin tie years in L.A.
He found himself pondering Showtime again recently when sorting through what he should do with his Heat roster heading into his second season with his Big Three. Riley was putting the full press on Shane Battier and getting LeBron James, Dwyane Wade and Chris Bosh to recruit via text messages. Part of the sale was stories about those old Lakers.
In signing Battier, which the Heat finalized over the weekend, the Heat have become a team loaded with wing players. Coach Erik Spoelstra said that he envisions playing James, Wade, Battier and Mike Miller (when he recovers from hernia surgery) together at times. That's a rare style seen more in college than the NBA. And a type that Riley often used to perfection when racking up titles with the Lakers.
"It reminded me a little bit of what I had for nine years in Los Angeles," Riley said.
"I had Magic (Johnson) and (Michael) Cooper and (Byron) Scott and (James Worthy). Basically perimeters that played all different positions. I see Shane and Mike Miller and I see Dwyane and LeBron in almost the same kind of thing. (Spoelstra) has the same opportunity."
This idea appealed to Battier, who passed up richer offers elsewhere to accept a three-year, $9 million deal in Miami.
"The Heat gave me the best opportunity to have a winning role 10 years into my career," Battier said. "Sitting there with my wife looking at all our options…whenever another team gave us an offer we said to each other "does this beat Miami?" Hands down every time the question was no."
In talks with other teams who were interested in signing him, Battier proved to be quite demanding in his first-ever experience as an unrestricted free agent. According to some of the teams who spoke with him, Battier was in search of everything from the full mid-level exception of $5 million per year to guaranteed minutes plus assured end of game playing time
Smiling in his first day with the Heat, Battier said he'll sit on the bench and wave a towel if he was asked to. But that's not, of course, the plan. The plan is to have Battier fit in with the other Heat athletes to create a team that is hard to matchup with.
With a couple variations, the Heat basically a team made of up two types of players: versatile wings who double as point guards and versatile power forwards that double as centers. Notice Riley didn't mention anyone on his current team reminding him of Kareem Abdul-Jabbar.
But Battier fits in with that vision and at the price the Heat got him, it appears to be a prudent signing at this point.
"I think he fits that role perfectly," Riley said. "When we get Mike healthy we're going to have four of the best and most versatile perimeter guys in the league."