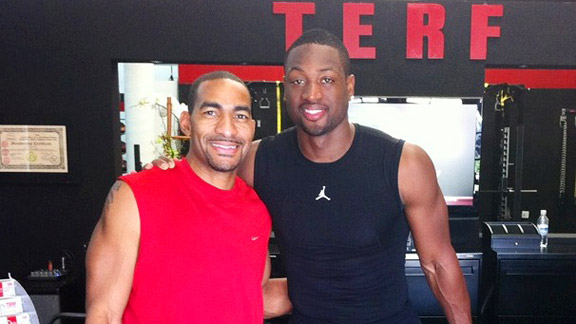 TERF Athletic Facility
Ed Downs was the man behind Dwyane Wade, LeBron James and Chris Bosh's offseason workouts.
MIAMI -- Tucked away on a one-way street in a small industrial area of South Miami, in between construction companies and electrical supply stores, lies TERF Athletic Facility, an elite training ground for personalized sports fitness programs that specialize in core development.
Its founder, Ed Downs, a U.S. Martial Arts Hall of Fame inductee who has previously worked with Navy Seals, wanted his gym to be unassuming to shed his celebrity clients from public attention. In the past, Downs, a trainer to the pros for more than 20 years, has consulted with NBA, NFL and MLB stars including Alonzo Mourning, Carlos Boozer, Alex Rodriquez, Baron Davis, LaMarr Woodley, Tim Hardaway, Jamal Mashburn and Penny Hardaway.
But when Downs opened TERF on Oct. 4, he never imagined just a month later that sports' biggest rock band would be seeking out his services. That would be the Heat's Big Three of Dwyane Wade, LeBron James and Chris Bosh.
Wade was the first to arrive in late October. He had heard about current and former Heat players, such as Hardaway, Juwan Howard and Mark Strickland, going to TERF, which stands for Training Enthusiasm Respect Fundamentals. When Wade stopped by on a Saturday, he was drawn to Downs' unique workouts that maximized an athlete's performance while decreasing his chances of injury. He had never done them before, and just two days later he was there training one-on-one with Downs.
From weights to functional training
Turns out, Wade's physical therapist had been looking for him to transition from weight training to more functional training, which would take some load off his joints, especially his surgically-repaired left knee from 2008.
"He wanted to do less weights and try something different that would help him improve his performance, more so than just getting stronger and built," Downs said. "At the same time, it's going to help take away some of those aches and pains, and help with his left knee issues. The muscle around the knee wasn't built back up like it should be. We got that built up probably within the first two weeks of working out. He saw a significant change in the musculature around his knee."
Before they really went to work, Downs put Wade through a test to see how his body would respond to different attributes that define an athlete: speed, torque strength, overall power, agility and athleticism. Downs said that Wade's combined score, 97.2 percent, was the highest out of anyone he's ever worked with.
"He's one of the most naturally strong and athletic athletes there is," Downs said of Wade. "His level is just very unique. He gives credit to other guys, like he'll say, 'LeBron is also unique, and Derrick Rose is unique.' I'd put those guys in the same category. There are other guys, of course, like Steve Nash, but they may not have that explosiveness -- not across the board like Wade."
Downs then watched game footage of Wade on YouTube in order to best construct a customized workout for him utilizing weights, resistance bands and his Air Force-engineered balance discs that can each withstand 600 pounds of weight. Downs then molded an overall workout routine for Wade that focused on balance exercises and sports-specific exercises, many mimicking his exact movements on the court so he could improve his performance in those areas. Downs' overall objective was to increase Wade's power, force and acceleration.
A rigorous regimen
Downs has been training Wade for about two and a half hours per day, five days per week, in between his other regular and renowned clients. A typical workout consists of 25 percent baseline exercises and 75 percent functional, endurance and circulation exercises (13 to 15 of them). Here are the five sections of the training, with each day's itinerary never the same so Wade's body is always feeling fresh:
Light warmup, followed by a passive stretch on the training table and a standing dynamic stretch

Core firing with Downs' own resistance, including a series of jabs and punches to prepare Wade's body for torque strength, and the twists and turns he does on the court

Plyometrics, including ladder drills, plank rows and jump squats

A series of unique, functional exercises designed for Wade himself, incorporating on-court moves he performs, including a crossover, first step, Euro step, step back and off-balance fadeaways off one leg (with the first step, Downs makes sure Wade jumps out on one leg at a 60-degree angle, instead of 45 degrees, so he'll develop a better direct line getting to the basket)

Advanced balancing and core strengthening maneuvers to help control full-body limb movement
Wade has enjoyed the sports-specific movements the most, especially the latest one Downs incorporated only a few days ago to strengthen his spinning fadeaway moves in the post. In a criss-cross pattern, Down applied resistance bands from Wade's right wrist to left knee and his left wrist to right knee, with bands between his ankles, in order to simulate a defender bumping him on the block. The first day Wade went through the exercise, he stayed in the gym 40 minutes longer than his designated workout time to fight through the added pressure, and he finally mastered it. Downs said that even during an exercise where he had Wade shooting leaning back while standing on one leg on a balanced disc, he made more baskets than being flat-footed.
As for the most challenging workout for Wade? That's been the core and balance exercises, topped off by a move Downs refers to as "Ready to Fly." Downs puts Wade in a push-up position, but makes it unstable for him by putting a balance disc under his feet and one under one of his hands. Downs then makes him raise his right or left hand off the ground to his chest, out in front of him and then by his side -- moves that make it look like he's flying. The exercise forces Wade to control all his arm and leg movements; therefore, strengthening his core and entire body at the same time.
"I compare him to a fighter aircraft because his thrust that he generates is off the charts for any human being to have while under the conditions he is faced with," Downs said.
Recruiting LeBron James and Chris Bosh
Just a month into the workouts, Wade already saw tremendous results. He felt he regained the strength he had entering the 2008 Olympics, going from 228 to 231 pounds, and his body fat went down from 4.8 to 3.5 percent, meaning that he gained additional lean muscle for better power and acceleration. He also noticed his body was working more efficiently on the court, and the aches and pains he experienced at the end of last season were gone.
"This training is what he's going to need to gain more longevity in his career," Downs said. "He feels more explosive and strong. Think of a Ferrari, and if someone can improve it, wow, is it street legal (laughs)? So you can imagine what he's going to do this year (laughs)."
Wade was so impressed with Downs that in mid-November, he started bringing James and Bosh along with him (see photo here). James had done some functional and core training in the past, including pilates, but not to the degree he did at it at TERF. The main difference between pilates and TERF is that Downs' clients don't work their core muscles lying on their back; they engage in dynamic movement. For Bosh, it was his first time doing any kind of functional training.
Since then, James and Bosh have joined in on Wade's workout a couple of times per week, only with a few adjustments for both. James, who Downs measured at 265 pounds and having a 5.2 percent body fat, wasn't focused on any particular growth area, but Bosh wanted to improve his lower-body strength in the post and for off-balanced shooting. Bosh came in at 238 pounds and has since gained a few pounds by practicing down-low moves with resistance bands.
"[LeBron and Chris'] main comment about the training was, 'It makes sense,'" Downs said. "LeBron kept saying, 'I can see how it can help our game.'"
What lies ahead
Wade hasn't trained with Downs since Heat training camp opened, but he plans to see him consistently during the season. In preparation of the grind schedule ahead, with some weeks featuring four games in five nights, Downs is focusing a lot on endurance training and pushing Wade's body to recover faster in between workouts.
Once the season starts, Downs will scale Wade's workouts back to once every four or five days, but he'll still make sure his body is firing properly and functionally. Downs' goal is for Wade to maintain the same power and endurance he has at a playing weight no less than 225 pounds. They haven't discussed traveling together yet, but the plan for now is when Wade is on the road, Downs will film 20-second clips of the exercises that he'll want Wade to do, and then send them to him through e-mail.
James and Bosh will be more infrequent during the season, but Downs foresees James coming a few times a week next summer and Bosh becoming more of a regular. Downs also expects more of their Heat teammates to show up this year and during the 2012 offseason.
By the way, there's someone else who's been getting a burn along with the Big Three. Try the trainer himself.
"When they're all here, I am getting a workout," Downs said laughing. "I had to pace myself and space out the circuit properly so I could make it through. They're like modern-day gladiators."