The game clock read 1:24 when Jason Kidd's 3-pointer splashed through the basket.
Udonis Haslem caught the ball in his hands and immediately made eye contact with LeBron James, who at that moment was standing inches away from the Mavericks baseline. Aside from Haslem, LeBron may have been the furthest guy away from the Heat's basket over 90 feet away, but that didn't stop him from igniting his own fast break – off a make.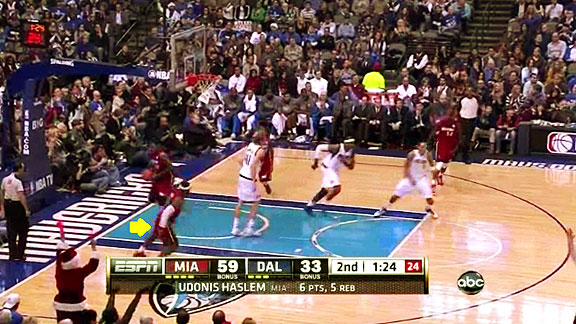 LeBron took off like a cork popping out of a champagne bottle and Haslem fed him with a short in-bound pass. LeBron proceeded to race past everyone down the court, weaving through retreating defenders on his way to the Heat rim. No one in a Mavericks jersey saw this coming.
By the time the game clock read 1:19, LeBron had beaten everybody down the court. He drew a foul call under the Heat basket after Kidd tried his best to arm-tackle LeBron from behind. All it took was three dribbles and five seconds for LeBron to go coast-to-coast for a layup attempt.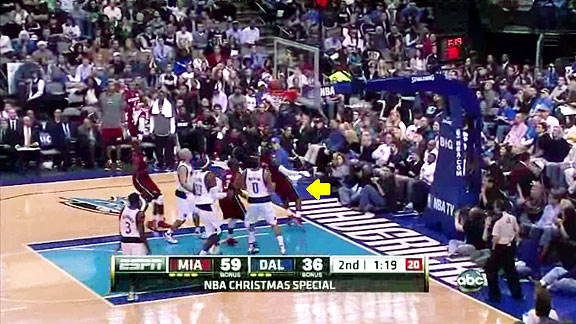 When you imagine what the basketball-version of the Oregon Ducks spread offense might look like this season, this play should stick in your head. This is what Erik Spoelstra envisioned this summer when he took a page out of Chip Kelly's playbook. LeBron, the most explosive player of this generation, created a fast break off of a make, which is more astounding once you consider that it was off a make from a 3-point shot -- the opposite of a fast break trigger. Everyone was already backpedaling to the other side of the floor when Kidd launched his shot from 25 feet out.
It didn't matter. LeBron blurred past the defense en route to one of his eight transition plays on the day. He scored 17 of his 37 points in transition in the season opener. Last season, LeBron scored 6.1 points per game in transition according to Synergy Sports, a data-tracking service used by NBA teams. He nearly tripled that figure in the season premiere of the Heat's new "pace and space" offense. With 31 points on fast breaks, the Heat more than doubled their average of 14.2 points from last season.
You could highlight any number of fast-paced plays from Sunday's rout over the Dallas Mavericks. There are tons of them. But that one stands out, not because he threw down a thunderous dunk (he didn't), and not because it led to a made basket (he missed one of his two free throws). No, that play stands out because it probably wouldn't have happened in that situation last season. The 2010-11 Heat, who mostly played in second gear, would have walked up the court and waited for Spoelstra to call one of his expertly designed plays that took about 15 seconds to fully develop. Or so it seemed.
The Heat had shown glimpses of this new high-octane offense in the preseason, but that was preseason. In their regular season debut, the Heat looked like they were playing in fast forward while the Mavericks were stuck in normal play mode. As a product of their blitzkrieg offense, the Heat racked up 101 possessions in Sunday's win, which was seven possessions more than they typically produced last season according to ESPN Stats and Info. When the scrubs came in with about three minutes remaining, the Heat had already scored their 105 points. The damage was done.
So what can we make out of one measly game? If we didn't know that the Heat overhauled their offense, perhaps we could treat it like a minor blip on the screen. After all, drawing ironclad conclusions from one game out of a 66-game season isn't the smartest idea. It's hard to imagine they can maintain this pace.
But this felt like a grand opening of sorts. As children around the world were anxiously unwrapping presents on Christmas, the Heat were unveiling their own little gift for the rest of the NBA: a freight train piloted by LeBron and Dwyane Wade. They flashed their athletic brilliance last season, but not for the majority of the 48 minutes. For long stretches in Sunday's game, the Heat looked unstoppable, blowing past a plodding Mavericks team that started five guys over 32 years of age. At one point, the Heat led by as many as 35 points.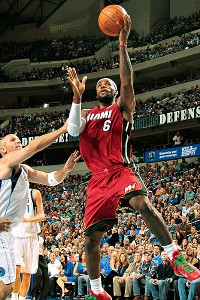 Danny Bollinger/NBAE/Getty
The end of LeBron's five-second race from baseline-to-baseline.
This game felt completely different even though the stars from last season's Finals were still shining on the floor. LeBron, Wade, Chris Bosh and Dirk Nowitzki remained but the Heat's pace completely transformed the tone of this head-to-head matchup. Of course, losing Tyson Chandler, J.J. Barea and DeShawn Stevenson will do that, but Spoelstra's new groove had as much effect on the final score as Chandler's absence did. There's no doubt that the Mavericks deeply miss Chandler, but it's not like he alone could pull the emergency break on the Heat's fast-paced attack.
To emphasize how different the Heat played in this game compared to the Finals, consider the following: the Heat drew six fouls in transition on Sunday; they drew a total of eight during the entire NBA Finals six months ago.
The Heat were running fast breaks out of made baskets, throwing double alley-oops and generally playing a step faster than anyone on the Mavericks. They won't be able to accelerate past every team like they did against an elderly Mavericks roster, but the Heat are banking on the fact that the rest of the NBA is out-of-shape and slowly regaining their legs after the long layoff.
After one game, that appears to be a smart calculation. But more importantly, can it last? We'll have to wait and see how that plays out in a condensed season. But Spoelstra is clearly looking to push up the pace and flow with unscripted basketball. When asked how many play calls he made in the win, Spoelstra just laughed to himself.
The Heat aren't doing this just for kicks. They're hoping that LeBron and Wade's remarkable conditioning -- in addition to speedy rookie Norris Cole coming off the bench -- will allow them to push the pedal to the metal until the other team runs out of gas. The Heat are playing a faster brand of basketball and daring anyone to try and stop them.