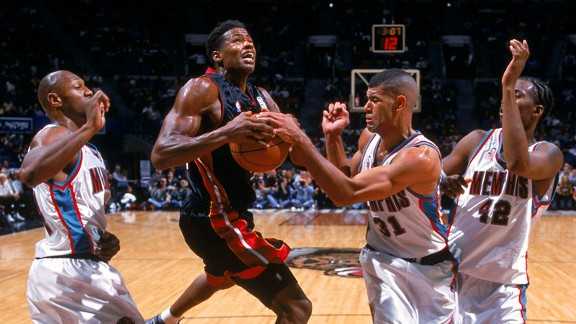 Bill Baptist /NBAE/Getty Images
Ten years ago, this jump-ball was probably not credited as a block for Shane Battier. But it is now.
Ever since "Moneyball" author Michael Lewis wrote a New York Times feature in Feb. 2009 on Shane Battier called "The No-Stats All-Star," he has worn the nickname as a badge of honor. We always hear about players who do all the little things on the court that don't show up in the box score and usually, this is just a cover-up for players who might be bitter about not being good shot-blockers or ball thieves.
But for Battier, the "he does all the little things!" sentiment isn't just crazy talk. If you watch Battier close enough, you'll notice the subtleties that make him despised across the league for being a pesky defender.
Like for instance, his block on Danny Granger during the first quarter of Wednesday night's Heat win.
As the last line of defense on a fast break led by Granger, Battier was in a bit of trouble. He was backpedaling toward the rim and with no one to slow down Granger or contest the drive, Battier did the one thing he does best: the unexpected.
As Granger barreled down the lane toward the rim, Battier pretended like he was going to try to swat the shot above the rim like most players do. So he jumped up in the air with Granger as they launched to the basket, but instead of flailing his arms high, Battier kept his head down so he could palm the ball downward with his outstretched left hand.
That's where driving players are most vulnerable and Granger didn't see it coming.
"I know I can't really jump with a guy like Danny Granger. I'm not gonna meet him at the rim or make a play at the rim on LeBron [James] or Dwyane [Wade]," Battier said. "But I know my strength is that I have pretty good hand-eye coordination, so I try to get the ball as they're bringing it up early."
As the velocity of the fast break sent Granger toward the basket, the Pacers forward with pogo-sticks for legs couldn't even raise the ball over the "Pacers" written across his jersey; Battier had it pinned with his hand. Granger should have had an easy dunk at the rim, or at the very least, a swooping lay-up. But no, Granger descended to the ground with the ball still in his hands -- along with Battier's left hand, too.
Jump-ball.
This time, Battier got credited with a block. But for his entire career, it was just one of those many little things that never showed up in the stat sheet. There isn't a tie-up or jump-ball column in the box score.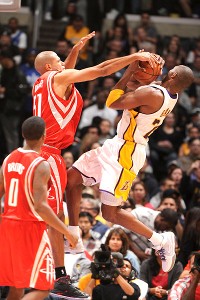 Andrew D. Bernstein/Getty
Shane Battier does to Kobe Bryant what he did to Danny Granger on Wednesday.
"See, that's my pet peeve," a very animated Battier said after the game.
"When I was in Houston, they never gave me anything. They never gave me a block. They never gave me a steal."
You could tell this has been bothering Battier for quite some time.
"I complained ... I moaned .. I said 'Guys, that's a block,'" Battier said.
"They responded, 'It's a jump-ball. It's nothing. It's a tie-up.'"
Battier wasn't satisfied with that response. He even thought about writing a petition to the league office to argue his case for a change in the rule book. He says he was kidding about that, but he probably wasn't.
"That's a blocked shot because it's in the act of shooting," Battier said. "No one gave me credit. It drove me crazy."
On Wednesday night, the Heat statistics crew gave him a tally mark in the block column and he couldn't be happier. The Heat won the jump-ball tip on a violation by Granger. Perhaps he was still flustered by Battier's odd-ball move.
Battier's actually been doing that move his entire career and finally, in his 10th season in the league, he is getting his proper due.
See that photo at the top? That was taken in Oct. 2001 during the preseason of Battier's rookie year. Yeah, that's Kendall Gill, in his lone season with the Heat, being introduced to Battier's signature tie-up for the first time. Decade-old preseason box scores are hard to come by, but it's safe to say Battier didn't get the block there if a jump-ball was called.
"It's one of the things you learn out of necessity when you're slow and unathletic," Battier said. "You find ways to impact the game on defense."
Battier can laugh about it now. He was certainly getting a kick out of it in the Heat locker room on Wednesday night, but the truth is he probably lost a lot of money over the years because he never got the proper credit. He has averaged a block per game over his career, but he probably deserves a bit more than that.
"If that had been counted for my career, I'd probably average two-tenths more blocks per game," Battier said. "Those things add up."
Battier says this is the first year he doesn't care about stats. For a guy who is known as "The No Stats All-Star" this is a pretty surprising statement. Wouldn't a selfless team player like him never care about individual stats?
"Well, that's not true," Battier said.
"I had to earn another contract."