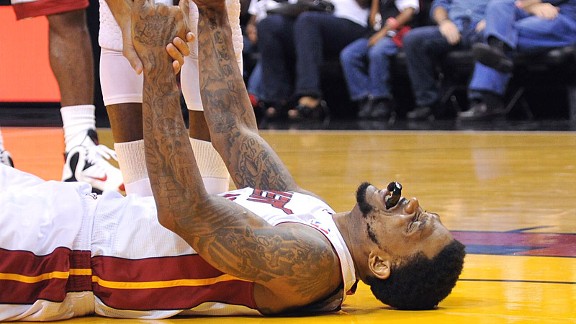 Steve Mitchell-US PRESSWIRE
Udonis Haslem has given the Heat a big hand on the boards off the bench.
If you haven't been paying close attention to the Heat in the early going, you probably have asked the following questions in order:
Who is this Norris Cole kid? And who is this Terrel Harris kid? Wait, what happened to the Heat's terrible bench from last season?
As Heat coach Erik Spoelstra promised this in training camp, the Heat were going to look different this season. But it was hard to take his statement seriously considering they didn't make a splash in free agency and their biggest signing was a 33-year-old role player that would bolster a crowded wing position.
But this much is clear: the Heat do look different this season and it's not just their up-tempo playing style. The Heat lost in the NBA Finals to the Dallas Mavericks primarily because LeBron James was not LeBron James. But the series also hinged on the fact that the Mavs had strong depth beyond their trio of Dirk Nowitzki, Tyson Chandler and Jason Kidd; the Heat had Juwan Howard.
The Heat's bench was both thin and battered. Mike Miller and Udonis Haslem probably came back a month too early from their surgeries and James Jones had a broken toe that Spoelstra couldn't depend on. When LeBron James, Dwyane Wade and Chris Bosh weren't on their games, who would answer the call?
Last season, there was barely a dial tone, but that has changed this season. It starts with Cole, the speedy point guard who is already averaging double-digit scoring in his first nine games of his NBA career along with 3.9 assists and 1.6 steals off the bench. Straight out of the Horizon League, Cole has been a burst of energy on both ends of the floor, already ranking in the top ten in steals. As a reserve.
But it doesn't end with Cole. James Jones has been on fire from downtown (48.4 percent 3-point shooting) and Udonis Haslem is averaging 10.3 rebounds per game -- as a reserve. Elsewhere, Battier has struggled mightily with his shot, but he has provided big minutes defensively and confounded his opponents on a nightly basis. And Harris? The sample size is small, but his per-minute stats and energy have been outstanding, especially for a rookie.
All in all, the production from the bench has skyrocketed since last season. How bad were they? They were far and away the worst scoring bench in the league, averaging a league-worst 21.9 points in 17.6 minutes of action. This season? They've climbed the ranks to 19th with 30.0 points in 19.0 minutes. They've provided much-needed relief for the Big Three thus far this season.
Of course, you don't want to have a bench that leads the league in production. A team will only go as far as their starters will take them. But the Heat lived with such a small margin of error last season, because of their elderly and brittle big men as well as the injuries to Haslem and Miller. This season? The Heat have opted for a youth movement and the fresh legs have been a huge boost.
Yes, LeBron James is having a career season, but the Heat's depth issues from last season are a distant memory. And now, everything doesn't depend on the Big Three, or whether LeBron plays like LeBron.