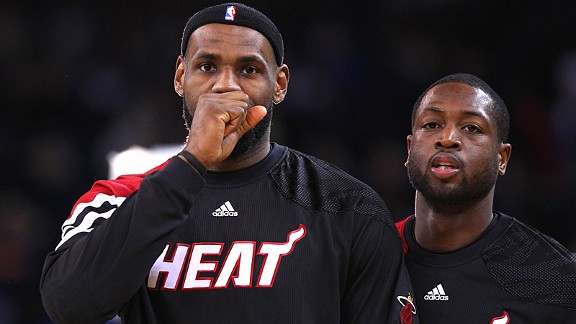 Ezra Shaw/Getty Images
LeBron James heats up when Dwyane Wade sits on the bench, but what does that mean for the Heat?
It is Dwyane Wade's 30th birthday, and although he'd like to celebrate the occasion by helping his team to victory on the court, he'll sit on the sideline Tuesday night against the Spurs.
Most likely, he'll sit there for the foreseeable future.
The Heat have repeated ad nauseam that there is no timetable for Wade's return. The organization's rhetoric of uncertainty is probably some combination of truth and coyness. The team doesn't know when he'll be back but also doesn't want to prepare prematurely. He has a bum right ankle, a sore left foot and a strained calf. It's as if someone threw road spikes in front of the Heat's high-speed path, and Wade couldn't get out of the way.
Maybe the Heat really don't know when he'll fix his flat tires, but we do know that the Big Three is downsizing to the Big Two, at least for Tuesday's game.
What should we expect?
Tons of points from LeBron.
It's just like the old days in Cleveland, right?
"You definitely think back to it," LeBron said after Tuesday's shootaround.
In Cleveland, it's no secret that LeBron enjoyed full rein on the offense. At one point, he averaged 23.1 field goal attempts per game. In Miami last season, his shot-taking rate dropped to 18.8 shots per game, the lowest figure he's seen in his career. Sure, Chris Bosh has a lot to do with that, but as a ball handler, Wade probably has more control over LeBron's touches than a big man on the block.
"I've been in this position before, not having another attack wing guy with me," LeBron said. "You try not to force too much, but you got to pick up the load a little bit more."
LeBron has picked up the load in Wade's absence, but it's not just "a little bit more." To illustrate Wade's effect on LeBron's game, consider this factoid from ESPN Stats & Information:
In the past two seasons, LeBron has scored 25.2 points per 40 minutes with Wade on the floor, but LeBron has scored 35.0 points per 40 minutes with Wade on the bench.
Yes, 35.
And LeBron isn't the only former No. 1 option to see his touches go up when Wade leaves the floor. Bosh, too, sees a big jump in scoring when Wade sits. In fact, Bosh sees his per-40-minute scoring rate rise from 19.8 points to 24.8 points when Wade checks out. It might be half the boost that LeBron enjoys, but it's still an enormous jump.
To go one step further, LeBron also watches his player efficiency rating (PER) skyrocket when Wade rides the pine. With Wade, LeBron's PER stands at 25.3. Without him on the court, it is a mind-boggling 34.9. Remember, the typical NBA player posts a 15.0 PER, and the best that Michael Jordan ever put together was a 31.7 figure. In fact, if we just look at LeBron's PER this season without Wade, it checks out at 38.3, which nearly breaks the PER machine.
What explains the huge boost? Shots are important. You can't score without field goal attempts -- unless you're Dwight Howard against the Warriors. When we look at LeBron's numbers without Wade, we see that his field goal attempts rise from 17.0 per 40 minutes to 25.5 per 40 minutes. Additionally, his free throw attempts average rises from 8.2 to 10.8 every 40 minutes. Evidently, when Wade steps off the floor, LeBron doesn't just go into Cleveland mode; it's more like "Cleveland, Game 5 against Detroit in the 2006-07 playoffs" mode.
But let's take a step back for a moment. LeBron's production without Wade is off the charts, but is that necessarily a good thing? Put another way, does LeBron's individual production translate to team success?
This is where the "Heat are better off without Wade!" argument goes off the rails. Since LeBron joined Miami, the Heat's offense has flourished with Wade and LeBron on the court together, even if the narratives don't see it that way. With the dynamic duo sharing the court, the Heat have scored 112 points per 100 possessions. LeBron alone? Drops to 104.1 points.
Overall, the Heat have outscored opponents by 11.9 points per 100 possessions when LeBron and Wade play alongside each other and "only" 6.3 points per 100 possessions when LeBron plays without Wade.
That's a lot of numbers, but conclusion is important: LeBron might be better off without Wade, but the team isn't. And LeBron knew this when he made "The Decision" to come to Miami and play next to two other stars. He sacrificed his personal numbers for a better chance to win it all.
It's also true that the Heat are 3-0 with Wade sidelined this season, but one of those wins came against the Nets, which -- let's be honest -- shouldn't really count. Interestingly enough, the Heat have performed slightly better with Wade on the bench this season, but that probably has as much to do with his playing on gimpy legs as anything. If we expand the sample size to last season, we see that the Heat aren't any better off with Wade out of the picture. It's clear that the Heat need Wade on the floor if they want to win the championship.
Or, perhaps I should say the Heat need a healthy Wade on the floor if they want to win the championship.