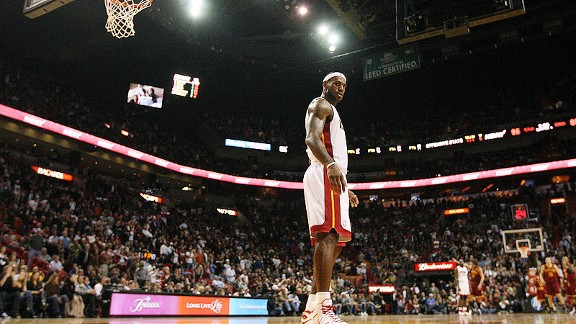 Mike Ehrmann/Getty Images
Many believe that LeBron burned his bridges with Cleveland, but the Cavs' rookies consider him a mentor.
MIAMI -- If both LeBron James and the Cleveland Cavs had control of such things, neither would mention their past love affair and everyone would just proceed through Tuesday night's game like exes avoiding eye contact at a wedding.
The venom has run its course and there's no reason to rehash old ground. But here's the thing: Despite the "moving on" rhetoric, James actually continues to take an interest in the Cavs. And not like last season, when he waited for chances to take Twitter jabs at them during low moments.
No, believe it or not, he's actually rooting for them now in the sort of way an NBA player can take such an interest in another team.
The Cavs' new core, the one that is designed to help them move past the James era, is actually tied to James as part of the NBA's always tangled web of connections. Kyrie Irving, the No. 1 pick in last year's draft, and Tristan Thompson, the No. 4 pick, both have long relationships with James and consider him a mentor.
Irving is off to a fantastic start to his career, an early front-runner to win the Rookie of the Year Award, like James did for the Cavs back in 2003-04, and has been getting advice on dealing with life in the NBA from the man he is essentially replacing. James has been watching and doing plenty of encouraging.
"We talk a lot; I've been knowing Kyrie since he was a ninth grader and it's been great to see him continue to get better over the years and do the things he's doing in Cleveland right now," James said. "He's been playing great. He's been showing why he's the No. 1 pick in the draft. Cleveland got a great pick."
James has known Thompson nearly as long and last year Thompson selected one of James' best friends and business partners, Rich Paul, to be one of his agents. For James, that virtually makes Thompson part of his extended family. The feeling is apparently mutual.
"Me and LeBron's relationship is pretty close," Thompson said. "He's like a brother to me."
This is a topic that may be uncomfortable for the Cavs and their fans. The team's leadership knows this is a part of the NBA; players have relationships with other players. They have to continue operating and that means letting bygones be bygones as much as possible. But they cannot help but be sensitive to any mention of Irving and James being linked for so many reasons, with public relations near the top.
Irving, who was just out of high school and indifferent on the whole matter of James' departure, knows that his new fans might not be thrilled that he looks up to their ultimate villain. But he's also not planning to let it dictate how he interacts with James.
"Honestly, there's nothing to juggle for me personally," Irving said. "I wasn't really worried about filling LeBron's shoes or filling that void. I was worried about being the best rookie I could be. I set my own goals and on that goal list was never 'be like LeBron.'"
That isn't just lip service, that is how Irving feels. The Cavs were already high on his talents but settled on him as the top pick largely because of his demeanor. He doesn't carry any of the emotional baggage with James that anyone who was around in 2010 does, and that is a distinct advantage. It also makes it easy for Irving to accept James' counsel without a hint of guilt. Thompson feels the same way.
"I wasn't in Cleveland when LeBron played there, so I don't think I'm in the whole drama dilemma," Thompson said. "He did what he felt was best for himself and I'm here and I'm a Cleveland Cavalier."
Though he never really looked for a veteran mentor when he came into the league, James has played this role for top young players for the past several years.
Some of it is business; part of James' responsibility was to recruit college players to his agency and Nike. Sometimes it has led to such signings and sometimes it hasn't. James developed a relationship with 2010 No. 1 pick John Wall and Wall picked a different representation agency and signed with Reebok. Irving also picked another agency but did sign with Nike.
But it is not all about money, it is part of James' personality to be inclusive of young players. Chris Paul is one of his closest friends. His friendship with Dwyane Wade is a major reason he's in Miami now. His contact list is deep, and as the Cavs' two rookies have experienced challenges and successes, James has been there to share those moments with them.
Though the Cavs come to town with a three-game losing streak, there have been successes. Especially for Irving, who is averaging 17 points and nearly five assists a game and impressing all along the way.
"He's a smart player and even with the limited number of games he had in college, he's already making an impact with them," James said. "I'm happy for him."