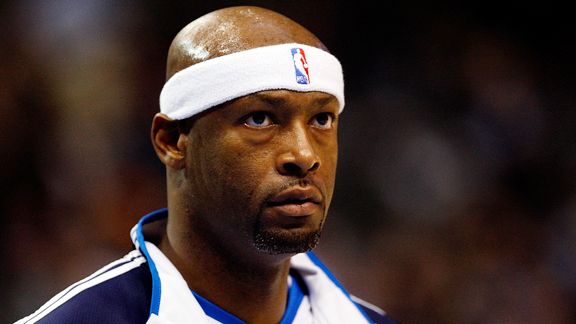 Ronald Martinez/Getty Images Sport
Could Erick Dampier help the beleaguered Heat frontcourt?
The Heat have already shaken up their depth chart at center this season, sliding Joel Anthony to the bench and inserting Zydrunas Ilgauskas into the starting five. Miami's thinness up front has been a punching bag for Heat critics. But that perceived weakness could turn into a strength with one move: signing free agent Erick Dampier.
The 14-year veteran offers the Heat a narrow set of skills as a big man but seeing that he's a free agent expected to sign for the veteran minimum of $1.4 million, that's par for the course. But what Dampier does do well -- rebound and block shots -- should draw the Heat's interest.
When asked after Tuesday's practice about possibility of adding Dampier to the frontcourt, head coach Erik Spoelstra expressed confidence in his current personnel.
"Really, this is who we have," Spoelstra said. "We feel like we have enough. You know, we tweaked the rotation so that might change things up a little bit. But it's far too early to make a real objective evaluation. My job is to coach these guys and worry about who's in the gym."
And there are some real worries. Along with their propensity to turn the ball over, rebounding has been a documented chink in the Heat's armor. Currently, the team's 23.0 offensive rebounding rate places them third to last in the NBA. It's unfair to knock the 7-foot-3 Ilgauskas for not collecting offensive boards, considering he's typically roaming the perimeter for pick-and-pops. But Anthony's a different story. The 6-foot-9 center has been a below-average offensive rebounder this season, collecting 8.6 percent of available Heat missed shots. This, despite being firmly planted around the basket in offensive sets.
For all the energy Anthony brings, his hyperactivity doesn't translate to beating others to the live ball. On the defensive end, the UNLV product is too busy fly-swatting others shots, rather than preventing the opposition from acquiring second-chance points. In fact, the Heat's defensive rebounding rate soars from 61.5 percent while Anthony's on the floor to 70.9 percent after he exits the game.
At 6-foot-11, Dampier has proven to be a skilled rebounder in his NBA career, and earned the 2003-04 crown as the very best in the league. As a 34-year-old last season in Dallas, Dampier collected an estimated 11.6 percent of the Mavericks' missed shots while he was on the floor, which ranked in the top 10 among regular centers. His glasswork has depreciated over the years but he should still be a substantial upgrade over Miami's current alternatives.
In contrast to Anthony, Dampier is long enough to block shots without relinquishing his box-out position or getting into foul trouble. The 35-year-old veteran was above average in both shot-blocking and defensive rebounding as a center in 2009-10, with 1.1 blocks and five defensive rebounds per game. The Heat may tout Anthony's visible effort in blocking shots, but they'd be far better off overall with Dampier's more conservative approach, which doesn't leave the paint vulnerable to put-backs or routinely send opponents to the charity stripe.
Offensively, Dampier represents a veritable upgrade to Anthony as well. They're built from the same mold in that they each fall under the category of low-usage and offensively limited centers. But Dampier's a more efficient option beneath the basket. When your scoring responsibility is restricted to easy put-backs, Anthony's career 48 percent field goal percentage should be of great concern. However, Dampier has enjoyed a similar offensive role over the past four seasons in Dallas and has connected on no fewer than 62.4 percent of his field goals in any of those seasons.
But there are reasons why Dampier hasn't been snapped up from the waiver wire yet. One is mileage. He's 35 years old, and through his 14 seasons, he has logged nearly 25,000 minutes in his NBA career. Concerns about his balky left knee are legitimate, as it hobbled him throughout 2009-10 and required minor arthroscopic surgery in May. Furthermore, a free-agent signing may send mixed signals to the locker room, one that Miami head coach Erik Spoelstra has been vocally reluctant to disrupt.
The Heat have passed over Dampier's services once this offseason before. But for the league minimum, he serves as a tangible upgrade over Anthony, at the very least. And on the high-end, he could challenge Ilgauskas for the starting gig -- and win it.
For $1.4 million, it's a deal that's growing increasingly hard to pass up.