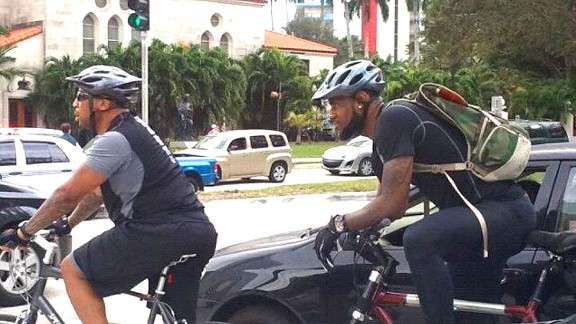 Peter Lee, HotHotHoops.com
Word trickled out during Sunday's game that LeBron James rode his bike to AmericanAirlines Arena. Traffic was backed up because of a nearby marathon and LeBron decided to take another mode of transportation. The ride took 40 minutes and he safely arrived at the arena with plenty of time to spare.
Now, here's the power of Twitter.
Someone captured a photo of LeBron ridingh is bike en route to the arena and the photo was sent a tweet to Palm Beach Post writer Ethan Skolnick with the picture for the world to see. A couple retweets later, and the photo was everywhere.
The man behind the photo is Peter Lee (@peter1lee) who sent the photo to Heat blog HotHotHoops.com. Head there for more, cycle-maniacs.