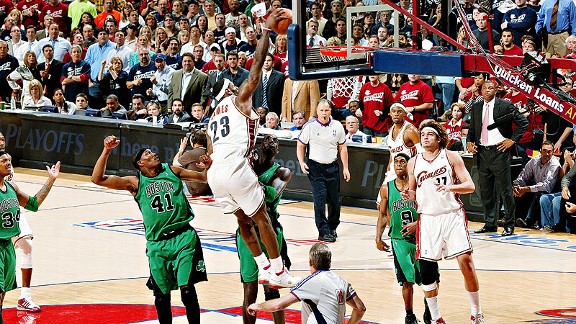 Jesse D. Garrabrant/Getty Images
LeBron James considers this ferocious dunk on Kevin Garnett in the 2007-08 playoffs one of his best.
MIAMI – In the last couple of days the various memes dominating NBA talk -- too many games, too many injuries, where is Dwight Howard going -- took a sudden backseat to a couple eye-opening and mouth-covering dunks.
First there was LeBron James hurdling the Chicago Bulls' unsuspecting John Lucas III on a backdoor lob pass from Dwyane Wade Sunday afternoon. Then late Monday night current dunk champ Blake Griffin ran over the Oklahoma City Thunder's Kendrick Perkins to throw in a monster power dunk.
"Dunk of the Year!! @blakegriffin just dunked on Kendrick Perkins so hard!! Wow!! I guess I'm #2 now. Move over #6," James tweeted seconds later.
That discussion is going on across the country today, even among NBA players. When they talk about dunks, they always talk about the poor peer who got posterized as they lament what it must've been like to be in their place.
About an hour before Griffin rocked Perkins, however, inside an empty Heat locker room James' focus was still on his jam from Sunday. The Heat had just beaten the New Orleans Hornets to sweep a three-game homestand. But it was hard to get past that leap over Lucas.
I asked James where it ranked in his career. He rolled his eyes and puffed his cheeks.
"It was a good one," James said, his mouth curling into a smile. "It was in the top five I would have to say."
That is the standard. So what else currently sits in James' top five?
For some, this would be a difficult question. But James owns a photographic memory, recalling plays like a computer. Perhaps he'd have a different answer if you asked in a year. But for now, James listed them.
"You've got me going back into my archives," James laughed.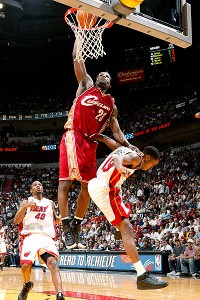 Nathaniel S. Butler/Getty
LeBron: "The dunk on Damon was a classic."
The first one James mentioned was his legendary dunk over Damon Jones (video) from his second season back in 2005.
That one also took place on Miami when Jones took the unfortunate position of trying to defend a two-on-one break with James as the trailer. He should've just gotten out of the way but instead he got a dunk on his head and James' hand in his face … and Jones still got called for the foul.
"The dunk on Damon was a classic," said James, who now counts Jones as a close friend.
What else made the cut?
A dunk from the 2007-08 second round of the playoffs against Kevin Garnett. This is also known as the "no regard for human life dunk," because that was TNT announcer Kevin Harlan's call after James drove the lane and windmilled the ball into the rim over Garnett even as he tried to stop James with a push. It was late in the fourth quarter and pretty much ended that game.
"Oh, you mean the dunk when KG shoved me and I didn't get the call?" James recalled.
"That was a big play in that game."
The oldest one in James' top five is one that many of his fans probably have never seen unless they've been foraging on YouTube. It was from James' senior year of high school and was probably the greatest highlight of James' high-profile teen years.
Luckily the footage exists of James wrapping the ball between his legs and into a windmill dunk on a breakaway. (The footage also captures grown men sitting courtside jumping around like giddy children.)
"That one always will be in there," James said. "I don't think I'll ever do that again."
But what is James' personal favorite?
Actually, the Garnett dunk wasn't even James' favorite from those playoffs. In the first game of the first round against the Washington Wizards, James brought up a dunk that he thought might have been his best ever.
After a steal leads to a 3-on-1 break, teammate Daniel Gibson hooked a backwards lob that ended up going way too high. James had gotten a full head of steam running from the other end and he needed it, jumping so high that his forehead was at rim level and he still had to get full extension to catch the ball. He was so high that he nearly wiped out on the landing.
"I just saw Boobie throw it over Antonio Daniels' head," James said.
"It was high as (expletive)."