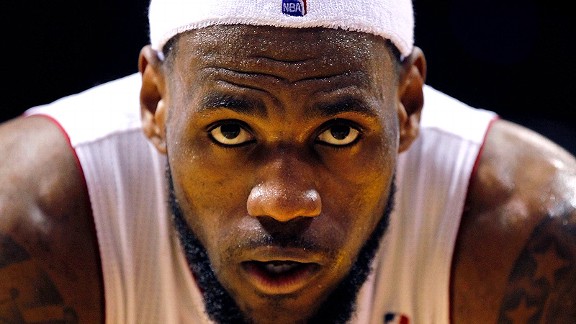 Mike Ehrmann/Getty Images
After 20 games, it's time to get a close-up on LeBron James' numbers this season.
LeBron James' achievements so far this season have been well-documented.
He has jumped over people. He has commuted to a nationally televised game on a bicycle. He has scored 22 points in a quarter. He has raised his field goal percentage by nearly 50 points while the everyone else struggles to find iron in this hectic season. He is averaging more than eight rebounds and more than seven assists -- something that has only been accomplished once over the past 15 years -- and averaging 29.2 points on top of that. He has completely separated himself, at least statistically, from the rest of the NBA.
The list goes on and on. And yet, we're not moved all that much by his accomplishments. James is playing at such a high level at this point that the only fair comparison is to himself. His current 33.4 player efficiency rating (PER) is better than he's ever done over a full season, better than his torrid 2008-09 campaign that earned him 109 of the 121 first-place votes for MVP. Only Wilt Chamberlain and Michael Jordan have approached this level statistically, but even they topped out at 31.8 and 31.7 PER respectively.
His dominance in his first 20 games of the season might be historical, but we don't bat an eye because, well, it feels like we've seen this kind of start from him before.
But, really, have we? We know James hasn't kept up this kind of pace for an entire season, but is this the best start of his career? Plenty of players come out spitting hot fire and then tapered off as the season progressed, so perhaps James has jumped out of the gate better in season's past.
Actually, when we look closely at the first 20 games of each of his eight seasons in the league, we find that James has never been better out of the gate.
Here's a colorful chart that illustrates his numbers over the first 20 games of each season. We've included his numbers at a per-game level and at a per-36-minutes level which adjusts for playing time (assist-point to NBA StatsCube for the data).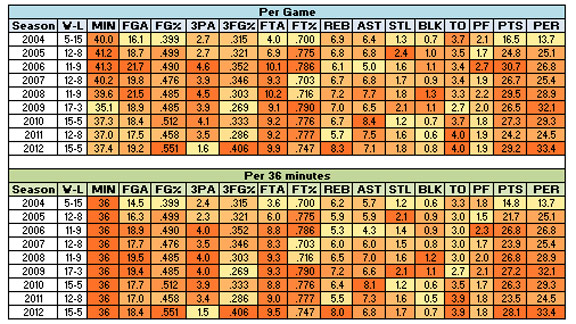 James' 33.4 PER after 20 games is his best, barely eclipsing his 2008-09 start when he put up a 32.1 PER along with 26.5 points, 7.0 rebounds, 6.5 assists, 2.1 steals and 1.1 blocks per game in just 35.1 minutes of nightly action. The 17-3 Cavs were embarrassing teams so badly that season that James sat the bench for over a quarter's worth of time in the early going. But still, on a per-minute basis, James' current campaign bests even that one.
What sets the current pace apart from his past starts is his rebounding and shooting efficiency. Sure, he's averaged 29 points and seven assists before, but never eight rebounds and never with 55 percent shooting. As you can see from the 3-point columns, James has made a smart transaction, exchanging some 3-pointers for higher-percentage 2s, mostly at the rim and some just inside the arc.
Another catalyst for James' emergence has been his slow migration to the post. Heat coach Erik Spoelstra has planted James on the block more often this season, which has indirectly kept his ill-advised 3-point attempts to a minimum. James isn't a great 3-point shooter, but he's capable enough that he shouldn't be afraid to take a couple 3-pointers every game in rhythm. From an efficiency standpoint, erasing some 3-pointers from his arsenal isn't a bad idea as long as he continues to attack the basket with reckless abandon. Can he maintain this scorching pace over the entire 66-game season is a fair question, but he has shown absolutely zero signs of slowing down.
After a massively underwhelming Finals performance, plenty of people will react to James' remarkable start with indifference and make a comment about the meaninglessness of regular season numbers. It's true that until he wins a championship and consistently plays up to his capabilities in the fourth quarter, many won't feel comfortable giving him praise even if he's objectively putting up monster stats.
But considering nearly everyone's numbers are down in this condensed season and James has lifted his numbers to unprecedented heights, it's a start that demands even the attention of his most critical opponents. At just 27 years old, James continues to evolve as a basketball player. And in the process, he has raised the only statistical bar that he sees eye-to-eye with anymore -- his own.