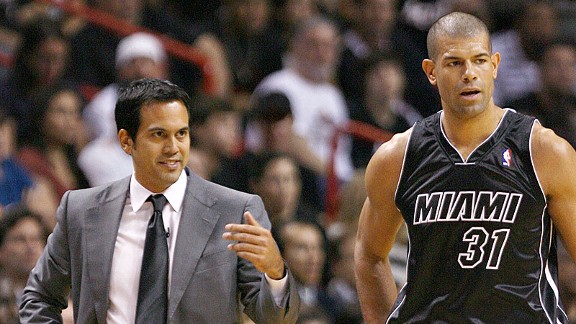 AP Photo/David Santiago
Heat coach Erik Spoelstra met with the slumping Shane Battier on Monday for a pep talk.
MIAMI – Shane Battier is stressed out. It's visible in his stats, on his face and in his game.
Battier's experience since signing with the Heat two months ago – and that carefree day must feel longer ago to him – hasn't been pleasant. He is mired in one of the worst shooting slumps of his career while playing a most visible role. Over the last few games, he's clearly starting to press.
On Monday, after Battier slipped toward rock bottom after a 0-of-4 shooting effort Sunday against the Toronto Raptors, Heat coach Erik Spoelstra met with him. Even 33-year-old strong-minded veterans need pep talks sometimes. Battier looks and sounds like he certainly did.
"I'm a guy who my entire life going back to eight years old I had a plan," Battier said. "I always knew this is the way I am going to do things. For the most part it has worked out that way. So when I have uncertainty, uncertainty does stress me out. That's what I feel right now."
Battier is shooting 31 percent from 3-point range and 31 percent on 2-pointers too. This is simply not what anyone expected when he was the Heat's prime offseason pickup. He's been solid on defense but his offensive struggles have seen his playing time and aggressiveness erode.
During Sunday's game, Battier caught a kick out pass from LeBron James during the third quarter in the corner, his favorite spot. He was open. This was the exact reason the Heat signed him, to take this shot. But he didn't, he passed up the shot and passed the ball.
"Shoot it!" Spoelstra yelled from the bench to Battier as he ran back down the floor.
Being indecisive, most people know, is a classic symptom of a slump. After the game Battier lamented that's where he was. Spoelstra didn't need to see Battier's self-deprecating quotes to the media to know that. But Battier talking about his frustration publically was enough for Spoelstra to ask for a meeting.
Spoelstra has done his best to give Battier cover for the last six weeks. He often speaks about Battier's intangibles and his "coach on the floor" mentality. After another tough game Sunday, Spoelstra attempted to sell that Battier was out of rhythm because he wasn't in the playoffs as long as his Heat teammates were last year.
Points for creativity, but hardly legitimate. The truth is that while Battier's intelligence and leadership are qualities, over the long haul the Heat don't need a coach on the floor as much as they need Battier the player on the floor.
"I'm not disappointed at all," Spoelstra said. "There is always going to be an adjustment period with new players. My main message to him is to be patient. He thinks so much, I just wanted to clear his mind. I wanted to let him know he's still very important to what we're doing."
Of course the coach is right. There's still two thirds of the regular season left and then the playoffs. What Battier's shooting percentage is in January and February really means little. Spoelstra is trying to manage the situation with perspective.
"When you're going through a tough time, it is good to get it out there and Spo is good about that," Battier said.
"I want to play well, I grade myself harder than anybody else. At this point, I'm not worried about the numbers. Even if I go on a tear, I'm pretty far below my averages. I'm not going to be playing to those. I just want to feel good about myself going forward and it was reassuring to talk to Spo today. He put it out there: it takes longer for older players to get in rhythm. I've been pretty pissed the whole year. I'm confident I will get there. Sometimes even I forget that."
When a free agent comes to a team, especially a highly-coveted free agent like Battier was for a few weeks, there's a certain pressure to deliver. This is the case in every pro sport. Battier's contract wasn't for huge money but the Heat made a big deal about winning his services.
In truth, the Heat had wanted Battier for years. He's been a friend of the Arison family, which owns the Heat, for a decade. His college buddy, Heat CEO Nick Arison, essentially sealed the recruitment along with Pat Riley.
But when Battier arrived, he found himself going through drills and practice with James and Dwyane Wade, who both happened to report to training camp in the best shape of their careers. Battier was the second-oldest player on the team and coming off a lockout.
Within a couple of days he was on the sidelines with an injured quad muscle. Trying to run with the younger guns on a ridiculously shortened schedule, maybe that shouldn't have been a surprise. Battier's really not been right since. He was back for the opener on Christmas but missed his first 10 shots in a Heat uniform, not even making a basket until the season's fifth game.
Monday he was the last veteran on the floor, wearing out two of the team's coaches working on his shot. The results weren't all that encouraging but he certainly was putting the work in. Across the court, Spoelstra crouched in a chair. He had stayed late too, just to watch Battier but didn't want it to be obvious he was watching him.
"It has been a strange year for me personally," Battier said. "First the lockout and then free agency and I'm still trying to find my stride basketball-wise. You can't outthink a slump. You have to put your work in, you have to outwork it."