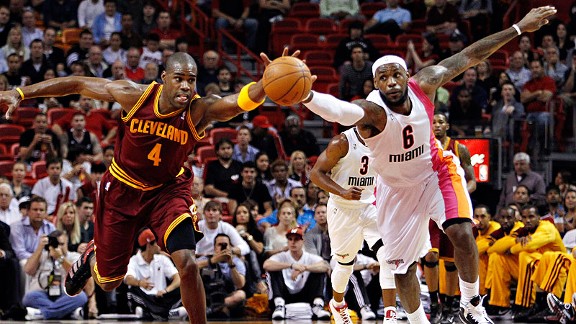 AP Photo/Alan Diaz
With LeBron James running the point, the Heat's best unit reached another winning outcome.
MIAMI -- It has been 128 games, counting the playoffs, since the Miami Heat signed or re-signed Dwyane Wade, LeBron James, Chris Bosh, Udonis Haslem and Mike Miller. On Tuesday night those five were all in uniform for just the 19th time. And for just the 15th time, they were all able to play on the court together in a game.
It isn't that the Heat have been avoiding or saving this lineup that they decided to invest more than $350 million in, it's just rarely been an option.
For the time being, though, it is and Heat coach Erik Spoelstra used it at again to close out the Heat's 107-91 victory over the Cleveland Cavaliers.
It was not a clean performance. The Heat struggled to put away the Cavs despite three of their top seven players (Anthony Parker, Daniel Gibson and Tristan Thompson) being back in Ohio with various injuries. But when Spoelstra went to his big-money lineup in the last five minutes, the game started looking easy.
The Heat quickly turned the game into a rout, cruising to their 11th victory in the past 13 games. They've won the past three, which has coincided with Spoelstra's decision to start using those five to close out games. All three were close to begin the fourth, and all three turned into comfortable wins.
With James playing point guard offensively and defensively -- which turned Tuesday's finish into a handful for Cavs rookie Kyrie Irving -- and Haslem effectively playing center, the Heat became a matchup problem. There are five guys on the floor that can shoot, at least from midrange, and five athletic defenders.
That group outscored the Cavs 15-9 to seal the game. They have outscored their past three opponents 40-18 together. And if you include last season, when this group contributed to taking out the Chicago Bulls in the Eastern Conference finals, the number swells to 109-68.
"I think it is a great lineup for us," said James, who had four points and three assists in those last five minutes and finished with 24 points and six assists.
"It's not something we're going to run throughout the game. But in the fourth quarter, when it is time to close out the game, it is a lineup that really gives us some unique things, especially defensively. Coach is getting more and more comfortable with doing that."
As with any spurt of success during the regular season, there is a question of whether it is sustainable and if it could work in the playoffs. For a team like the Heat, which is going to win a bunch of regular-season games regardless of the small details, that's all that matters.
General knowledge would suggest that playing without a center against a team with the top-flight offensive big man might be a problem. Or when facing a team that can play excellent zone defense, as the Dallas Mavericks last season, there could be some issues because that isn't a great 3-point shooting team.
But there are plenty of reasons it works. Watching James operate in space from the point guard spot when he has four legitimate offensive options beside him is something to see. It becomes quite difficult to handle him coming off a pick-and-roll, a problem that forced the Cavs into waving the white flag Tuesday night.
It also frees Wade up to be the primary wing scorer, a position he has been quite comfortable in his entire career. It is not an accident that Wade has been the leading scorer in two of the past three games. Against the Cavs, he had 26 points.
Soon the league will catch up with their advance scouting and start preparing more for it. Coaches will come up with countermeasures, that is how things flow. Spoelstra hadn't even used that unit until Friday, mostly because Miller and Wade have been out with injuries and the element of surprise had been in the team's favor.
Over the next 10 days, though, the Heat must go through a six-game road trip during which relying on a good final five minutes won't always be enough. So far the new closing lineup has passed each test. There will be plenty more.