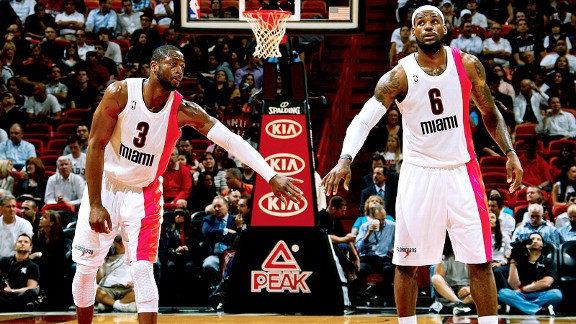 Issac Baldizon/NBAE via Getty Images
LeBron James and Dwyane Wade explain their mentality in late-game situations.
MIAMI -- Dwyane Wade and LeBron James have made a habit of passing off potential game-winning shots lately.
Last weekend against the Utah Jazz, James passed to Udonis Haslem for a go-ahead jumper in the closing seconds, but Haslem missed. The majority of the public wished James had taken the shot himself, even if it probably wasn't the higher percentage play. And on Wednesday, Wade faced a similar situation in the closing minutes and this time, Haslem and Chris Bosh made the Wade-fed jumpers. Similar process, different results.
In both instances, James and Wade avoided hero-ball. You've seen hero-ball before. In crunchtime, stars like to take that pull-up or fadeaway jumper with the game clock winding down. That's the play of the so-called hero, even if teammates are wide open waiting for a pass. That's the play of the so-called hero, even if the chances of being a hero -- winning the game -- are very slim.
Wade understands the fan's fascination with hero-ball. He lived it, too.
"We all grew up in an era watching Michael Jordan and obviously Kobe Bryant," Wade said. "A lot of those guys make unbelievable shots to win games. A lot of fans want to see their favorite players take those shots. Hit or miss, they want to see them take those shots."
Jordan's late-game heroics probably bred a generation of stars trying to recapture his magic. LeBron, too, alluding to Jordan's shot-making abilities when talking about hero-ball.
"At times you need hero-ball," James said. A lot of big shots have come from big games from hero-ball. Michael Jordan has made shots that you'd call hero-ball, and you don't take those from him."
But for Jordan, it wasn't all hero-ball, all the time. Fans want to see Jordan hit the shot, but they also just want to win.
"But he's also made the play where he passed to John Paxson or passed to Steve Kerr for the game-winner," James said. "You just play the game the right way and do whatever it takes in that point in time."
The average team in the NBA assists on less than half (46 percent) of their field goals when the score is within three points in the final minute of the game. The Heat? They have assisted six of their 10 made field goals in that situation, giving them the fifth-highest assisted rate in the league. Although it's not a perfect measure of team ball, it's an indication that they're not hogging it in crunchtime.
"For those of us who play the game of basketball, sometimes that shot is there and you feel it and you take it," Wade said. "And sometimes it's not and you understand that someone might have a better shot than you."
With that said, James isn't about to suddenly abandon his isolation game that leads to long-distance shots or his favorite step-back move at the end of quarters.
"There are times when there's an [isolation] situation and you make a big shot," James said. "There are times where you create two on the ball and you hit a teammate for an open shot. But I'm an [isolation] guy myself so I would never down [isolation] plays."
Wade asserts that the Heat have grown leaps and bounds from where they were last season in the clutch. He admitted that in late-game situations last season, there was doubt after they lost a close game and whether they made the right play with the game on the line.
This season's different in crunchtime, according to Wade. The comfort level with teammates and their games has risen and the hero-ball shot isn't always the best option.
"It's not always going to go our way and every time we've been in that situation this year, we've walked away from it with our heads up, we felt good about it," Wade said. "Last year, I can't say that we said that. When we walked away from those moments, there were a lot of questions on our minds, from all of us. It was tough.
"This year, we get it. At the end of the game, we trust everybody that's on the court that they can make a play and make a shot. Same thing that people said about us in Utah, we came back and do the same thing the next game at home and it works for us. That's why we can't worry about the outside perception of the Miami Heat. We can only control what goes on in here and what we believe."