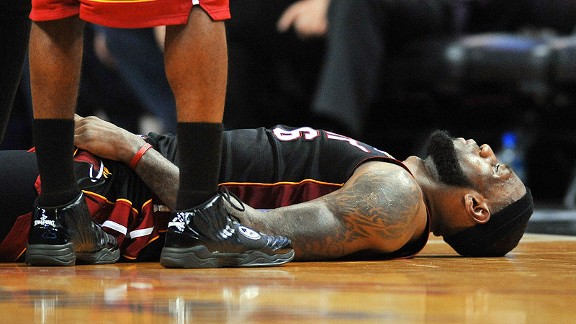 Steve Mitchell/US Presswire
LeBron James was shook up after colliding with Grant Hill's shoulder, but stayed in the game.
MIAMI -- LeBron James tried to get up from the floor, but his body wouldn't let him. A second attempt to rise under his own power was unsuccessful and he descended back to the ground. He laid there for two minutes without a word, clutching his head and deliberately blinking his eyes as if to jump start his consciousness.
There were 29 seconds left in the fourth quarter and the Heat were up by five points after a double-digit rally. Steve Nash hurried the ball up the floor and made a quick pass to Jared Dudley on the right wing. James sensed the pass so he darted left to cover Dudley's imminent shot attempt. But before he reached Dudley, James' head plowed into the shoulder of Grant Hill, who was setting a screen on James. James didn't see it coming; his eyes hadn't caught up to his turning body.
The impact was sudden and characterized as "vicious and violent" by Heat broadcasters watching live just a few feet away. After the blow to James' head, both Hill and James collapsed to the ground opposite of one other as if they a mirror was placed between the two athletes. James immediately clutched his head with both hands, but the play went on. After several seconds of grimacing on his back, James tried to get up and return to the defense, but he managed only to get up on one knee before his body slunk back to the hardwood.
The Miami crowd hushed to a worried silence as their star player remained on the ground. Eventually, a Dwyane Wade foul on Dudley lead to a stoppage of play. Heat coach Erik Spoelstra called a timeout and trainer Jay Sabol walked out to tend to James, who was still writhing in pain, this time on his knees and curled up into a ball with his head between his hands on the floor.
As Mario Chalmers and Udonis Haslem hovered over James in concern, James rolled over onto his back once again and opened his eyes up wide. He rose his chest up to get pulled up by his teammates, but before he could meet Chalmers and Haslem's outreaching hands, James stopped short and descended to the ground yet another time. James' hands cradled his head and he laid there.
James could not get up without the help of his teammates and coaching staff. Sabol walked alongside James to the bench and asked him a few questions about the clock and score as James sat down. After a few sips of water, James returned to game and played out the final 29 seconds. The Heat prevailed to win the game, but the victory was met with cautious applause from the home crowd.
From the untrained eye, one could only wonder whether they had just witnessed a serious concussion. See for yourself.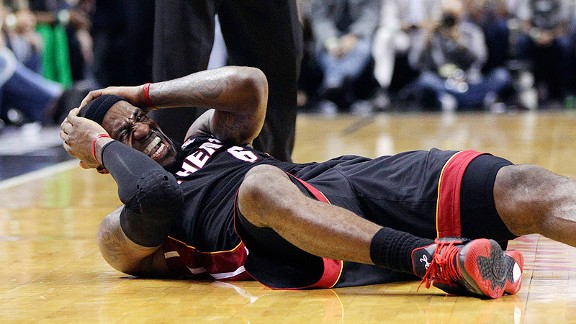 AP Photo/J Pat Carter
Over an hour after the game, James told a sea of reporters that a headache remained. As a former All-State wide receiver in high school, James said he hadn't endured a blow to the head like that in about a decade.
"I've never had one of those hits since I've had on pads and a helmet. I don't know exactly what happened," James said.
"I had a steal coming and the next thing I know, I was on the floor."
The questions from reporters continued and James recited the previous plays without skipping a beat. If he had lost short-term memory, it didn't show by his post-game testimony. James said he didn't receive or need any elaborate tests for a possible concussion. He was "good" and a team official echoed his evaluation, saying there was no cause for additional testing after Sabol questioned James on the bench.
"I'm all right. I've been better. I've got a little headache. But I'll be all right," James said.
As the questioning about the game winded down, James was asked whether he had ever suffered a concussion in his life. James smiled for the first time in the interview and delivered his reply with an attempt at humor.
"No, I'm too tough for that," James said.
And with that, James slowly marched away from the reporters and the interview was over.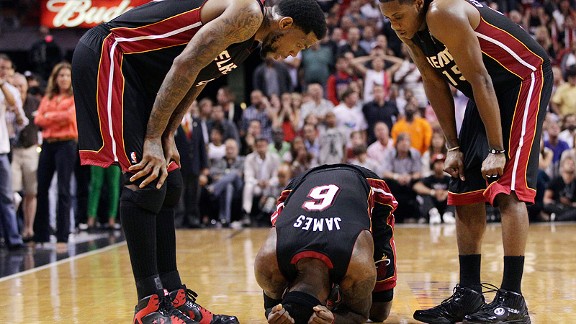 AP Photo/J Pat Carter
Head injuries are a growing concern in professional sports and the NBA is starting to establish new regulation. This season, the NBA implemented new rules that requires players who have suffered a concussion to pass a series of psychological tests 24 hours before taking the court again. Players such as Kobe Bryant and Kyrie Irving have been tested under the new league regulation in recent weeks. Irving missed three games due to concussion symptoms. Bryant returned to the floor without missing time.
The actions taken by the league show that they're taking concussions seriously, even if James' words did not. James may not honestly believe that his brain is invincible from harm, but his response is still troublesome. A league that stresses increased caution for possible head injuries just watched its biggest star player joke that he was "too tough" to suffer a concussion, as if he had power over such a thing and other athletes do not.
Also worrisome is that James' comments generated a rumble of laughter from the reporters. Not only was James' response comical to the small audience, but his teammates applauded his gladiatorial toughness after the game.
Dexter Pittman, who just started high school when James made his NBA debut, even likened James to movie characters when speaking with FoxSports.com.
"The guy is like the Terminator, he bounces back up," Pittman said. "He's like this creepy, scary guy, Mike Myers, in a movie whenever he gets knocked around. I knew he was going to get up ... You can't kill him."
Wade echoed the 24-year-old's admiration.
"When I heard him saying what the score was and what the time was, I knew he was going to be OK. I just knew he was fine when he knew where he was," Wade said. "He's a tough guy. He's a football player in a sense. There's not too many people who want to run into him."
Wade credited Hill for absorbing James' head and finding the courage to get back up before James rose to his own feet. Hill bounced up within a few seconds; James needed a few minutes and a few helping hands.
Concussions are nothing new for the Heat. Last season, Heat guard Mike Miller suffered head injuries that brought on concussions in three consecutive games. But James' collision on Tuesday night was not diagnosed as a concussion even though he writhed on the ground in pain and couldn't stand up on his own power.
Our current diagnosis of concussions are imperfect for reasons that are obvious. You can't see a concussion. You can see a scraped knee or feel a broken bone, but head injuries are simply far more complex and hidden than other common injuries.
The collision comes on the heels of a sobering presentation about concussions at the MIT Sloan Sports Analytics Conference just a few weeks ago that was attended by researchers, writers and NBA executives around the league. The presenter was Chris Nowinski, a former All-Ivy defensive lineman at Harvard and a professional wrestler, who has now devoted his life to concussion research and solving this vexing problem in the sports world that too often praises players who play through head injuries. He presented research that indicated that athletic trainer data showed five percent of athletes suffer concussions each year. However, a survey of athletes show that around 50% of football players suffer concussions each year -- ten times the reported rate by teams.
If you don't believe concussions a significant issue in sports, it's worth reading the ground-breaking reporting from the Alan Schwarz of the New York Times and the New Yorker's Malcolm Gladwell and Ben McGrath. Or just read the former NFL player and four-time Pro Bowler Dave Duerson's suicide note that plead: "Please, see that my brain is given to the NFL's brain bank." Duerson suffered from a neurodegenerative disease linked to concussions according to Boston University neurologists.
So did LeBron James suffer a concussion?
According to the team, he did not. But there's no reason to forgo the extra step to make sure that another athlete doesn't fall prey to a sporting culture that often cheers so-called "toughness" over the health of our brains.