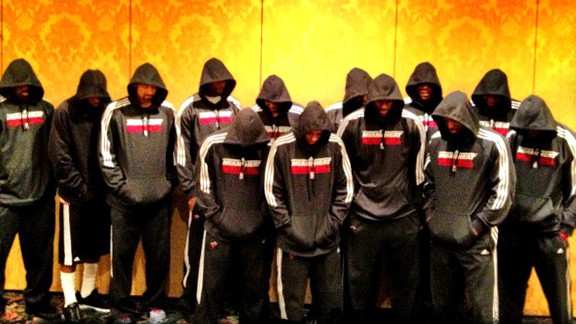 Courtesy of LeBron James
The Heat took a stand on Friday for something bigger than basketball.
LeBron James, Dwyane Wade and their teammates on Friday left no doubt about where they stand.
Together.
Nearly a month after unarmed teenager Trayvon Martin was shot and killed by a neighborhood crime-watch volunteer, there's still plenty that's unsettled -- and unsettling -- about the entire tragedy.
What I do know now is this: The Heat played their most insignificant game of the season, by comparison, when they defeated the Detroit Pistons on Friday night in Auburn Hills.
When 13 members of the Heat gathered to be photographed in hooded sweatshirts in their hotel lobby, it sent an image across the world that will likely have more of an impact moving forward than just about anything they accomplish on the basketball court.
Led by James and Wade, the Heat spent some downtime before the game to focus on their duties as American citizens, as fathers, sons, uncles and nephews. But more importantly, they stood together to make a statement as young black men in the face of disturbing stereotypes.
America remains a mostly beautiful, forgiving and welcoming place. It is many things to many people. But in times like these, it can also be an enigma. The same country that largely set race aside to elect its first black president four years ago recently buried a teenage boy who was apparently killed based, at least in part, on his appearance.
The stand by the Miami players wasn't a move likely to make Heat owner Micky Arison comfortable. In fact, according to Arison's Twitter account, the concept of what his million-dollar players were doing was lost on him. After LeBron posted the photo Friday, Arison responded on Twitter by suggesting the team looked prepared for battle to start the road trip. The Heat travel to Oklahoma City for Sunday's highly anticipated showdown with the Thunder.
Arison later deleted the tweet, and referred to a prepared statement the team released Friday night: "We support our players and join them in hoping that their images and our logo can be part of the national dialogue and can help in our nation's healing."
Martin, a 17-year-old who was shot over All-Star Weekend in the Orlando suburb of Sanford, Fla., was wearing the same kind of clothes as the Heat players wore in tribute. On the night he died, Martin was returning from a store and was walking through the neighborhood where he was staying.
Several politicians, community activists and entertainers have donned hoodies in recent days to show support, and there have been dozens of rallies held throughout Florida and across the nation.
But this case hits especially close to home for the Heat on several levels.
Martin was from Miami Gardens, a community that borders on neighborhoods where Heat players James Jones and Udonis Haslem were raised. Martin was in Orlando visiting his father at the time of the incident, while no team had a stronger presence in Orlando over those three days than Martin's hometown NBA team. James, Wade and Chris Bosh played in the Feb. 26 showcase game, while Jones, Norris Cole and Mario Chalmers competed in other events Friday and Saturday.
In many ways, this was a civic duty for Wade, James and their teammates.
Wade told the Associated Press on Friday that the Martin situation "hit close to home for me" because hooded sweatshirts were all his oldest son wanted for Christmas.
"I'm speaking up because I feel it's necessary that we get past the stereotype of young, black men and especially with our youth," Wade said in the interview.
Like Wade, LeBron also is the father of two young sons. And also like Wade, LeBron grew up in an impoverished area where young black men were more likely to become fatal statistics than phenoms in the field of sports. In other words, LeBron could have been Trayvon.
"It was an emotional day for all of us, taking that picture," James told reporters in Auburn Hills after Friday's game. "You never know if that can be your kid. You couldn't imagine sending your boy to the store, and he doesn't come home."
Each player whose face was buried beneath the hood should know that posing for a photo in the lobby of a plush hotel might speak volumes. But they also know that their lucrative salaries and popularity might not amount to much on a given night if they left an NBA arena and wore those same hoodies while walking through a middle-class or affluent neighborhood.
There's a chance they'd be greeted as suspects. Not superstars.
That perception must change.
And the Heat did their part to both speak out and stand out with their actions.
If the players did anything that could be criticized in their silent show of solidarity, it was bringing the NBA brand into a firestorm that team and league officials probably didn't see coming. Are LeBron and Wade visible enough as public figures to make the same powerful statement had they worn anything other than league-sanctioned apparel?
Certainly.
But sometimes, when a purpose is so dear and clear, promotional clearance doesn't always come to mind. If the Heat's players chose to gamble on forgiveness instead of seeking permission, then it was a bet worthy of the risk.
This wasn't a team looking for publicity.
It was a squad united for a purpose.
Friday wasn't exclusively about playing ball.
For the Heat, it was about standing tall.