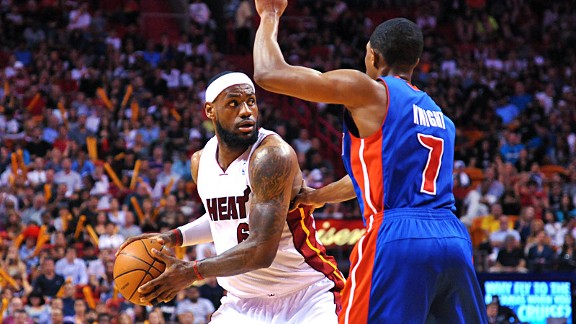 Steve Mitchell-US PRESSWIRE
LeBron James shook off Brandon Knight and the Pistons en route to another impressive win.
MIAMI -- Regardless of what challenges or shortcomings the Heat deal with on a regular basis, they have no chance at reaching their goals unless LeBron James plays to his potential.
During their up-and-down performance over the past few weeks it was a rare and prolonged offensive slump from James that was perhaps the most curious affliction. Late last month James had maybe his worst two weeks of offense since he was a rookie, causing some minor alarm.
That appears to be in the past, however, as James had another strong performance Sunday when the Heat beat the Detroit Pistons 98-75. That slump is gone as he's now put together two weeks of play that more resemble performances worthy of his Most Valuable Player candidacy. It's helped the Heat regain some stability and keep themselves in the hunt for the top overall seed in the playoffs.
With Dwyane Wade sitting out Sunday's game for the second time in a week with a superficial injury -- this time it was a minor ankle issue, though mostly it appears the Heat are just prudently looking for chances to get him some rest -- James had 26 points on 12-of-22 shooting.
Combined with a reasonably strong defensive effort -- the Pistons shot just 37 percent and put up the fewest points the Heat have allowed in a home game this season -- the Heat shook off their Friday night loss to Memphis to improve to 3-1 on their current five-game homestand.
During that six-game flatline period in March, James averaged just 18.5 points and shot 42 percent, numbers that represented vast drops from his norms. He had suffered a head and neck injury, which was deemed not to be a concussion, and banged his right elbow hard after a fall. While he refused to use all that as an excuse, it was plain to see that James' jumper was looking flat and he was avoiding contact as his free throw attempts plunged, as well.
Over these past six games, however, James has looked healthier and more confident. During this span his numbers have returned to All-Star levels: 28.5 points and 54 percent shooting.
"Some of the shots that I was missing when I was going through [the slump] were the same I was making before so I just kept going," James said. "Now I'm feeling good and my teammates are giving me a lot of confidence."
Traditionally, James uses the last few weeks of the regular season to prepare for the playoffs. He expands his shooting routines and gets extra treatment in the training room. It's something numerous veterans do this time of year.
With the nagging injuries -- he's also been dealing with a damaged finger on his left hand -- getting better and his focus sharpening, James appears to be finding his form as the playoffs approach.
"I'm just trying to get into playoff mode," James said. "Just knowing we have some really good teams coming up and I'm looking forward to it."
The upcoming week could prove pivotal for Miami if it wants to catch the Chicago Bulls and secure home-court advantage throughout the playoffs. The Bulls lost in New York on Sunday, which allowed the Heat to draw to within a game of Chicago in the loss column.
After closing out this stretch of home games Tuesday against the Boston Celtics, the Heat go on the road to play the Bulls on Thursday in what could end up being an important game for that top seed. Knowing those games were coming up likely played into the decision to give Wade Sunday off.
"It's great if we can gain a little bit of ground on [Chicago]," said Heat forward Chris Bosh, who also played well Sunday with 22 points and nine rebounds. "We're going to play [Chicago] two more times so things will line up the way they're supposed to."