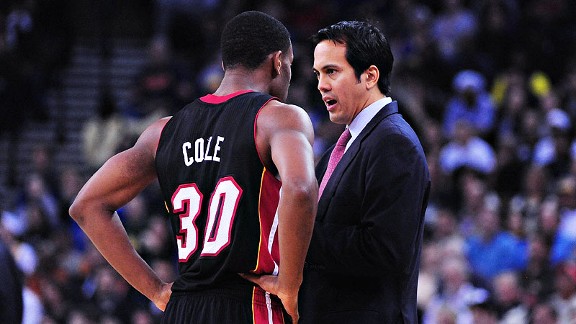 Kyle Terada/US Presswire
After being a big part of Miami's preseason plans, Norris Cole takes a back seat entering the playoffs.
MIAMI -- With under two hours before Sunday's game against the Detroit Pistons, Erik Spoelstra promised some changes.
"There are some small tweaks that I'll make from here on out," Spoelstra said. "The tweaks aren't major tweaks, but they're important ones. I feel pretty comfortable about a few things going forward even if I haven't pulled the trigger."
In cryptic tone, Spoelstra delivered a cliffhanger for the reporters in the room. As the coach walked off the podium, writers gathered their things and speculated amongst themselves about what was in store.
About halfway through the first quarter of Sunday's game, Spoelstra's tweak was revealed. Up 12-8 against Detroit, the coach turned to his long line of reserves, called out a name and prompted a rookie stand and check in to the game. For the first time all season, it was rookie Terrel Harris' turn to lead the second unit, not fellow rookie Norris Cole.
Two months ago, Cole was selected to play among the best rookies in the 2012 Rising Stars Challenge, but on Sunday he wouldn't rise from the bench on his own team until garbage time. That's his place in the rotation now and considering his recent struggles, the demotion was hardly unjustified.
On its own, Cole's removal from the rotation might not be big news, but his disastrous play as of late had been dragging down Dwyane Wade and Chris Bosh in the second unit. For the entirety of the season, Spoelstra has watched his "go-to" second unit of Cole, Wade, Bosh, Shane Battier and Udonis Haslem massively underachieve. Although it ranks as the team's second most frequent lineup, it's usage hasn't been on merit; the star-studded lineup has been outscored by 28 points this season while on the floor. Interestingly, among the Heat's ten most-used lineups, it is the only one that features a losing tally on the scoreboard.
It's no secret that Cole is a central reason why the Heat's second unit has disappointed, especially on offense. Entering Sunday's game, the rookie had shot a paltry 2-for-21 from the floor in the month of April while tallying six turnovers compared to just eight assists. For a point guard whose primary job is to score and put pressure on the defense, Cole simply doesn't bring much to the table if he's not making his shots. Cole's score-first mentality was once heralded as a strength, but gradually that same trait has became a major liability.
Cole's demotion also signals the end of a promising preseason plan. As a rookie with seemingly boundless energy, Cole flew past his older contemporaries in the beginning of the season and dazzled on the big stage against Boston on national television. This was all part of Spoelstra's plan to push the tempo. Evidently, this plan had legs.
Then Cole hit the proverbial rookie wall. The lack of a standard training camp and condensed season had taken its toll on Cole. That same fearlessness that made him so appealing as a first-round pick also made him often look foolish. With fresh legs and a blank scouting report, the Cole of December swiftly maneuvered around defenders in the lane on his way to tough, contorted shots near the rim. Those shots aren't going in anymore; he's shooting 38 percent on layups over his last 10 games, almost half the league norm.
Cole's physical drop-off has been so drastic that Spoelstra has now begun to praise Harris' boost of energy off the bench. That used to be Cole's job.
"Harris gives us another dynamic of speed and quickness," Spoelstra said after Sunday's 23-point win. "Our second unit came in and sparked us. A lot of guys are making compelling cases to play."
For now, Harris has earned playing time over Cole perhaps by default. Harris' insertion into the second unit slides LeBron and Wade into backup point guard duties where they can move the ball and maintain the Heat's floor-spacing. With Cole on the floor, Wade and Bosh's chemistry looked disrupted and the rate of Heat's assisted baskets had plummeted to league-low depths. Cole did score 10 points in five minutes of garbage time on Sunday, but that's where he'll stay for the time being.
"We're not writing him off, he's too tough," Spoelstra said of Cole. "We'll see what we do as we go forward."
Spoelstra likes what he sees from Harris, who holds a season's worth of energy to burn. With about two weeks left in the season, Spoelstra has made a significant tweak to the rotation in preparation for the playoffs -- a rotation that may not feature prized first-round pick Cole.