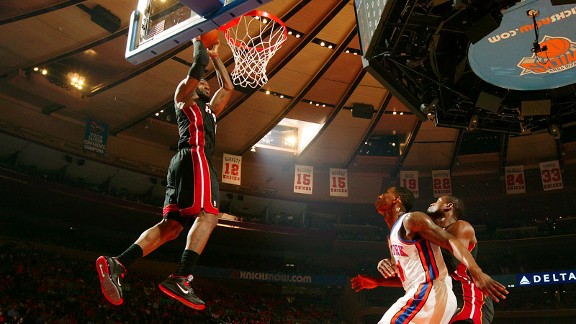 Nathaniel S. Butler/NBAE/Getty Images
With a third MVP award in reach, LeBron James elevated his game to new heights this season.
In just a year's time, LeBron James evolved from Public Enemy No. 1 to the overwhelming favorite to win the MVP.
How did he manage to pull that off?
The makeover started sometime late Sunday, June 12, 2011. Losing the Finals in dramatic fashion might have pacified some of those who wanted to see him fail after the 'Decision.' Then during the harrowing lockout, James teamed with other NBA stars to host charity games which even included a broadcast of a flag football game with Kevin Durant. Hard feelings probably thawed some more after the nationally televised preseason interview that showed remorse, regret and perhaps most of all, humility from James, declaring his attempt to fulfill the villain role a thing of the past.
But as we all know, actions speak louder than words. As much as James appeared to improve his image off the NBA court, it would have all felt hollow if he didn't show considerable growth on the basketball court. While it looked overly ambitious at first, James owned up on his offseason of promises.
Embracing the post game at last
This was no secret: James finally gave in and dedicated himself to incorporating a post game into his arsenal. He met with post-guru Hakeem Olajuwon for a series of offseason workouts. James then deliberately showcased his post-game drills in a Nike commercial this summer. He even teased his new moves on the block when he declared before the season, "I've got a lot of tricks up my bag."
And James delivered. His post game used to exist only in cameos, but he nearly doubled his usage on the block after his offseason campaign. According to Synergy video tracking, James went from using post plays on 7.9 percent of his total offense last season to 13.8 percent this season. Though he doesn't go there as often as the elder statesman Kobe Bryant, James now emphasizes his post-game more than Carmelo Anthony, Paul Pierce and his teammate Dwyane Wade.
And the results? Among the dozens of players with 150 post plays this season, James owns the top field goal percentage (50.6 percent) from the block. Not bad.
An overdue tightening of the 3-point shot
For James, the impulsive "heat check" has been his most irresistible temptation over his career. You've seen him commit this basketball vice probably a thousand times. Drill a three-pointer and fire up another one on the next possession for good measure.
James' habit of taking unnecessary 3-pointers has bugged observers ever since he came into the league, but he has mostly kept his shots inside the arc this season. Part of that has to do with the fact that he finds himself on the block more this season, but he has also shown more discipline on the perimeter. From Synergy, we find that 37 percent of his catch-and-shoot jumpers were closely guarded by a defender this season, but last season? That figure stood significantly higher at 46 percent.
Nowadays, we're more likely to see James turn down the contested jumper and drive rather than firing it up with a hand in the face. As a result of the weeding out process, James has shot a career-high 36.2 percent from beyond the arc, up from 33 percent last season. Exchanging perimeter shots for attempts near the rim is just simple, smart basketball.
Being a big man and playing like one
While we all focus on the development of James' post game, that's not the only area where he's taken advantage of his size. He posted a career-best 7.9 rebounds per game while pulling down by far his highest rate of available boards.
James has played more at the four position than he's ever had in his career which is due, in equal parts, to circumstance and acceptance. The Heat may be at their best at small-ball, but it's taken some cooperation from James to fully embrace that formation. With the size of Karl Malone and a closer orientation to the rim, James has led the team in rebounds, which is no small feat for a part-time point guard.
In his ninth-season of his career, he's inching closer and closer to what we envisioned from the high schooler who grazed the covers of national magazines. He's added a reliable jumper, sharpened his post game and sufficiently guarded nearly every player in the league from Derrick Rose to Dwight Howard. For James, there's not much left to prove -- at least in the regular season.
With a third MVP likely in order and an unrivaled repertoire, there's only one thing remaining on his to-do list and everyone knows it: win the elusive championship.