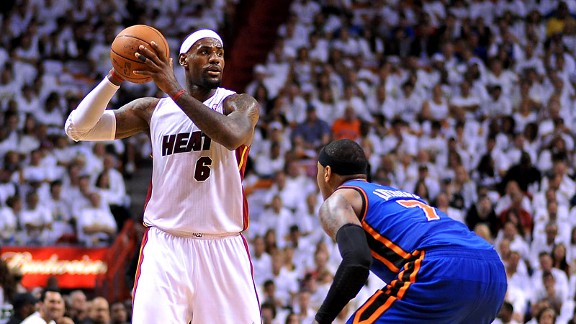 Steve Mitchell-US PRESSWIRE
LeBron James stood tall above Carmelo Anthony and the Knicks in Game 1.
MIAMI – In what could be nominated as the defining play of the 2011 Finals, LeBron James finally went to the basket after meekly considering it for what seemed two hours and smashed into Tyson Chandler.
It was late in the fourth quarter of Game 4 and the game was in the balance, a few baskets for the Heat and they'd be up 3-1 or a few stops for the Mavericks and they'd have tied it. James finished the play by making the basket and the whistle indicated it might've been worth three of the biggest points of his career.
But Chandler had been quicker, smarter and braver and instead had drawn the biggest charge of his career. It was part of a fantastic defensive effort the helped the Mavericks eventually beat the Heat.
Saturday afternoon those roles, for a nice little bit of symbolism, had reversed. With the Knicks off to a promising start, Chandler ran over James, who stepped up and accepted a strong blow to his chest, for an offensive foul. It was one of three offensive fouls James drew on the day and one of eight forced turnover he was personally responsible for. The Heat went to the other end and took the lead for good, eventually building it 37 points.
It's not prudent to create conclusions after Game 1 of any series, much less the first game of the postseason. Chandler, fighting the flu, played terribly, committing seven turnovers with four offensive fouls before retreating to get an IV drip of fluids. Judging him while sick or the Knicks, who were completely out of sorts as they fumbled the ball away 27 times leading to the 100-67 defeat, just based on Saturday afternoon is shallow.
James played a great game, scoring 32 points by taking just 14 official shots. If you're trying to understand how that's even possible, shots taken while being fouled don't count unless you make them. James got to the foul line 14 times in 32 minutes, which you don't need a statistical explanation to understand is quite strong.
That was not unusual, James has played a lot of great playoff games in his career. In fact, he's had some flat out fantastic Game 1s. In his first-ever Game 1, for example, he had a triple double. What was different, however, was the way James went about it.
James is not known for taking charges and he's not known for playing without emotions. But both happened in the opener against the Knicks. It was a businesslike approach that he might aspire to but doesn't usually favor.
There was something churning inside, that showed when he scored nine straight points after Chandler committed a flagrant foul when he hit James with a blind pick late in the second quarter. But for the most part, James operated with subdued calculation.
"As one of the leaders of this team I just want to be sharp, I'm not always going to play the way I played tonight and go 10-of-14 from the field," James said. "But I'm going to make sure I'm in tune from start to finish and give us a chance."
James comments afterward were generally bland and emotionless as well. It was left to others to describe the effort that splinted the Knicks defense.
"He was spectacular, his play spoke for itself," Heat coach Erik Spoelstra said. "It seemed as if he had his hands on every single play in some form or another."
As the weekend approached, James described his pent up emotions and eagerness to get to the postseason. That manifested itself in a strong performance, the type that the Heat will need from him from start to finish in the postseason if they're going to reach their goals. But it was devoid of matching expression from James.
Perhaps it was just the mood that struck him on this particular day. Perhaps it is James debuting a more weathered exterior after the playoff disappointments of the last three years. That will unfold in the next few weeks.
James' play has been uneven over the last two postseasons, dazzling at times and adrift at times. Saturday it was dazzling, once again opening the conversation of this perhaps finally being the year James makes this the norm throughout the playoffs.
"I just trying to be in attack mode throughout these games," James said. "That's what it's all about."