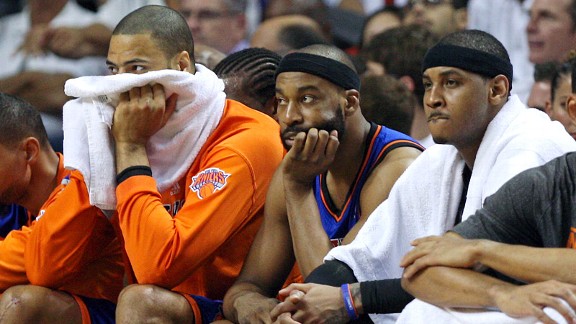 AP Photo/Lynne Sladky
After being held to 67 points, the Knicks will have some time to think over Game 1.
MIAMI -- There was just something fundamentally wrong with the Miami Heat's defense the last time they faced Carmelo Anthony and the New York Knicks, earlier this month.
"In New York, the last game we played, he caught the ball wherever he wanted," Heat forward Shane Battier said of Anthony, who torched Miami for 42 points in that April 15 meeting at Madison Square Garden. "He's too good of a player to let him catch where he wants to catch and operate. That was not a very good defensive plan by us."
It didn't take long to figure out the scheme Miami threw at Anthony on Saturday in Game 1 of this first-round playoff series would produce drastically different results this time around.
By swarming Anthony with multiple defenders and forcing him beyond his comfort zone on the perimeter, the Heat shut down the Eastern Conference's reigning player of the month. It set the tone for a historic defensive performance as the Heat smothered the Knicks in a 100-67 victory to take a 1-0 lead in the best-of-seven series.
Anthony missed his first seven shots and didn't make his first basket from the field until late in the second quarter. By then, the Heat were well on their way to putting on a defensive clinic. Miami set franchise records for opponent turnovers (27) and points scored off turnovers (38). The Knicks matched their postseason franchise low with 67 points in a game that essentially was over after the Heat outscored them 30-13 in the decisive second quarter.
"Their game plan was to speed us up," said Anthony, who finished with 11 points and 10 rebounds but shot just 3-of-15 from the field and had four turnovers. "We were speeding out there, rushing a lot of things out there. Offensively, we never felt in rhythm. We just have to go back, look at some film, see what happened. But most importantly for me and for my team, we're just going to remain positive. The fun starts now. They did a great job of winning Game 1 on their own court, and we still have a chance to come out in Game 2 and get back."
The Heat anticipate Anthony will make an adjustment after being forced into the third-worst shooting performance of his postseason career, which spans 50 games. The only worse outings were a 3-of-16 effort with Denver in Game 4 of the conference finals against the Los Angeles Lakers in 2009 and a 1-of-16 display in a Game 4 loss to Minnesota in the first round of the 2004 playoffs.
What the Heat did to effectively take Anthony out of his game Saturday started with LeBron James fronting him and making it nearly impossible for guards to get the ball to Anthony on the wing. Battier also spent significant time mixing up coverages on Anthony. And when he did get the ball, Anthony immediately turned and faced a second defender when he looked to make a move to the basket.
Two weeks earlier, the Heat had watched Anthony score 14 in the first quarter and 22 of the Knicks' 44 points in the first half. Anthony also attempted 15 free throws in that 93-85 loss to the Heat. But Miami was determined not to allow another hot start for Anthony, who rolled into the playoffs in the midst of his most productive month of the season.
"He's going to get his touches. He's going to make great shots," James said of the strategy on Anthony. "Just try to make it tough on him. Now that he knows we're fronting him, we might have something different for Game 2. Our strategy and our system worked for Game 1. He's going to make adjustments like all great players do."
The Heat's defensive mastery reflected a team coach Erik Spoelstra said played much closer to its identity. Despite the record-setting results, it wasn't an aberration. Instead, it was a team executing its routine defensive scheme. The Heat had limited opponents to 43.4 percent shooting from the field during the season but stymied the Knicks into just 35.7 percent Saturday. Miami had forced about 17 turnovers a game during the season but got 10 more than that average against New York.
Anthony's struggles extended to his teammates. The Knicks' starters shot a combined 9-of-28 and had 17 turnovers.
"The most important thing was our activity and commitment to that energy level," Spoelstra said. "Teams like [New York] make it very tough, when you have 3-point shooters and multiple guys who can put the ball on the floor and break your defense down. We were able to be aggressive enough to close the gaps and make them miss some openings. They will make adjustments. But that look and our mentality, that has to be regenerated again."
The Heat, on many levels, presented a look that caught Anthony off guard. Miami might have to change up the strategy in Game 2 on Monday. But Anthony anticipates the Heat's defensive priorities will remain the same.
"No, I wasn't expecting that," Anthony said of how he was defended by Miami. "From the last time that we played them, I think they made some major adjustments out there. Fronting me, sending me down to the bigs, showing me two or three guys at a time. It was an adjustment that they made. And now it's time to make our adjustment."