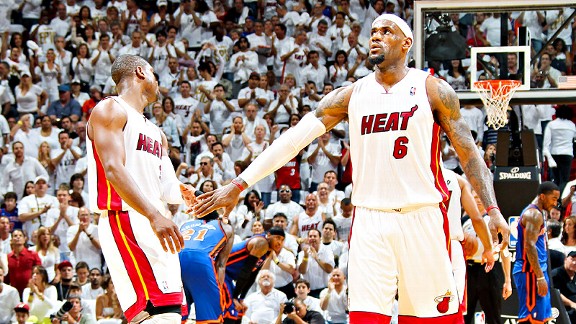 Nathaniel S. Butler/NBAE via Getty Images
Who will have the bigger Game 2, Dwyane Wade or LeBron James? Time to debate.
In another postseason installment of the Heat Index's 5-on-5 series, our writers give their takes on the storylines before the Heat host the Knicks in Game 2.
1. Fact or Fiction: Carmelo was worse than Chandler in Game 1.
Jim Cavan, Knickerblogger: Fiction. Melo being shown up by his Class of '03 superiors notwithstanding, Tyson – warrior though he may be – really shouldn't have been on the floor Sunday. And it goes beyond the seven first-half turnovers; his lift, lateral movement, reaction time – all of it was shot. Which can happen when you play most of the game in dire need of IV fluids.

Tom Haberstroh: Fiction. Though it took him his first eight tries and a few snarls, Carmelo at least made a shot. With Tyson Chandler reeling with the flu, the Knicks needed Carmelo to step up in a big way on the big stage. Instead, he settled for jumpers and refused to take LeBron off the dribble. That's not going to cut it. With that said, Chandler had arguably the worst game of his career so, yeah, he takes the cake.
Michael Wallace: Fiction. At the end of the day, Melo still produced a double-double, with 11 points, 10 boards, 3 assists and a steal despite missing 12 of his 15 shots from the field. Tyson was a complete mess. He probably shouldn't have been out there considering his flu-like symptoms. His seven turnovers, missed layups and four fouls, including a flagrant on LeBron, did far more to hurt than help his team in the decisive moments of Game 1.
Brian Windhorst: Fiction. Chandler played one of the worst games he's played since those forgettable Charlotte days. He was clearly gutting it out, but he did not help the Knicks at all, he hurt them. Carmelo at least had 10 rebounds. But the point is both were terrible in Game 1. Even with Chandler still getting over the flu, I think it is safe to assume they will not both play like that again.
Jared Zwerling, ESPNNewYork: Fact. First of all, Carmelo was healthy; Chandler was not, as he was dealing with a serious flu heading into Game 1. (Update: He's feeling better and will start Game 2.) Also, Carmelo is labeled as a superstar; Chandler is not. Superstars have to show up in the first quarter of every playoff game, and they have to know how to make midgame adjustments. Carmelo did neither. He finished with 11 points on 3-for-15 shooting.
---
2. Fact or Fiction: The Knicks should put Carmelo back at point forward.
Cavan: Fiction. If anything, the Knicks need to bring Stat off the bench and go back to playing Melo at the 4, where he put up a 30+ PER (giving up just north of 8 defensively) in the month or so Amar'e was out. With the Heat determined to front Melo at every opportunity and – barring that – doubling him in the post, the Knicks need to come up with creative ways of giving him the rock with room to operate.
Haberstroh: Fiction. They'd be wise to feature it a couple times, especially with Baron Davis slowly mummifying with a back injury. But using cross-screens to free him up in the half court should do just fine. No need to reset back to the point forward scheme entirely.
Wallace: Fact. Unfortunately for New York, there may be no choice. Iman Shumpert is now done for the playoffs after tearing up his knee in Game 1. Baron Davis admits his back is acting up again. And Jeremy Lin isn't quite ready to return yet, according to the Knicks. Melo has to handle more by necessity, even though the Knicks struggled a bit the last time he took over the point-forward role. It certainly might not be the ultimate answer. But it's one of few remaining options.
Windhorst: Fact. Not for the entire game. But with their point guard situation right now the Knicks need him to be an offensive playmaker. Plus, it makes it harder for the Heat to deny him the ball as they were able to in Game 1.
Zwerling: Fiction. While Carmelo was catching the ball a little more in the post, it really doesn't matter what position he plays. He can cause serious damage on 3s and 4s; it doesn't matter who's on him. The more important thing is that Carmelo attacks the basket more in Game 2 and gets to the foul line. The Knicks attempted only 11 free throws in Game 1, while the Heat had 33. So that has to seriously change.
---
3. Fact or Fiction: Dwyane Wade will outscore LeBron in Game 2.
Cavan: Fiction. As Tom pointed out yesterday, Wade has actually scored at a higher clip with Iman Shumpert (MPBUH) on the floor than off. It's the ringless LeBron who seems like he's on a mission in these playoffs, and – even if he doesn't score with quite the vengeful aplomb of Game 1 – I expect a similar tour de force statement in the series' second act.
Haberstroh: Fact. My guess is that the Knicks will overcompensate and try to bottle up LeBron James with more help. But this isn't Cleveland anymore; there's Dwyane Wade lurking on the weak side. My gut tells me that Wade is in for a big night against Landry Fields, but my trusty numbers suggest otherwise: Wade scores 29.3 points every 36 minutes with Shumpert on the court, but "just" 22.6 points when he's on the bench.
Wallace: "Faction." I have to go with my old reliable fallback option here, simply because there's no telling how the referees' whistles will blow. LeBron dictated the action and deserved many of the breaks he got in Game 1, including some favorable calls. LeBron outshot the Knicks 14-11 from the free throw line. If he's going to the line at that rate again, Wade won't have a chance. But with the Knicks running thin on guards, Wade could have a field day on offense.
Windhorst: Fiction. I want to say fact because I think Wade will be in attack mode with Iman Shumpert out and he had a strong second half in Game 1. But LeBron has been on a tear for the past few weeks and I wouldn't pick against him right now.
Zwerling: Fiction. I think they're going to score around the same amount, in the 30s. Concerning Wade, he'll have a major mismatch going up against a weaker defender in Landry Fields compared with Iman Shumpert. As for LeBron, the paint will be, once again, less protected because Chandler is still not 100 percent (he looked and sounded drained while addressing reporters after Monday morning's shootaround) and his backup Jared Jeffries is also dealing with right knee issues. Baron Davis said on Sunday that Jeffries is "really hurting." Somewhere, LeBron is showing off that trademark grin.
---
4. Fact or Fiction: JR Smith should start over Landry Fields.
Cavan: Fact. Fields has been ineffective against the Heat in his two-year tenure. He looked much more comfortable playing with the second unit – more accurately, the garbage-time unit – in Game 1, and that's probably where he should get a bulk of his time. For good or ill, the Knicks need Smith's production and defense now more than ever, and in larger doses than any of us are probably prepared for.
Haberstroh: Fact. Usually, who finishes, not starts, matters more, but the Knicks can't afford to stumble out of the gate on the road in Game 2. Smith will probably get starter's minutes, but when those minutes occur will be just as important. Fields might be the safe option, but Smith is probably the smarter one. Smarter option, that is.
Wallace: Fiction. Landry Fields gives the Knicks at least a defensive demeanor at shooting guard, which they'll need if there's any chance to slow down Wade. Plus, Smith is perfectly cast as a sparkplug off the bench who can light it up quickly and take advantage of the opposing team's second unit. If he's in early foul trouble defending Wade or LeBron, where else do the Knicks turn beyond Carmelo for wings who legitimately can create their own shot?
Windhorst: Fact. First, Fields is a better defender and the Knicks will need that to start both halves. Second, there's a reason Smith has always been a good bench player and that is because when he comes in he likes to shoot ... a lot. This works better when starters are rotating out to get some rest.
Zwerling, ESPNNewYork: Fact. The Knicks cannot let the Heat jump out to a first-quarter lead because that will be demoralizing to a beat-up Knicks team. While Smith has embraced the sixth man role and adjusted well to coming off the bench, which he's done in the past with the Nuggets, he can help them avoid getting off to a slow start. Smith's shooting will be needed to counter the double-teams run at Anthony, and he's a better and more aggressive defender than Fields.
---
5. Fact or Fiction: You're rethinking your pre-series prediction.
Cavan: Fact. Losing Shump was nothing short of crippling for the reeling Bockers, who now must rely on Fields and Smith to hold down the perimeter fort – not exactly the most confidence-inducing prospect. It's still possible the Knicks make adjustments, ratchet up the D, and extend the series to six games (my initial prediction). But this orange-blood isn't counting on it.
Haberstroh: Fact. I'm using a mulligan here because of the Knicks' injuries. Now that Shumpert is out, Davis has back stiffness and Chandler is a mess, I'm shaving a game off my pick that the Heat would win in six. Knicks will snag a win in New York, but that should be it.
Wallace: Fiction. But I might do so after tonight. I had the Heat winning in six, based on going out on a limb and giving the Knicks a shot to split the first two in Miami. What we know now is that arguably New York's most complete guard is out for the rest of the playoffs and that defensive player of the year candidate Tyson Chandler is struggling through the flu and can't even leave his room for anything other than games right now.
Windhorst: Fiction. Heat in five.
Zwerling: Fact. This series is looking more like 4-1 Heat. I still think the Knicks will get one at the Garden, but they're too decimated by injuries now. Losing Iman Shumpert for the season added insult to injury.