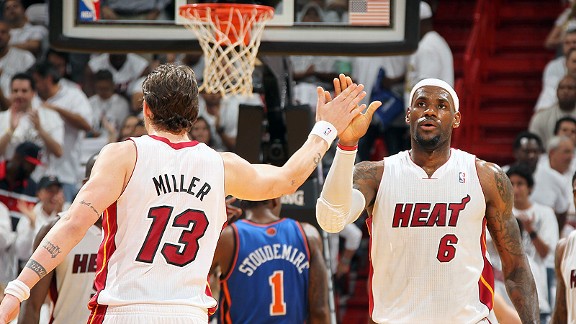 Nathaniel S. Butler/NBAE via Getty Images
Mike Miller and the Heat's rotation players have made a big statement in this opening series.
MIAMI – As Mike Miller spoke with about a dozen reporters in front of his locker late Monday night, the Miami Heat swingman was continuously interrupted by the ring chime buzzing from the cell phone in his pocket.
"Man, you're blowing up," someone told Miller, referring to the messages piling up on his cell.
"Yeah," Miller responded, sounding slightly embarrassed. "I guess everyone just watched the game or something."
The rest of the NBA postseason field might need to take notice, too, especially if the Heat's role players continue to perform the way they have to help boost Miami to a 2-0 series lead against the New York Knicks.
What the Heat displayed in the 104-94 victory in Game 2 was a sneak peek of exactly what stands to make this Miami team different than the squad that entered the postseason a year ago. With the exception of offseason free-agency pickup Shane Battier, the names and faces are the same from last year's postseason run that fell two games short in the Finals of winning a title.
But what the Heat are now showing is the difference a healthy, confident, aggressive and effective supporting cast can make around LeBron James, Dwyane Wade and Chris Bosh. Miami entered the playoffs with one of the least-productive benches in the league, one that provided fewer than 25 points a game and is considered by some league analysts as the main reason Miami might again stumble in its quest for a championship.
But if two games are any indication of what could be in store throughout the playoffs, the Heat's supporting cast could provide the boost that puts them over the top. So far, they've executed to expectation.
This time a year ago, Miller and Udonis Haslem were severely limited in the playoffs by injuries that forced them to miss much of the regular season. Now, Miller is shooting 43 percent from 3-point range in the series while aggressively putting up shots he once tended to pass up. Meanwhile Haslem, despite still struggling with is offense, is leading the team in rebounding and has outworked Tyson Chandler and Amare Stoudemire on the boards while averaging just 20 minutes through the first two games.
"This is what we always envisioned, with those lineups being out there and the acquisition of Shane," James said. "Just to have Mike in rhythm, seeing him shoot the ball like we know he can shoot the ball. Having (Haslem) as comfortable (and) as healthy as he's been the last year, and everybody else, is great. We just want it to continue."
Entering the series, I gave the Knicks' role players a clear edge over the Heat's, but developments have swung the advantage in Miami's favor. Iman Shumpert's knee injury in Game 1 took him out of the mix and the Knicks have gotten very little from league 3-point shooting leader Steve Novak. Beyond J.R. Smith's occasional scoring outbursts, the Knicks' supporting cast easily has been outperformed.
By comparison, Mario Chalmers – when he's not being scolded by James for lapses – has averaged 12 points, 7.5 assists and only two turnovers through two games. And Battier has absorbed the brunt of the defensive assignment on Anthony, yet has still managed to rebound and hit a pair of 3-pointers in both games to sustain game-sealing runs.
"It helps a lot, especially with everybody comfortable," Chalmers said. "So we're not favoring one person. Those guys (James, Wade and Bosh) are trusting us to make plays, and that's what we're doing. I wouldn't say it's a blueprint. But it's a good job of everybody contributing. When we play like this we're hard to beat. And it shows."
It also reveals the potential the Heat have when at full strength. This time last season, coach Erik Spoelstra wasn't sure what he would get out of his rotation beyond James, Wade and Bosh in the postseason. But among the early answers in these playoffs is the spark provided by Battier, one Spoelstra says gives the Heat, "an element we didn't have last year."
There might not be an individual task in the East during the playoffs for Battier tougher than matching up with Anthony.
"That's part of the reason why I'm here, why I thought I'd be a good fit," Battier said after Game 2. "The playoffs are a different animal. It's good to know my teammates have confidence in me, my coaches have confidence in me. But it's not about stats, it's about making plays and winning games. That's the fun part, and that's why I'm here."
Miller said the coaching staff has challenged the Heat's role players with three simple tasks going into each game.
Play hard. Bring defensive energy the moment they enter the game. And knock down open shots when they get them.
Battier and Miller, specifically, have a fourth mandate.
"They're putting more onus on us to shoot the ball, contested or not, just to open up the floor," said Miller, who's attempted 14 3-pointers through two playoff games after averaging just three attempts in the regular season. "If we're shooting it, even when we're not making it, it's easier on those guys. When we're aggressive, make or miss, it makes people guard us, makes them account for us."
It's that accountability factor that has the Heat heading to New York for the next two games of the series after having held serve in Miami. That accountability should also serve early notice to the league that there's an improved difference and depth with the Heat this time around.
Will it be enough to make up that two-game shortfall in the Finals last season? Time will tell as tougher challenges loom throughout the Heat's playoff run. But the early signs have been encouraging for those in the race.
"That's the blueprint for how we want to play," said Bosh, who was then asked if the Heat are stronger now than they were in last year's playoffs. "I want to say yes, but you know how the playoffs are. They're so long. There are going to be a multitude of tests in this postseason. We're making improvements every day. Our bench has improved in confidence and production. I want them to keep improving, keep believing in themselves and do what they have to do so we can keep going forward."
Miller probably got around to eventually returning the calls and texts that flooded his voicemail after the game. If not, you'll have to pardon him.
He's been a bit busy on the other end with the Heat's supporting cast trying to send potential playoff opponents a message.