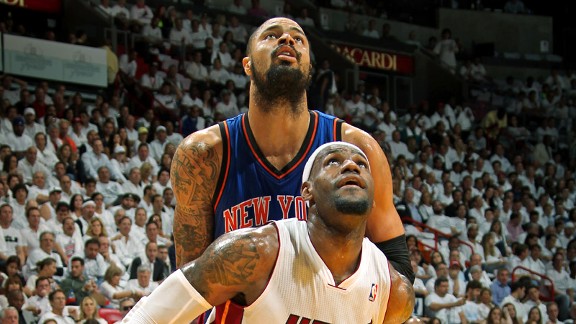 Nathaniel S. Butler/NBAE via Getty Images
LeBron James' versatility made him a top candidate for Defensive Player of the Year.
MIAMI -- The league announced on Wednesday that Knicks center Tyson Chandler was voted the NBA's Defensive Player of the Year for 2011-12, earning 311 total points and 45 first place nods. Placing fourth was Miami's LeBron James, who generated 112 votes from the media and seven first place votes.
Was James more deserving?
Erik Spoelstra made his case at Wednesday's practice.
"Tyson Chandler is a heck of a defensive player," Spoelstra said. "That's a tough award to vote for. We think LeBron could easily have won it. But all we're concerned about is the contributions he's make for us, specifically to be the most impactful defensive player on the court but also to play multiple positions which allows us to play our most versatile players."
Spoelstra has been James' biggest supporter when it comes to the top defender award. Multiple times this season, the Heat coach has praised James' dedication, versatility and ability to guard anyone from Derrick Rose to Pau Gasol. And not just guard them, but guard them well.
James' versatility was on full display in Game 2. Midway through the first quarter, James trotted down the court and parked himself right in front of Chandler, who stands 7-foot-1 from the ground up.
James, who is listed at 6-foot-8, was guarding the Knicks' center and did so for the next several possessions. Chandler didn't touch the ball.
"It's highly unique," Spoelstra said of James guarding centers. "But also paramount for us to take advantage of our roster's versatility, the strength of our roster. If we didn't have a player like LeBron, we wouldn't be able to unlock that versatility."
What's more, James guarded Chandler on one end of the floor and then ran the Heat's offense on the other end as a point guard. Put the two together and you have the league's only point center. At least for a few possessions.
"I don't think anybody has done it since Magic," Spoelstra said of the point center. "I don't think Magic guarded all five positions either."
Expect to see more of that versatility in Game 3 when the Knicks play without Amare Stoudemire, who's sitting out with a lacerated left hand. The Knicks will likely go unconventional and start Carmelo Anthony at the power forward slot. But don't be surprised if Spoelstra takes it one step further and slots James at point center alongside other perimeter players. Ironically, such a move might force Mike Woodson to think about taking the newly-crowned Chandler off the floor for defensive purposes.
The point center formation is something new for James. When he came into the league, he didn't imagine this would be in store for him.
"I had never played point-center," James said Wednesday. "I was kind of taller than people in Akron when I was younger, but I never played point-center or guarded centers. But I'm happy to be able to do things to help our team win and that's what it comes down to."
Chandler isn't the first center that James has guarded this season and it probably won't be his last. During the 2011-12 regular season, James has picked up Dwight Howard, Joakim Noah and Pau Gasol.
Shane Battier, who has broken defense down to a science, remains in awe of James' body of work this season.
"We have a guy who really can guard anybody 1-through-5," Battier said. "People say that all the time, so it seems like a cliché, but with LeBron it's actually true. So many defensive philosophies and schemes can really handcuff your personnel, but he gives us some flexibility to do some creative things defensively."
The traditional statistics don't do James' season justice. He ranked third in steals per game (1.9), but he makes far more impact plays on the floor that don't get captured in the box score. He held opposing small forwards to a 10.0 player efficiency rating, which is the fourth lowest rating in the league according to 82games.com, an advanced stats website. Alas, there's no metric available that quantifies his versatility.
"I don't have a problem with Tyson Chandler winning," Battier said. "He changed that team around defensively. But I think LeBron was also deserving."