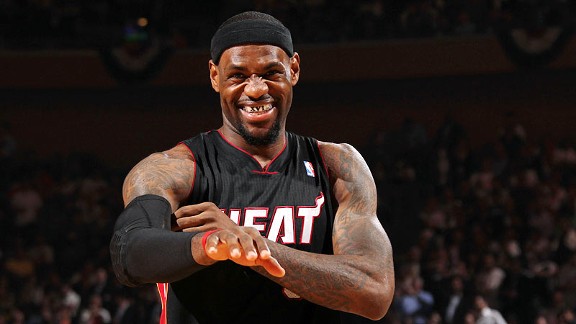 Nathaniel S. Butler/NBAE via Getty Images
Once a fourth-quarter punch line, LeBron has been getting the last laugh these days.
Should we be surprised by LeBron James' spectacular fourth quarter in Game 3?
Not if you've been paying close attention to LeBron's fourth-quarter play this season. The 17-point barrage in the closing minutes in New Jersey. The 17 points on 8-of-9 shooting in Utah. The 12 points in a January game, following it up with a six-assist outing in a close February contest and then upstaging that with a 15-point outburst in an April game -- all coming in wins against the Philadelphia 76ers. Just ask Doug Collins if LeBron sputters out in the fourth quarter.
LeBron has heard all the jokes and it hasn't seemed to bother his play at all this season. Despite the breathless criticism that he vanishes in fourth quarters, his player efficiency rating (PER) in the fourth quarter (33.1) is much higher than his overall PER this season (30.8).
In fact, only one other player in the league has been better in the fourth quarter and that's his pal Chris Paul.
Here are the top players in fourth-quarter PER along with their PER in other quarters (minimum 1,000 total minutes):
Top PER in fourth quarters
First, let us bow down before the all-mighty Chris Paul. Sheesh.
The Lob City point guard has been supernatural in the fourth quarter this season. If Paul does what he does in the fourth quarter for an entire game, here's his stat line: 28.7 points, 8.2 assists, 3.2 steals on 50 percent shooting per 36 minutes. It all adds up to an astronomical 38.7 PER. For those wondering, Kobe Bryant finished with the 13th-highest PER in fourth quarters with 25.0, right behind Kevin Garnett.
Coming in second is LeBron. The fourth quarter actually isn't his best quarter; he dominates the second quarter more than anyone. (Sidenote: LeBron and Wade rank No. 1 and No. 2 in the second frame.) But the dominance on Thursday night is just another data point in a season-long trend. LeBron has been just as electric in the fourth quarter as the rest of the game and perhaps even more so.
The interesting thing is that his fourth-quarter production might be spurred by rest. Coach Erik Spoelstra's rotation demanded that LeBron play shortened minutes in the second and fourth quarters, so it might be more than just a coincidence that LeBron went bonkers right after an extended rest in the third quarter. This season, LeBron has just 444 minutes in the fourth quarter compared to, say, 760 minutes in the third quarter.
So what does this all mean?
LeBron played an absurd number of minutes in the last playoffs (42.4 minutes per game versus Philadelphia, 44.6 versus Boston, 45.2 versus Chicago), and it should be clear now why the Heat brought in Shane Battier. He's the battery for LeBron. (For what it's worth, LeBron had a slightly lower PER in the fourth quarter in the regular season than his overall rating last season, and a microscopic 8.4 PER against Dallas in the Finals.)
Of course, as has been the case all season long, nothing really matters to the general public until the Finals. But the Heat are being very careful with his minutes this season and so far, it's paying off.
Statistical support provided by NBA.com.