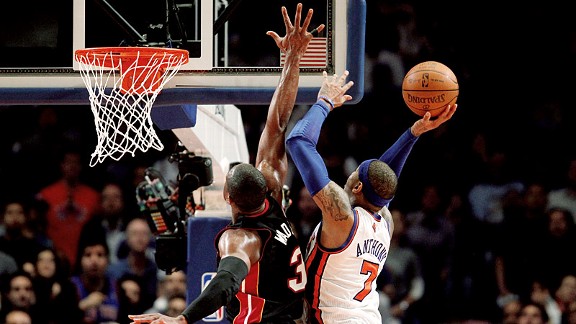 Jeff Zelevansky/Getty Images
All-time swatter Dwyane Wade took extra pleasure in blocking Carmelo Anthony.
MIAMI -- Dwyane Wade rarely picks on someone his own size.
Take Wednesday's Game 5 versus the Knicks, for instance. In the third quarter of the Heat's series-clinching victory, the 6-foot-4 Wade snuck over to guard the 6-foot-8 Carmelo Anthony in the post. Knowing he towered over the Heat's undersized shooting guard, Anthony called for the ball on the block.
These are the moments that Wade lives for: the challenge of overcoming an enormous size disadvantage. After Wade parked himself behind Anthony in the post, Anthony spun toward the rim and saw daylight for a dunk. As the small forward rose up for the slam, Wade apparently had other plans. Wade leapt up from behind Anthony and spiked the ball into the hardwood. After getting his shot blocked by Wade, Anthony could only bow his head and sheepishly walk back on defense.
On Wednesday night, Wade tallied a series of highlight reel dunks and drilled a variety of memorable circus shots. But according to Wade, none felt better than the block on Anthony.
"Yeah, I enjoyed that," Wade said with a laugh, reflecting on the highlights during the win. "Probably the most satisfaction I got was blocking my good ol' buddy Melo.
"I always enjoy that, because I'm not supposed to do it as much as I have over my career."
A player of Wade's size shouldn't be capable of denying forwards and centers. What sets Wade apart from all the great shooting guards in NBA history isn't his ability to score, but his ability to prevent others from scoring.
More to the point, Wade might be the best shot-blocking guard the league has ever seen.
Wade added another two blocks to his name on Wednesday, and he had one of the best shot-blocking campaigns of his career, swatting 1.3 shots per game despite battling an assortment of minor leg injuries and playing a career-low 33.2 minutes per game.
How remarkable is that?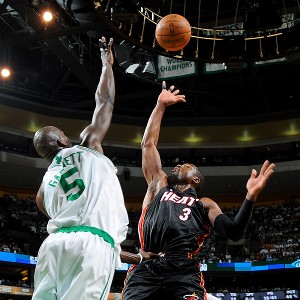 Brian Babineau/Getty
Kevin Garnett and Dwyane Wade are equals in the block department.
Consider the following. Wade blocked more than four times as many shots as the average shooting guard (0.3 blocks per game). On a per-minute basis, he blocked shots more often than Pau Gasol, Kevin Garnett, LaMarcus Aldridge and, yes, Chris Bosh and LeBron James, too. Said another way, you could tally up all the combined blocked shots by reputable defenders Tony Allen, Kobe Bryant and Avery Bradley this season -- and they still wouldn't have more blocks than Wade this season.
Historically, we have no precedent. Wade is the only guard in NBA history to average a block per game over his career. The late Reggie Lewis trails Wade with a 0.9 blocked shot average and ranks second all-time. Other known shot-blockers such as George Gervin, Michael Jordan, David Thompson and Vince Carter all look up at Wade in the blocks category.
You don't have to sell coach Erik Spoelstra on the notion that Wade is a once-in-a-lifetime shot-blocker. As someone who grew from video coordinator to head coach over a 17-year span in the Heat organization, Spoelstra has seen every one of Wade's 712 blocks over his playing career. But to Spoelstra, it's who he blocks, not how many, that makes Wade special.
"He's a game-changer back there," Spoelstra said. "I don't know if there's ever been a 2-guard that's had as many off-the-ball shot blocks on big men as Dwyane has gotten."
It's true. The average height of Wade's block victims his season was the same as the average height of Clippers center DeAndre Jordan's victims (6-foot-6). While centers are busy swatting shorter players, Wade routinely preys on taller players who, on average, are 2 inches taller than himself.
How does he pull it off?
"Awareness, alertness, instincts," Spoelstra said. "And then you have the physical gifts. He's 6-foot-4 on a good day, but he has that almost-7-foot wingspan and the big hands. He has a complete understanding of our system so his instincts are razor-sharp. He reads plays and reads people's eyes."
Spoelstra makes it a point to stress that Wade might not be as tall as he's currently listed. This has been a topic of much debate -- and chiding -- in the Heat locker room. Just ask James.
"A lot of people don't expect a 6-foot-3 guard to contest at the rim," James said. "If you're a big man and you turn and you see D-Wade, you just look at his size and you don't realize that he actually plays bigger than his size. A lot of people contest shots, but not many win that matchup."
Wait, is Wade really 6-foot-3?
"He's 6-foot-1 in my mind," James joked. "My basketball card at home says he's 6-foot-3 so we'll leave it at that."
Heat co-captain Udonis Haslem entered the Miami organization with Wade, but insists that Wade has never dunked on him in practice. If you ask Haslem about his favorite Wade block, he won't hesitate to name it.
"Brook Lopez, and he blocked his shot twice," Haslem recalled. "That was pretty impressive at 6-foot-1."
Another height discrepancy.
"I've never said 6-foot-4, so there's no discrepancy on my end," Haslem assured reporters. "LeBron says 6-foot-1 and he's a pretty smart guy."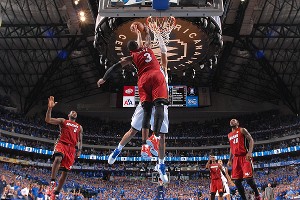 Andrew D. Bernstein/Getty
Tyson Chandler is just one of Wade's 7-foot victims
Height scandals aside, Wade's blocks on Lopez are just two blocks in Wade's catalog of denials against 7-footers and centers. There was the time when Wade pinned Dwight Howard's shot to the backboard last season. There's also the time he blocked Dirk Nowitzki's seemingly unblockable jumper. And perhaps the most memorable of them all: Wade swatted Tyson Chandler's dunk attempt in the Finals.
There's no doubt that Wade has been the recipient of humiliation at the rim before. Many times. But to Wade, that's just something that comes with the territory.
"Shot-blocking is first about courage," Wade said. "Especially when you're going to block somebody near the rim, it's easy to get dunked on. You're going to get embarrassed. I've had my fair share of those. Last year, when I got dunked on in the playoffs [by Taj Gibson], it was a big deal. That shows that I'm a shot-blocker, so I appreciate that."
Wade rarely shies away from shot-blocking opportunities, and that's partly by design. In the Heat's mechanical defense, which was orchestrated by Pat Riley and sharpened by Spoelstra, Wade must make his presence felt underneath the rim. The Heat's defensive blueprint requires guards to act like big men underneath and wall off penetration.
It's something that newcomers in the Heat system have to get used to. Even a player like Shane Battier, who has studied defensive principles his entire career, needed time to adjust to Wade's shot-blocking talents.
"Earlier in the season," Spoelstra remembers, "Shane Battier was in a situation where Dwyane Wade was a low man and the big man caught it right at the rim and Shane went to foul. We told Shane, 'No, that's not a fouling situation. Let Dwyane go up there and be a playmaker. That's not a given even against a center.'"
As time went on, Battier got used to playing next to a 6-foot-4 basket protector, which is a luxury considering the Heat often play Battier and Wade without a traditional center. There's a reason why the Heat, who don't have a 7-footer in the rotation, held opponents to the second-lowest opponent field goal percentage at the rim, according to Hoopdata.com.
If you're wondering how the Heat manage to have one of the league's top defensive teams without a conventional lineup, look no further than Wade's team-leading 1.3 blocks per game.
"I take a lot of pride in it," Wade said. "If I can talk about anything in my statistical game, it's my blocks. It's the one thing I look at. Hitting game winners is great, but blocking somebody at the basket when they're trying to dunk on you? Yeah, that's pretty good. I feel bigger and stronger after that. Anytime that I can feel bigger than I am, I'm good."