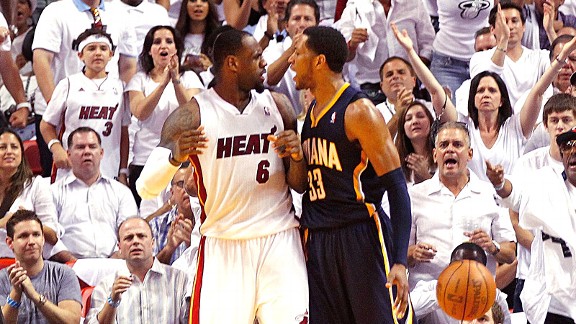 Mike Ehrmann/Getty Images
Did the Pacers celebrate after Tuesday's win in Miami? Maybe, but they're now on equal footing with the Heat.
MIAMI – Sometimes pride clouds perception.
So you might want to disregard some of what you may have read or heard from the Miami Heat's high-profile players after Tuesday's draining playoff loss.
They lack the credibility to criticize on this particular front.
Did the Indiana Pacers uncork and toast champagne after their 78-75 victory over the Heat in Game 2 to knot this second-round playoff series at one game apiece?
No, they didn't.
But did a couple of Pacers celebrate on the Heat's court after the buzzer in a victory that gave them a greater sense of confidence, having seized home-court advantage heading back to Indiana for Games 3 and 4 of the series?
Absolutely.
Of all the things Dwyane Wade and LeBron James could have taken issue with following one of the worst offensive games Miami has played all season, being a bit offended by Danny Granger or Paul George jumping around on their way off the court should be the least of Miami's concerns.
Wade blew a critical, contested layup with 16 seconds left that could have tied the game. But he didn't miss the chance to take a not-so-subtle shot at the Pacers well afterward to let them know he wasn't exactly fond of their exit.
"I heard they wanted to be like the Dallas Mavericks in a sense," Wade said, referring to the Mavericks celebrating their series-clinching Game 6 victory over Miami on the very same court in the Finals last season. "I saw [Indiana's] little celebration at the end of that game. I don't know if they didn't expect to win. But every night we go out on the court, we expect to win. They stated their identity. They said they wanted to be like Dallas. So, they celebrated like Dallas, I guess."
Moments earlier, James, who missed two crucial free throws in the final minute, ended his gathering with reporters suggesting the Pacers seemed to act as if the victory counted for more than just one win in the series.
Both Wade and James were light-heartedly tongue-in-cheek with their comments. But the fact is, the Heat are probably the last team in the league that can joke about anyone celebrating anything prematurely.
This was the same team scolded nationally when it celebrated the signings of James, Wade and Bosh with a news conference that had the production flair of a rock concert, with smoke, fireworks and a hydraulic stage lift.
This was the same team ridiculed by many for the way players hugged and knelt down on the court after being overcome with emotion in their second-round playoff series win over Boston -- the same round these playoffs are in.
And this was also the same team accused of celebrating a 15-point lead over Dallas late in Game 2 of the Finals before the Mavericks not only stormed back to win that night, but also beat the Heat again on their own court to snatch away an NBA title. If Wade and James had points to make amid Tuesday's disappointment, they should have been aimed at their lack of Game 2 support.
The fact is, Indiana didn't go over the top with the way it embraced Tuesday's victory. Forward David West even went out of his way to shove some of his joyous teammates off the court and toward the locker room to make sure it wouldn't appear they were having too good of a time.
But even if they did get a bit carried away with themselves, so what? What does that change? What does it prove? What impact will it have in Game 3?
What Wade's reaction underscores is that there truly may not be a joyous element for the Heat in this ordeal. They're a team on one of two tracks. Either they meet expectations or they fail miserably. It's win a title and exhale. Or fall short and exterminate. It's the unfair, but inevitable reality Wade, James and Bosh signed up for on those collective $340 million contracts.
When the stakes are that high, you don't get to enjoy the small victorious steps along the climb. Indiana could lose every game the rest of this series, and their season is a huge success because they've already built on last year's finish.
The Heat are judged much differently, far more harshly. And sometimes, that reality gets lost on nights like Tuesday, when you're forced to walk off the court watching Pacers chest-bump after shooting 37.8 percent from the field and committing almost as many turnovers as James had points. It's easy for that snapshot to rub Wade the wrong way. It's also completely understandable.
But there's no denying the Pacers came to Miami and accomplished what they set out to do. They earned a split of the first two games in the series. They crossed off a short-term goal although there's still a long, long way to go from here. The Pacers have the perspective to know that.
"We can't get too excited because we won one game," West said. "That is not our goal in this series. We can't overreact because we were able to get one game down here."
Heat forward Chris Bosh missed Tuesday's game and is likely sidelined for the rest of the series with a lower abdominal strain he sustained in Game 1. The Pacers aren't looking to just give the Heat a tough series. Even before Bosh went down with the injury, Indiana came in boldly claiming an underdog didn't exist in this series.
But with the Heat's Big 3 now reduced to two, and with James and Wade facing the prospects of essentially carrying an overwhelming burden from start to finish, the Pacers like their chances of pulling off the playoff upset.
The Pacers have played from this script before. They made the playoffs last season for the first time since 2005-06, but lost to then-MVP Derrick Rose and the Chicago Bulls in five games despite Rose being limited by a sprained ankle.
In the first round of this season's playoffs, Indiana capitalized on Dwight Howard's season-ending back surgery to dismiss the Orlando Magic in five games. Now, the Pacers are staring a weakened Heat team in the eye and insist they are capable of trading blows for the duration.
"Because they're All-Stars, I was giving them too much respect," Pacers swingman Paul George said of matching up with James and Wade. "That's something I definitely can't do. I have to challenge them every possession. It wasn't like we were surprised we won. We're a great team. It's not like we're excited. We came in here and did what we had to do. We're 1-1 and headed back home. We're not boasting about anything. We're just confident that we came in here and did what the media said we couldn't."
The Pacers still have plenty to prove in this series. But now, so do the Heat. Miami has to find a way to get production from someone other than James and Wade, who had 28 and 24 points, respectively, in Game 2. No other Heat player scored more than five.
Miami can't replace Bosh, but someone -- or two, or three -- must step up and prevent West, Granger and Roy Hibbert from combining for 32 rebounds on a night when the Pacers won the battle on the boards by 10.
Someone has to give James and Wade at least a chance to catch their breath a few seconds and not have to do everything on both ends every minute of every quarter.
"They scored a lot, but we stopped everyone else," Granger said of shutting down the Heat's role players. "We never felt like we were the underdogs, you know. This is business as usual."
It's business. But it also just became personal.
"Now, it's a series," Wade said. "We'll come out [for] Game 3, knowing it's going to be a tough road game. But we're still going to expect to win the game. We've got to make all the plays between the lines. We're a confident team, and we can get home-court [advantage] back."
Wade's eyes were deceiving him a bit Tuesday. He knows deep down that what a few Pacers did at the end of the game doesn't really register as a celebration.
It simply served to satisfy Wade's prideful search.
A search for additional motivation.