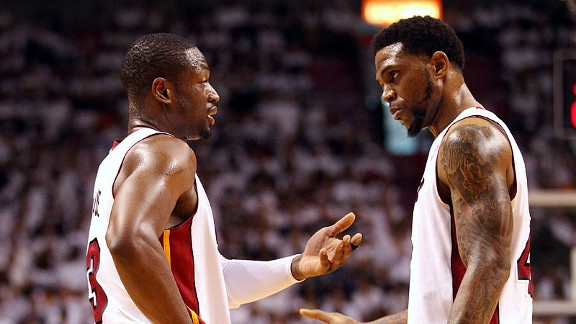 Marc Serota/Getty Images
Dwyane Wade and Pat Riley have both talked to Udonis Haslem to try to get him back on track.
INDIANAPOLIS -- On his way off the AmericanAirlines Arena practice court Wednesday, Miami Heat forward Udonis Haslem stopped to speak with someone who knows the kind of impact the rugged veteran is capable of having on a title-contending team.
Waiting off to the side of the gym was Heat president Pat Riley, who coached Miami when Haslem was a starter during the team's 2005-06 championship run.
In many ways, Riley still sees Haslem as the player capable of taking on the toughest defensive challenges in the frontcourt while also managing to routinely knock down mid-range jumpers in big spots to provide the Heat relief.
But a combination of injuries and offensive struggles the past two seasons have taken a toll on Haslem, who is in the midst of the least-productive season of his career.
Under normal circumstances, Haslem would be the natural choice to step in and fill the void created by the absence of Chris Bosh, whose strained abdominal muscle is likely to sideline the perennial All-Star for the rest of Miami's conference semifinal series against the Indiana Pacers.
But Haslem played just 12 minutes during Tuesday's 78-75 loss that allowed the Pacers to tie the series at 1-1 and steal home-court entering Game 3 on Thursday in Indiana. So before the Heat departed Miami on Wednesday, Riley pulled Haslem aside to try to clear up a few concerns.
Part of the reason Haslem's minutes have been reduced recently, specifically late in games, is because LeBron James shifts to power forward -- Haslem's natural position. The Heat also spread the floor with 3-point shooters around James, and have gone to Bosh or Joel Anthony at center.
"Part of the deal is you produce on the court, and when you're not on the court, you continue to support your guys and continue to be a good teammate," Haslem said of his conversation with Riley. "It's not like I'm giving up minutes to some bum off the street. My minutes are going to the MVP at (power forward). When I get my opportunities, all I can do is try to make the best of them."
The Heat might never again need as big of a boost from Haslem as they do right now. With Bosh out of the mix and Miami desperately looking for production beyond James and Dwyane Wade against the deep and relentless Pacers, Haslem is one of a few key role players the team is relying on to break out of slumps that have lasted far too long.
When Riley envisioned the players who would make the most impact on the Heat's roster, the hope was that James, Wade and Bosh would be adequately and consistently supported by Haslem, Mike Miller and Shane Battier.
But all three reserves haven't exactly lived up to expectations this season. Haslem and Battier are shooting the worst percentages of their careers. Miller's overall production as a shooter and facilitator has fallen off so much the past two seasons that teammates don't even consider him to be one of the primary ball-handling options on the team -- which was supposed to be a strength.
Unless the three of them get going quickly in this series, the Heat could be upset by Indiana. What the Game 2 victory did for Pacers was provide evidence that they can absorb solid games from James and Wade and still beat a Bosh-less Heat team by limiting contributions from others. It's not all that different from the Heat knowing they could sustain a 40-point game from Carmelo Anthony last series and still cruise to victories against the New York Knicks.
James and Wade scored 21 of the Heat's 23 points in the fourth quarter of Game 2 and also took 17 of 23 shots. Among the adjustments Miami talked about making for Game 3 was to get -- and keep - others confidently involved to help ease the load on James and Wade.
"All of us will take the onus on making sure other guys get more opportunities," Wade said. "And me and LeBron will also make sure the opportunities we have will be a little bit more effective. It's nothing new for us. We have a lot of guys that get the ball because we handle a lot, and we have to make plays for them. So we have to do a better job of trying to find out how to get those guys more involved."
Beyond James, Wade and Bosh, the Heat fashion themselves as a team of specialists - role players who do one specific thing well. Most aren't considered players capable of consistently creating their own shot. So even when Wade and James aren't scoring, they're working just as hard to set up scoring opportunities for their teammates.
Without Bosh, the Heat have even fewer options when it comes to players who can catch the ball and create offense for themselves, which puts even more pressure on the offense on nights when Miller, Haslem, Battier and Mario Chalmers -- primary rotation players -- aren't making shots. The most glaring offensive statistic for the Heat through two games is their 1-for-22 shooting from 3-point range.
"For us, it's the obvious storyline," Battier said. "Some missed shots that are right there for us are the main culprit. We're getting looks. We're not going to overreact. If the shots present themselves again, we're going to take them and take them with confidence."
The fact remains the Heat are a wounded team searching for answers in the middle of a series that could prove to be tougher than many observers expected.
"Anybody can be beat at any time," Haslem said. "Even with Chris, we can be beat. We're not unbeatable. But, like I said, we've got to come together and it's got to come from multiple guys. It's not just going to be one guy."
Riley's message to Haslem was that the Heat's ability to come together will be crucial for this team to rebound from the Game 2 loss and regain its footing in this series. As frustrated as Haslem might be with his inconsistent playing time and struggles within the offense, he said "it's not the time" to gripe or complain about anything.
"If anything, we come together right now," Haslem said. "We don't go separate ways and complain about individual things. So I'm all in for what needs to be done to help the team win."