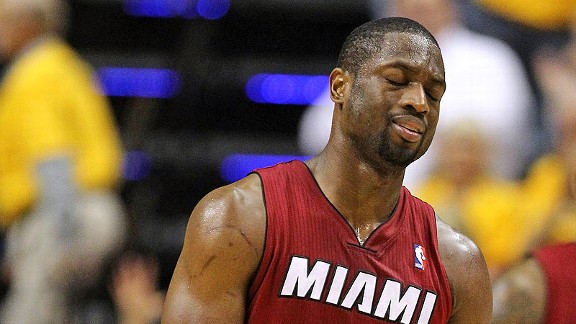 Jonathan Daniel/Getty Images
After another missed shot, the frustration showed on Dwyane Wade's face in the Game 3 loss.
INDIANAPOLIS -- Tough defense might not have been the only factor that contributed to Dwyane Wade having one of the worst playoff performances of his career in Thursday's blowout loss in Game 3 to the Indiana Pacers.
Wade is dealing with lingering injuries that forced him to miss several games late in the regular season, and the Miami Heat guard required treatment in recent days for knee and leg soreness, sources told ESPN.com on Thursday.
Wade was held scoreless in the first half of Game 3 and finished with just five points and five turnovers in 37 minutes during the 94-75 loss to the Pacers, dropping Miami into a 2-1 series deficit entering Game 4 on Sunday.
After missing 11 of his 13 shots from the field, Wade downplayed concerns about whether he has been slowed by an injury or illness during the series. But even Wade's teammates questioned his health after Thursday's loss. Wade missed a total of 17 games this season, including eight of the final 15, for various ankle, foot and knee injuries in addition to a dislocated left index finger.
"At this point of the season, no one is 100 percent," Wade said when asked after Thursday's loss whether he was affected by an injury.
The Heat already are struggling to compensate for the loss of forward-center Chris Bosh, who is out indefinitely with a lower abdominal strain he sustained in the opening game of the series last week. With Wade also quietly ailing, the Heat's chances of beating the Pacers and returning to the Eastern Conference finals could be in serious jeopardy.
Wade's frustrations with his play -- and his body -- boiled over in the third quarter of Thursday's game when he got into a heated exchange with Heat coach Erik Spoelstra during a timeout. Wade and Spoelstra came face-to-face briefly, and Wade was then restrained by forward Udonis Haslem.
Wade declined to comment on the incident after the game, saying, "I don't even remember what y'all talking about."
Haslem, the only other player on the Heat's roster who was part of the 2005-06 championship team, said the incident was simply a discussion between two people who desperately wanted to win. The Pacers were in the midst of a 17-3 run when the timeout was called.
"We've got a lot of alpha males in this locker room, on this team," Haslem said. "We're going to encourage each other and get on each other's case when need be. But it's all constructive criticism. I don't think it's personal with anybody. Emotions get high. It's the playoffs."
But Spoelstra said confrontations like those are routine during intense moments in games and practices.
"Anybody that has been part of a team or has been a coach or been a player, you have no idea how often things like that happen," Spoelstra said. "That was during a very emotional part of the game. We were getting our butt kicked. Dwyane and I have been together for a long, long time. We've been through basically everything."
They're now in a series that turned out to be much tougher and far more physical than many had expected. Wade is shooting just 31 percent from the field in three games against the Pacers while averaging 19.3 points in the series. His struggles Thursday were evident from the outset.
Wade missed his first five shots and was held scoreless in the first half for the first time in 95 career playoff games. His first basket came on a jumper with 10:22 left in the third quarter. By then, it was obvious that Wade was having a difficult time beating his defender to get into the lane, and he was slow to recover defensively. He appeared to bang his right hand while defending Paul George in the third quarter and spent several minutes favoring that injury.
"He obviously wasn't himself," Heat forward LeBron James said of Wade. "He wants to play better, of course."
Heat guard Mario Chalmers scored a team-high 25 points in an effort to compensate for Wade's off night. James had 22 points and seven rebounds, and reserve center Joel Anthony finished with 10 points. But Miami lacked the firepower to match Indiana, which had four players in double figures.
Wade tried to soften the impact of a tough game with a bit of humor and sarcasm. But even poking fun at himself quickly gave way to a sobering reality for the Heat.
"I guess I made history tonight. It was a bad night," Wade said. "There were a lot of reasons for it. ... We're not going to win a ballgame with Chris Bosh out and me scoring five points, obviously. There's frustration in that."
Wade also credited the Pacers' defense for making the night uncomfortable. Indiana defended Wade with several different players, including Danny Granger, Paul George, George Hill and Leandro Barbosa. They mixed up coverages and rotated defenders with quickness and size.
The Heat are scheduled to practice Friday, and Wade is likely to get two full days of treatment on his sore knees and legs before Sunday's game. The plan for Wade also includes reviewing Thursday's loss to find ways to attack an Indiana defense that is holding the Heat to just 81.7 points and 37.6 percent shooting from the field.
"Every game, we come out and run some plays for me whether I'm on and whether I'm not," Wade said. "You just try to get the best opportunity. I didn't hit many [shots] -- I was 2-for-13. I knew I didn't have it going. No secret about that. Obviously, I have to go back and look at the film."