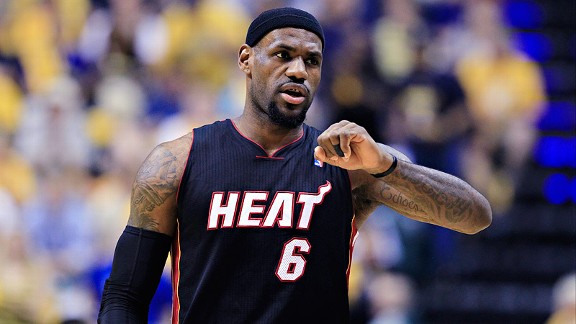 AP Photo/Darron Cummings
Can LeBron James keep up this pace or will fatigue catch up to him in Game 5?
In another installment of the Heat Index's 3-on-3 series, our writers give their takes on the storylines before the Heat host the Pacers in Game 5 of the East semifinals.
1. Fact or Fiction: Rest of the series will be more like Game 4 than Game 3.
Tom Haberstroh: Fiction. I'm not sure the Heat can duplicate Udonis Haslem's hot shooting display that rescued the supporting cast in Game 4. Also, I'm no doctor but I'm not completely sold that Dwyane Wade's knee will respond positively after Sunday. Oh, and LeBron going 40-18-9? Probably not happening again. Expect the Pacers to be more prepared.

Michael Wallace: Fact. Not necessarily in terms of the outcome, but more along the lines of how closely the game was played throughout. I still don't feel comfortable predicting who will win this series. But I'd bank on close games with vicious momentum swings before I'd anticipate another 20-point blowout.
Brian Windhorst: Fiction. If ever there was an outlier, it was Game 4. It is unrealistic to expect that kind of production from Wade and James every night. Also, the Pacers got very little from David West and Roy Hibbert. Probably the most important thing for the Heat to replicate is getting a contribution from Haslem.
---
2. Fact or Fiction: Wade's knee is more worrisome than LeBron's fatigue.
Haberstroh: Fiction. I'd say it's equally concerning. The minutes and responsibilities are piling up for LeBron, even with Shane Battier as a much-needed battery in tow. The Chris Bosh injury ruined whatever hopes that LeBron would stay fresh in the playoff run. He admitted he was gassed in Game 4. Even though Wade had his knee drained, I wonder how much longer LeBron can stay in fifth gear.
Wallace: Fact. Wade won't discuss the knee, but it certainly is an issue that could affect the outcome of the series if the problems flare up again. No one knows if he will need to have it drained again. What we do know is he overcame physical limitations and emotional outbursts to bounce back from one of his worst postseason performances with one of his best. Meanwhile, LeBron has been a beast all season. He'll play through fatigue.
Windhorst: Fact. It may not be a serious injury; Wade can still play, after all. But the past week showed how much the knee can effect Wade's play. As he said, he feels differently on different days. Without Bosh, the Heat badly need Wade's knee to stay healthy.
---
3. Fact or Fiction: Frank Vogel has won the chess match so far.
Haberstroh: Fiction. After starting Dexter Pittman in Game 3, Erik Spoelstra got showered with nation-wide blame, but I don't even think that was all that egregious. That disaster lasted all but three minutes. Vogel has been impressive with his defensive strategies, but the Pacers have been absolutely dreadful when he goes to the bench. Making Hibbert and West ride the pine during crucial situations in Game 4 is on Vogel.
Wallace: Fiction. Both coaches still have their power pieces on the table and in play. Tonight's outcome will determine the first real "check" position of this series, when one team pushes the other to the brink of elimination. Spoelstra's Game 3 adjustments were awful. But Vogel also produced a major head-scratcher in Game 4 when he chose to leave Hibbert and West on the bench with four fouls a bit too long.
Windhorst: Fiction. Vogel has made some excellent moves and assembled a game plan that's been very effective. But he made some questionable moves in Games 1 and 4. On Sunday, it seemed like he got stuck watching the show instead of making adjustments when the Pacers started getting run over.