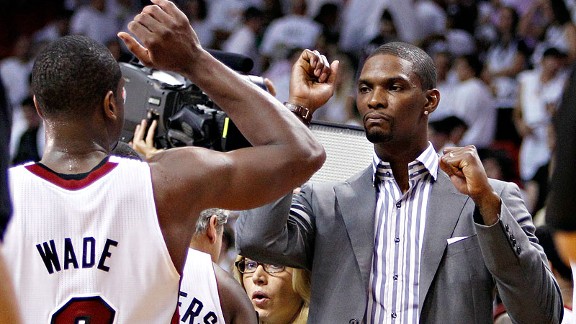 AP Photo/Lynne Sladky
Can Chris Bosh, who's expected to play in Game 5, help Dwyane Wade get open looks in the paint?
As the Heat lick their wounds after the Game 4 overtime loss, all indications point to Chris Bosh making his long-awaited return to the court in Game 5 after sitting out for the past three weeks with an abdominal strain. Will he start? Will he be healthy enough to make an impact? Are the Heat bringing him back too soon?
Those are all good questions to ask, and the answers will reveal themselves in the coming days. What's clear now is that the Heat won't coast through the Eastern Conference bracket without their seven-time All-Star in the fold. LeBron James and Dwyane Wade are two of the best talents in the game, but beating teams 2-on-5 isn't a sustainable formula.
After two consecutive losses to the Boston Celtics, the Heat are missing Bosh more than ever. But how exactly have the Heat missed Bosh?
Heat can't up match up big man for big man
It is obvious that the Heat have been at a clear disadvantage underneath the basket since Bosh has been sidelined. Going against trees like the Indiana Pacers' Roy Hibbert and the Boston Celtics' Kevin Garnett, the Heat have struggled to overcome size in the paint. Believe it or not, the Heat have been outscored when those 7-footers have anchored the court since Bosh went down.
Check out these postseason numbers (Note: Hibbert's numbers are post-Game 1 after Bosh's injury):
---
Miami's score margin, Garnett on the floor: minus-19 in 153 minutes (minus-6.0 per 48 minutes).
Miami's score margin, Garnett off the floor: plus-25 in 49 minutes (plus-24.5 per 48 minutes).
Miami's score margin, Hibbert on the floor: minus-30 in 166 minutes (minus-8.7 per 48 minutes).
Miami's score margin, Hibbert off the floor: plus-60 in 74 minutes (plus-38.9 per 48 minutes).
Now let's put it all together:
Miami's score margin with Garnett/Hibbert on: minus-49 in 319 minutes (minus-7.4 per 48 minutes).
Miami's score margin with Garnett/Hibbert off: plus-85 in 123 minutes (plus-33.2 per 48 minutes).
---
Let that marinate for a second. Ever since Bosh has been in street clothes, the Heat have been outscored by 7.4 points every 48 minutes with the opposing elite 7-footer on the floor. But when he goes to the bench, the Heat feast like starving vultures. With Hibbert and Garnett off the floor, the Heat have blown out the competition by an average of 33.2 points every 48 minutes.
That is a swing of 40 points. That is also absurd.
What this tells us is that the Heat haven't been able to figure out how to deal with the 7-footers. They have just been incredibly opportunistic when Garnett and Hibbert check out of the game. James and Wade have attacked rabidly when the reserves check in, but when the opposing team's anchor patrols the paint, they haven't found consistent answers. Actually, they're just getting by.
Loading up on James and Wade
Have you noticed that every time James or Wade turns the corner on offense, Garnett is there, waiting for them in the paint? That right there is the Bosh effect. Like Hibbert in the last series, Garnett has played like a free safety on the court, roaming off his man and blowing up every action toward the rim.
Not only does Bosh bring offensive firepower, he also draws his defender away from James and Wade to do their dirty work. Against the offensively deficient Ronny Turiaf and Joel Anthony, Garnett has no reason to guard them in the half court. As a result, we're seeing James' and Wade's efficiency plummet as Garnett is able to wall off the paint and force jump shot after jump shot.
Wade especially is having a hard time dealing with Bosh on the bench. The Celtics' game plan has been clear: double-team Wade at every opportunity and encourage him to take jumpers. Wade's shooting percentage has eroded quickly in each game -- from 62 percent in Game 1 to 53 percent in Game 2 to 45 percent in Game 3 and finally to 32 percent in Game 4 -- and it's no coincidence that he's often settling for jumpers.
Looking at his numbers in NBA.com's stats tool, we find that 56 percent of Wade's shots come inside the paint when Bosh is on the floor in the playoffs, and he's making those shots at a scorching 76 percent clip. When Bosh has sat, those numbers tumble; only 51 percent of his shots come in the paint, and his conversion rate plummets to 61 percent. When we talk about Bosh's ability to draw defenders, it's not just a made-up cliché. There's hard evidence that easy looks are harder to come by when he's sitting.
Bosh, the floor spacer
When you look at Miami's numbers with and without Bosh in the playoffs, the biggest thing that jumps out is not the Heat's rebounding; it's their 3-point percentage. With Bosh on the floor, the Heat shoot an above-average 38 percent from downtown. When he's benched, that percentage drops to a putrid 31 percent. It might not seem like much, but when you're dealing with a shot that delivers three points on the scoreboard, every percent counts.
Why the big drop-off? It could be just random noise, but if you think about it, we would expect the Heat to shoot better from downtown with more minutes going to James Jones, Mike Miller and Shane Battier, right? Not the case. With Bosh in street clothes, the opposing perimeter defenders are able to stick on shooters without consequence as Garnett doubles up on Wade and James. The Heat could be on a cold streak, but it also might be true that they're just not getting better looks on the perimeter.
This is one of the reasons Heat coach Erik Spoelstra has called Bosh the most vital player on the Heat's roster. Without him, it throws the whole offensive spacing off. The 3-point shooters can't shake their defender as easily, and the Heat's dynamic duo can't pierce (no pun intended) the Celtics' defense as easily. Overall, the offense hasn't experienced a monster drop-off because of James' and Wade's superhuman outings, but they can't keep going 2-on-5 against a defense like Boston's. Without 3-point shooting, the Heat can't survive.
With a healthy 6-foot-11 Bosh in the fold, the Heat's attack can be stabilized again. The question is, will he be healthy? The truth is we don't know; heck, the Heat don't even know. But one thing's for sure: Bosh was speaking the truth when he told ESPN.com recently, "I need this team just like they need me."
Bosh had better find himself a cape, because it's time to rescue the Heat.
Statistical support provided by NBA.com.