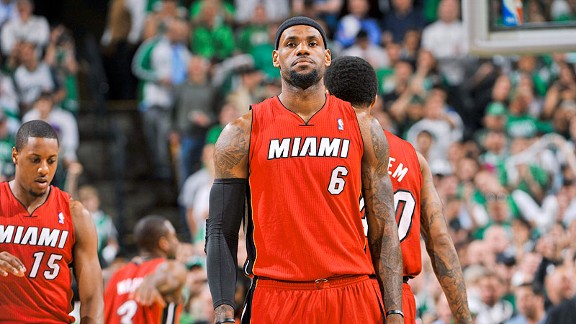 Jesse D. Garrabrant/Getty Images
This stoic glare never left LeBron James' face during his monster night in the Heat's Game 6 win.
BOSTON -- It started with the look.
The cold, piercing stare. The blink-less glare. The expression that didn't require an explanation, a motivational speech or anything other than confirmation from his Miami Heat teammates who knew this night would be different.
Had to be different. Or else their season was done.
The Boston Celtics didn't get a glimpse of that ultra-focused, determined, do-or-die look from LeBron James until he was on the court for Game 6 on Thursday with the Heat on the brink of playoff elimination.
But James' teammates saw that look on his face long before the Heat -- fueled by a relentless performance from the league's MVP -- forced a Game 7 on Saturday back in Miami with Thursday's 98-79 victory against the Celtics.
"Y'all see that look he had on his face tonight?" Heat guard Mario Chalmers told a group of reporters after the game. "He had that look on his face since last night at dinner. We knew he was going to come out ready to play. That's why he's the MVP. I call it his ugly look."
Ugly never looked so good.
Heat players are around James every day, including many who have been in Miami since James arrived in the summer of 2010 to join forces with Dwyane Wade and Chris Bosh. They've seen hundreds of James' games dating back to some of his best performances while with the Cleveland Cavaliers.
But few have left them as mesmerized as the display James put on Thursday, when the Heat absolutely had to have one of those historic nights just to keep their season alive, to quiet the skeptics, to outright silence his critics.
For at least a night.
Playing 44 consecutive minutes to start the game, James finished with 45 points on 19-of-26 shooting to go with 15 rebounds and 5 assists. That laser focus didn't relent until he was comfortably back in the Heat's locker room, knees wrapped in ice, feet soaking in tubs of cold water and fingers flipping through the pages of the latest novel he's reading in his spare time.
By most accounts, James' business-like demeanor didn't lighten up until he was approached by a team media relations staffer when it was his turn to go to the postgame news conference podium and discuss his dominance.
"Let me finish this chapter first," James said as he turned a page in Suzanne Collins' "Mockingjay." "I can't leave right in the middle of this. I've got to finish up this last page."
James then laughed.
Heat rookie Norris Cole shook his head as he stood nearby. Cole has been responsible for carrying everything from James' lotion and garment bags to his food to the bus after games. He has also been the butt of James' pranks when he's in a joking mood. But Cole hasn't had much to do lately.
"He didn't even have any special requests today," Cole said, referencing his rookie responsibilities leading into Thursday's game. "He's normally a loose guy. His face didn't never break the whole time. He didn't crack a smile. His expression was the same all day. He showed when it's time to take care of business, he can take care of business with the best of them. That's what we needed."
Heat coach Erik Spoelstra said he had a feeling James was in for a big night, one that would answer naysayers who were ready to write off Miami, and especially James.
"Nobody likes getting thrown dirt on your face before you're even dead," Spoelstra said. "He came out with an attack mentality right from the get-go."
It was obvious from the 10-0 run James ignited midway through the first quarter that put the Heat ahead 22-12. James scored in a variety of ways during that spurt when he accounted for eight of those points. He made a turnaround jumper, converted a conventional three-point play with a layup and free throw and also drilled a 3-pointer.
It was a two-minute stretch that set the tone for the Heat as well as sent a resounding message to the Celtics. Through it all, James' expression never changed.
"LB was in a groove and he never looked back," Celtics center Kevin Garnett said.
"He hit a lot of shots he hasn't been hitting all series," Boston forward Paul Pierce added. "I've had that feeling before and sometimes there's nothing you can do about it."
All you can do is watch, and see how long James could carry on this defiant and dominant act.
It was difficult to avoid being a bystander at times. Different players were impressed by different things.
Heat reserve James Jones said the durability James showed by playing such a long stretch without a break stood out.
"To be able to play the game the way he played it, you can't have these huge emotional swings, those big highs and lows," Jones said. "You could tell he was a little more focused because of the magnitude of this one. Even in the huddles, he had this energy, this activity. He was upbeat like there was no question he could play every minute and every second if we needed him to. Very few guys can do that. He's one of them. That's what makes him who he is."
And it's also who James was since he felt the Heat allowed a game to get away on Tuesday, when Boston won Game 5 in Miami. After the game, James, Wade and Udonis Haslem -- the Heat's most vocal leaders -- could be overheard through the locker room doors to the training room having a heated discussion about breakdowns. It was one of those periodic accountability sessions the team's leaders have after things fall off track.
James has had his game face on since then.
"We talked about it in Miami," Haslem said. "We talked about it the next day after we lost. It was nothing that needed to be said after shootaround [Thursday] morning. It was nothing that needed to be said before the game. We said everything we needed to say a few days ago. We understood what was at stake right now. I think it showed."
But the Heat insists their work isn't done. It might require an encore performance on Saturday from James to put away Boston and get to the NBA Finals against Oklahoma City.
Heat forward Chris Bosh will be looking for that, well, look in James' eye again heading into Game 7.
"In shootaround and on the ride over, before the game, usually, you can feel it when it's a little more quiet than usual," Bosh said. "That's when you can really tell that guys are really, really ready to play. I look in everybody's face before the game and this game was different than all the others. LeBron answered like he was supposed to, and now we get to try to do it all again."